Southbound Process - Despacho Previo
Overview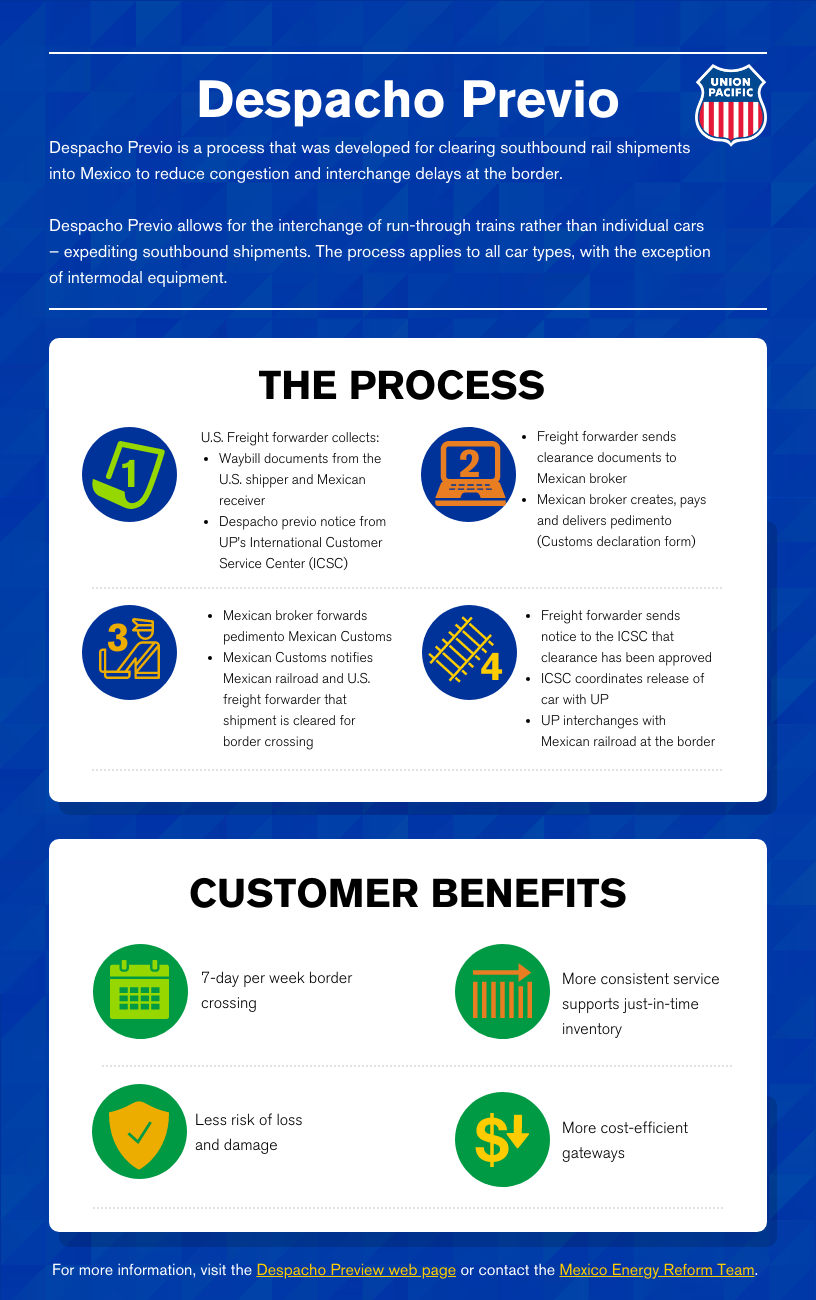 Download a printer-friendly version.
Despacho Previo is a process that was developed for clearing southbound rail shipments into Mexico to reduce congestion and interchange delays at the border. Despacho Previo allows for the interchange of run-through trains rather than individual cars – expediting southbound shipments. The process applies to all car types, with the exception of intermodal equipment.
Primary Features and Benefits
Freight Forwarder visibility in ATM application on MyUPRR.com and Mexican broker BL in VUCEM within minutes of waybill creation.
Processing time is allowed for clearance of Mexican customs. After the processing time has expired, Union Pacific assesses a document delay charge per day. For exact processing time allowed and document delay charges, please see UP 6004, Item 8530.
Most Mexico-bound traffic will be held at satellite yards away from the border until cleared by Mexican Customs for movement into Mexico.
Once cars are cleared, they are assembled into pre-blocked run-through trains for the Mexican railroads, virtually eliminating further switching at the border.
Features
Benefits

Accelerated advance clearance of Mexican Customs.

Seven-days-per-week crossing of cars at the border.

International pre-blocked run-through trains for all commodities.

Dependable transportation for all commodities.

Improved transit time in the U.S. and Mexico.

Inventory cost reduction.
Consistency of transportation product.
Greater customer satisfaction.

Less switching of cars at intermediate yards in the U.S. and Mexico.

Less risk of loss and damage.
Greater customer satisfaction.

Increased capacity of international gateways.

More cost-efficient gateways.
Ability to grow rail markets.
Continued expansion of rail transportation option.
Waybills
Please ensure that all shipments to Mexico are through billed to the Mexico destination and that the waybill contains both the U.S. freight forwarder and the Mexican customs broker. Changes to the waybill to add or change this information will incur a per car charge per UP 6004, Item 6050. See our Mexico Bill of Lading for additional information on through billing.
All parties to the bill must have a user ID and password to access MyUPRR.com to monitor clearance.
Q&A
| | |
| --- | --- |
| Q. | Is the document delay charge in addition to the standard demurrage charge? |
| A. | No. The standard demurrage charges no longer apply on traffic exported to Mexico. The document delay charge replaces demurrage charges. |
| Q. | Are Sundays included in the processing time? |
| A. | No exceptions given for Sundays and holidays. |
| Q. | What is the need for the satellite yards? Why not send all of the traffic directly to the border and hold? |
| A. | Most of our gateway yard facilities do not have sufficient capacity to hold/switch all of the traffic moving into Mexico. Once the traffic is cleared however, Union Pacific places it in the appropriate Mexican "block" for direct delivery to the Mexican railroads. |
| Q. | How does the Despacho Previo process help traffic movement coming northbound out of Mexico? |
| A. | By delivering southbound run-through pre-blocked trains, the Mexican carriers are able to better use their border yards for northbound switching and blocking of United States-destined traffic. |
| Q. | How does Despacho Previo affect traffic destined to local industries at U.S. border locations? |
| A. | Since this is not international traffic, this business moves directly to these cities. Any demurrage accrued will be based on current domestic demurrage tariffs. |
| Q. | Does the processing time allowance to clear cars apply to cars that originate on other railroads as well as to cars that originate on Union Pacific? |
| A. | Yes, cars that originate on other railroads must be cleared within the processing time. The entry of many cars from off-line origins is delayed because they are not cleared to enter Mexico by the time they arrive near the border. Earlier clearance of cars to Mexico should help reduce or eliminate delays at the border. Despacho Previo charges are due upon arrival at the satellite yard. |