Can biofuel power a locomotive fleet? As the rail industry seeks to reduce its environmental impact, this is a hot button question.
Traditionally, locomotives have run on petroleum diesel fuel. But in recent years, railroads have tested and implemented the use of biofuel blends. These blends combine petroleum diesel with biodiesel and/or renewable diesel, both of which are made from renewable resources and burn cleaner than petroleum diesel.
A new pilot program has Union Pacific going beyond the blend. Now, the company isn't just asking if biofuel can power locomotives; they are testing whether engines can run on 100% renewable fuels.
The First Step Toward 100% Biofuel Locomotives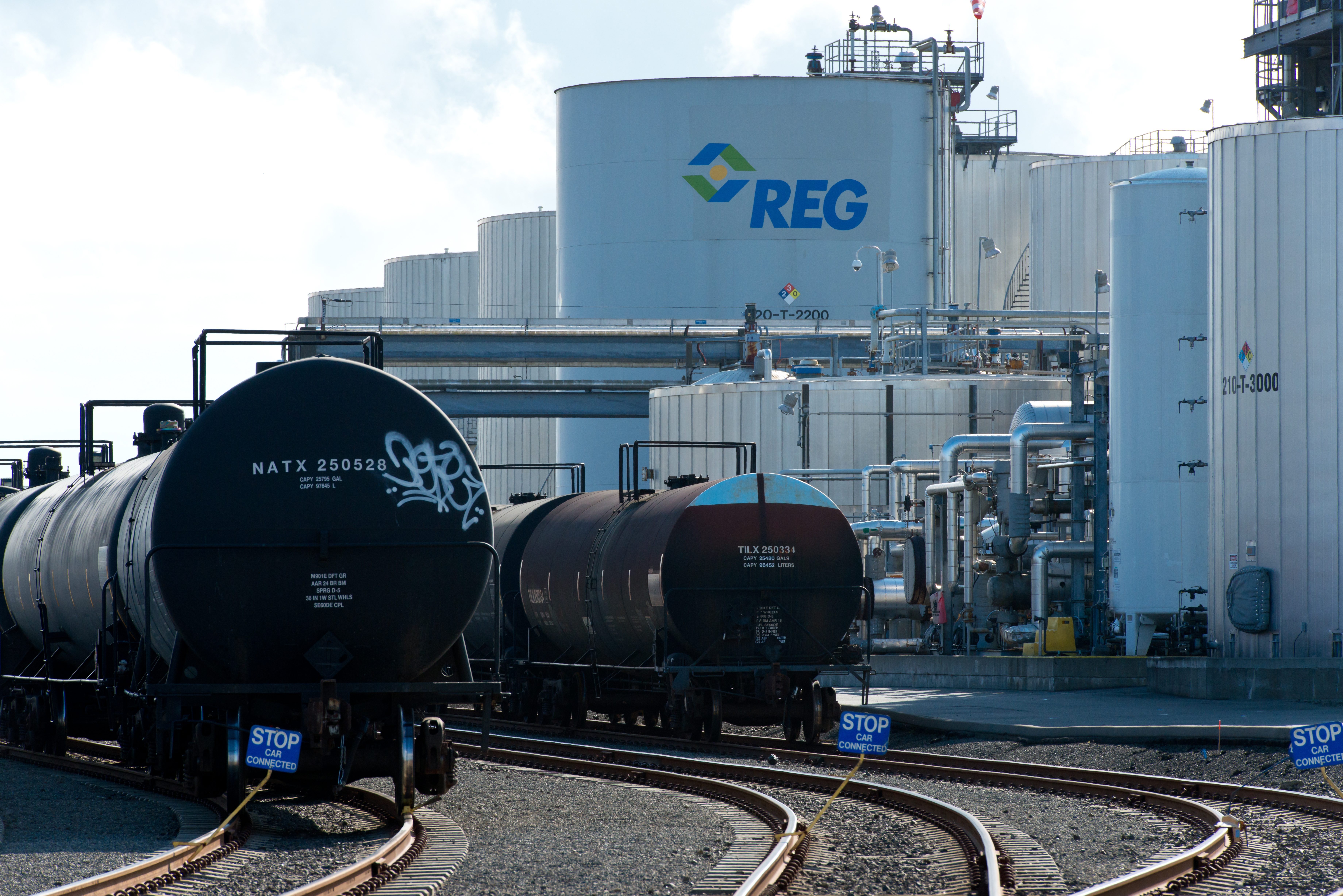 The use of 100% biofuel in locomotives isn't an overnight change. Although use of low-carbon renewable fuel has clear benefits for the planet, railroads must maintain a careful balance between moving the needle on sustainability while simultaneously serving customers' needs.
Union Pacific aims to maintain this balance with a California-based pilot that tests four locomotives powered by 100% biomass-based fuel as they service a San Bernardino sand and gravel mine. This marks the first time in Union Pacific's history that a locomotive is being powered solely by a renewable fuel source made from vegetable and/or animal fats.
The goal is to determine the feasibility of using a blend of 80% renewable diesel and 20% biodiesel in Union Pacific's fleet. The testing plan will allow Union Pacific to understand the fuel efficiency gains from switching to biofuels and validate its estimates for GHG emissions reductions overall. Increasing its blends of biofuels will help decrease the railroad's overall GHG emissions by 26% by 2030.
Two key partners are helping Union Pacific carry out the pilot project underway at West Colton rail yard: Chevron Renewable Energy Group, the biofuel supplier, and Wabtec, the locomotive manufacturer.
The four locomotives were put through a series of baseline tests at Wabtec's design and development hub in Erie, Pennsylvania, before making the trip to California for service in April and May of 2022. Every six months, each locomotive will be evaluated based on emissions data and engine wear-and-tear.
The biofuel being tested is REG UltraClean BlenD™ – 20% biodiesel and 80% renewable diesel. Both the biodiesel and renewable diesel are produced from vegetable oils, animal fats or greases, but are manufactured differently, with renewable diesel more closely resembling a petroleum-produced diesel product.
The data gathered during the tests is expected to demonstrate to Wabtec and Union Pacific that the performance and reliability of their engines are comparable whether operated with biofuel or traditional, petroleum-based diesel fuel.
"We have not tested the limits on increasing biofuel blends on our locomotives and how it will impact performance and reliability of the engine. This is an important step to make sure we maintain our locomotives and reduce our GHG emissions," said Grace Olsen, general director-Locomotive Engineering and Quality, Mechanical at Union Pacific.
Why Use Biofuel?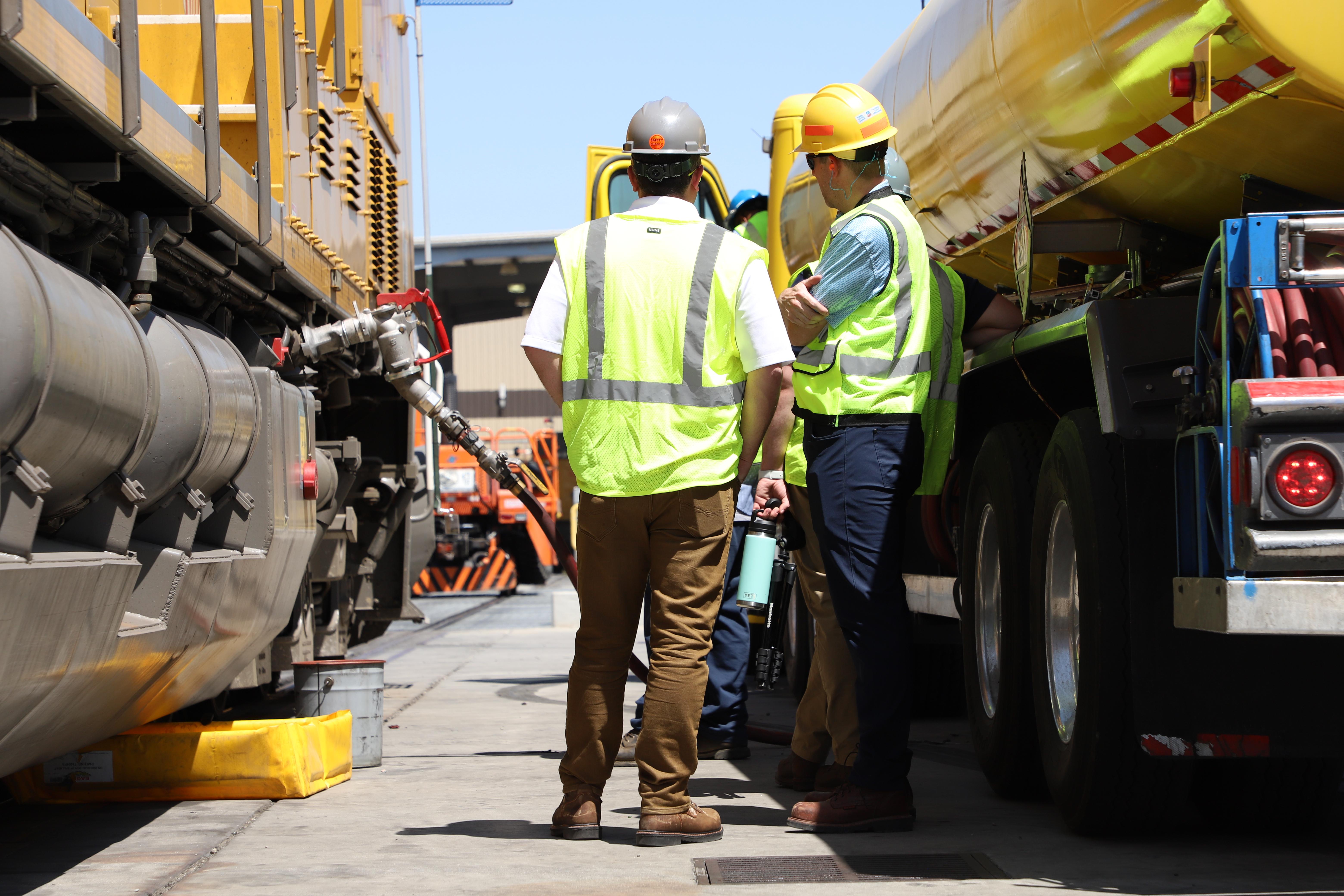 Chief among the advantages of biofuel are its environmental benefits. Biofuel burns cleaner than petroleum diesel, which reduces emissions and improves air quality.
"On a life cycle basis, biofuels are nearly carbon neutral," said Mark Lutz, assistant vice president-Fuel and Environmental Management, Supply Chain at Union Pacific. "The greenhouse gases absorbed by the plants during their growth cycle offset gases emitted when they are burned for fuel."
At Union Pacific, increased use of low-carbon fuels, which includes biofuel, is part of its Climate Action Plan. Published in 2021, the comprehensive plan outlines the company's commitment to reduce absolute Scope 1 and 2 greenhouse gas emissions (GHG) by 26% by 2030, using 2018 as a baseline.
Biofuel has other benefits as well:
It is domestically produced.
It is chemically similar to traditional diesel, which means it can be used in existing diesel engines without modifications.
It is made of renewable sources, which reduces reliance on fossil fuels and increases energy security.
"Union Pacific's use of biodiesel and renewable diesel is a testament to their commitment to sustainability and provides a pathway to achieve their sustainability targets," said Adam Sander, director of Emerging Markets at Chevron Renewable Energy Group. "REG UltraClean BlenD™, our blend of biodiesel and renewable diesel, also enables Union Pacific to decarbonize today using existing assets and infrastructure with no significant capital investments required."
Shipping Biofuels and Feedstocks by Rail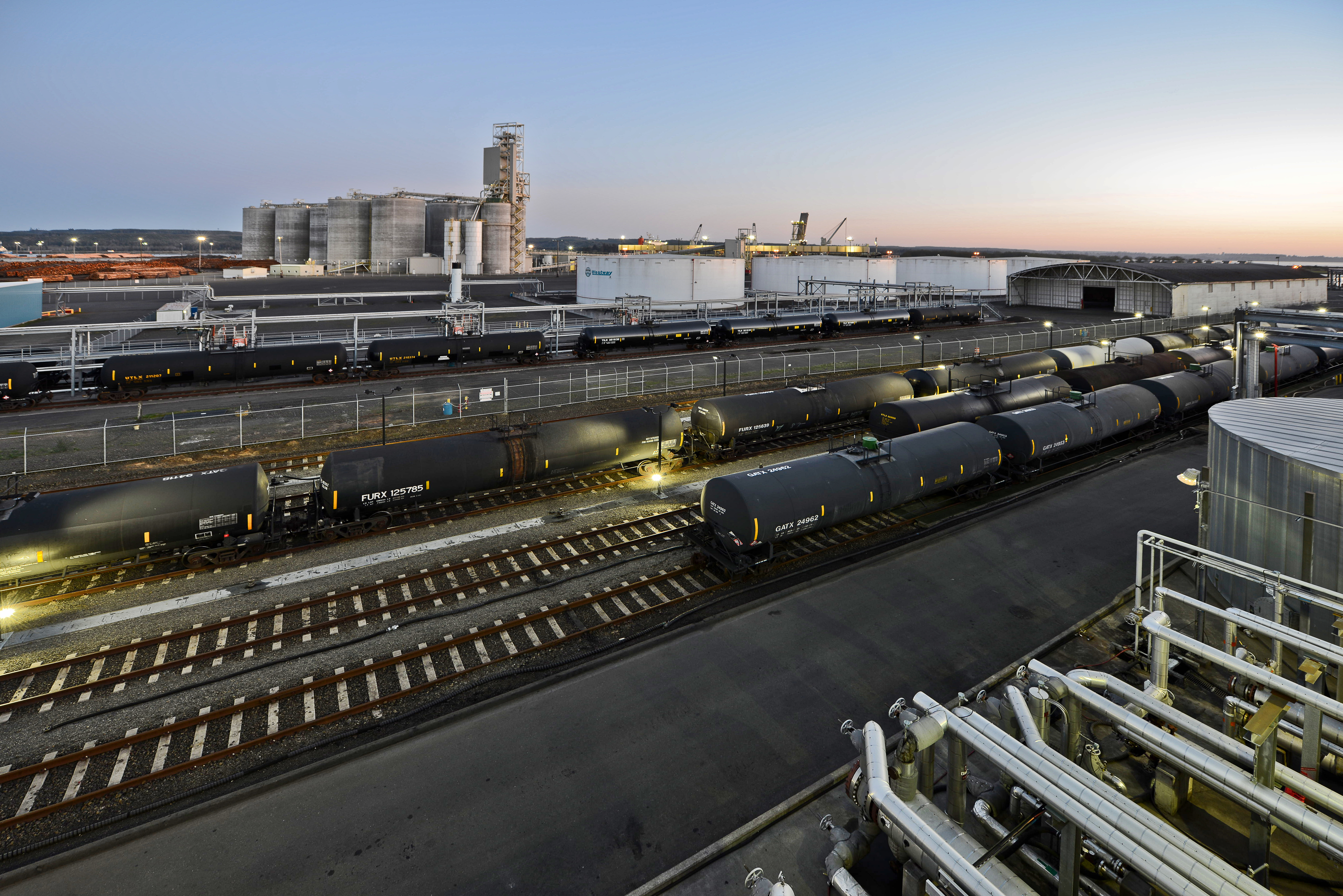 Beyond using biofuel and biodiesel blends to power locomotives, railroads can also ship renewable fuels and their feedstocks by train. Products like renewable diesel and biodiesel travel by train in tank cars, each of which can haul about the same amount of biofuel as three trucks.
Shipping biofuel and feedstocks by train comes with the following advantages:
Trains are 3-4 times more fuel efficient than trucks, which means shipping freight by train instead of truck reduces GHG emissions by up to 75%.
One train can move up to 300 trucks worth of product, allowing consumers of renewable fuels and feedstocks to move large volumes with ease.
Shipping renewable diesel and biodiesel by rail also makes it possible to take advantage of financial incentives in states like California, Oregon and Washington.
Even if the origin or destination aren't served by the railroad, transloading allows biofuels to ship by rail.
"Railroads are the most fuel-efficient way to move freight today, and Union Pacific is committed to making railroads even cleaner. We anticipate biofuels will play a pivotal role in helping Union Pacific reach its long-range environmental sustainability goals," Lutz said. "Union Pacific understands that in addition to being a profitable company, we also have to live our environmental values each and every day and do our part to protect the environment for future generations."
Learn More
To learn more about how to ship biodiesel, renewable diesel or feedstocks like corn oil, soybean oil or tallow by train, answer a few questions and an expert will be in touch.
Related Articles