Is railfanning genetic? As a scientist, Paul B. Larsen will tell you the answer is definitively "no." But when you meet his son, Zachary, it makes you wonder. Both Paul and Zachary have had a lifelong love of trains, and they photograph the many trains they see, sometimes together, sometimes on their own.
With seven decades of railfanning between them, Paul and Zachary have an impressive collection of photos to document the history of their shared love of trains. Here they share their three favorite photographs from their respective collections, the stories behind them, and how they became rail fans.
Railfanning as Therapy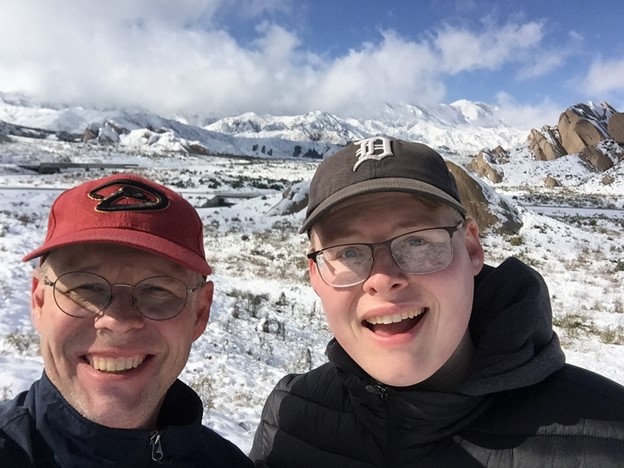 Dr. Paul B. Larsen is a Professor of Biochemistry living in Southern California. During the day, he studies how plants can survive in harsh environments, which has led to his laboratory discovering ways to increase carbon capture in plants. It's technology that is likely to be applied to all plants in the future, with the result being increased carbon deposition in soils and less CO2 in the atmosphere. In other words, it's a scientific development that will help to tackle what Paul cites as the top two crises that will converge around 2050: climate change and food insecurity.
Paul says agriculture is the key to solving both issues, so he takes his work seriously — and for good reason. But thinking about climate change and a looming hunger crisis can be…daunting. So in his off time, he watches trains as a means of escape. "Sitting out in the desert waiting for the train of interest to show up allows me to clear my mind and put aspects of my job into perspective, which makes railfanning a bit of a Zen thing for me," he said.
Paul knows the desert well. Maybe it's because he's originally from Michigan and it offers such a strikingly different vista than where he grew up. Or maybe it's because the desert serves as a perfect canvas on which trains paint themselves. Whatever it is, he knows all the SoCal spots so well, his family can't stump him when they try to quiz him.
"If it has a railroad track through it, I've probably been there. It is particularly exciting when trains and nature converge and I get to experience things that a kid growing up in Michigan never thought he would see," he said. "Unlike most people in Southern California who never get out in the desert, I can say that I've come up close and personal with coyotes, snakes and lizards of all kinds, bobcats, bighorn sheep, and just recently a mountain lion that was checking out a UP train near Sullivan's Curve in Cajon Pass."
Paul's love of trains dates back more than 50 years, since the time when his mother would routinely drive him past an area near their home that was the junction between three railroads. "Every time we passed by what is known as Fuller Station in Grand Rapids, Michigan, there was always a not-so-secret hope on my part that we would get stopped by a train," Paul said. "I suspect that my mother did not share this hope, but she was very patient with me."
Paul may not have gotten his enthusiasm for trains from his mom, but he most certainly has passed it on to his son, Zachary. They've railfanned together in more than a dozen states spanning the West, Great Plains, Midwest and Mid-Atlantic regions. Zach is now a PhD student at a university in Southern California, so their short trips to see trains in California, Arizona and Nevada aren't quite as frequent these days, but both continue to document their railfanning adventures.
What's So Interesting about the Railroad?
For Paul, color is the driving force behind his interest in railroads and rail photography. Boxcars used to come in more hues than they do today, and these variegated ribbons of rail cars winding through his home state of Michigan caught his eye. "In the 1970s and 1980s, per diem boxcars in colorful schemes were just about everywhere. It was fascinating seeing paint schemes for distant railroads such as Texas Mexican Railway, Northern Alberta Railway, Apache Railway, and so on find their way up to Grand Rapids, which seemed about as off the beaten path back then as possible," he said. "All of the logos and colors just spoke to how big and diverse our country was and it gave me a passion to visit some of the locations I could only dream about as a kid."
For Zachary, it's the complexity of the rail industry that draws him in. "Railroads are an extraordinarily complex business and there are so many facets that I adore that making an exhaustive list would take me a while," he said. "I love that through going out and taking photos and videos of trains, I'm capturing a very specific slice of history that I can look back on when I'm older and use as a touchstone to help remember intense chases, beautiful scenery, and all of the exciting opportunities I've had to document railroads doing their work over the last 17 years." Right now, Zachary's interest is focused on locomotives and their paint schemes, railroad operations, especially dispatching, and the confluence of railroads and regulation.
Rail Photography Origins
Paul's interest in rail photography was born on a bicycle. Much to his mother's chagrin, he realized he could pedal his way through Grand Rapids, spotting trains along the way. "It was a rush to chase trains on my 10-speed, and naturally I began to photograph them. At the time, I had no idea how to compose shots and they almost exclusively were photographs of unusual rolling stock," he said. "But as time progressed, I slowly figured out how to photograph moving trains and began to explore iconic locations across the country to put my own spin on them."
Information is at the core of Paul's shooting process — finding out what trains are coming through, knowing the best locations to shoot from, and understanding how the time of day and season inform the quality of the shots. "It is surprising how a shot in June will not look good in January largely because of sun position," he said. "So the most important thing is to have a catalog in your head of location possibilities and recognizing when they will or won't work."
This informed approach to rail photography is another quality passed on to Zachary. "My process is strongly derived from my dad's process, and both are relatively intense, require a lot of knowledge of railroad operations, sunlight angles, general weather and good planning," he said. "A shot will be scouted, either through remembering previous experiences or looking online at maps to determine potential angles for specific trains. If there's a special leader (such as a heritage unit), the shot calculus will look different than if there's an entire consist of special units, depending on the time of day it goes across a specific subdivision, different shots will be picked or loosely pre-planned as alternatives, and, when the train is within the distance that driving out to our intended shot would yield little wait before it arrived (depending on available time), I, or we, will drive out to get it."
Both Paul and Zachary pre-set shots using tripods, which offers greater stability than hand-held photography. "Tripod-stabilized photos allow for consistency between shots (which significantly helps in the editing phase) and for an easier time in 'camping,' or waiting to chase a train while several others pass," Zachary said. "Once a target train shows up, the chasing process begins. Standard procedure is to get ahead of a train and based on its speed, figure out what shots are going to work in-sequence to get a productive (read: at least one good photo but more would be nice) chase out of it. While camping works well for waiting for trains to arrive, it also helps significantly with planning, as both my dad and I have different knowledge of a railroad we're railfanning, and coordinating is significantly impactful in increasing our yield from chases."
While Paul and Zachary's railfanning outings result in some great photos, Paul said that's not the only outcome. "It is more difficult to do together nowadays largely because of conflicting schedules but we try to get out occasionally just to escape the daily pressures associated with our careers," he said. "There is something cathartic about sitting and chatting in the desert while enjoying seeing and photographing trains."
Paul and Zachary's Favorite Train Photos
To get a sense of the photographs they capture, Paul and Zachary each shared their top three favorite photos from their respective collections as well as the stories behind them in their own words.
Paul's #1: Mojave, California
The photo shows that, in spite of extensive preparations and beforehand knowledge, a modicum of luck is necessary in this hobby.
The image is of the Dick Wimmer Engineering Special that was being pulled by the Union Pacific DD40AX 6936. A trip had been planned for Zachary and I to go to Tehachapi because he had fallen in love with Tehachapi Pass when he was a toddler watching train videos when we lived in Maryland. We had been up to Tehachapi several times previously but wanted to explore some new areas that we had not been to before. Unfortunately, upon arriving in Tehachapi proper, it became obvious that the weather forecast of sunny skies was a bit off, with cloudy skies pervading.
In spite of this, we decided to make a day of it and headed to the west side of the pass to see what was coming. Within minutes of arriving, several railfans congregated by us as a southbound train was heard climbing up from Caliente, California. Little did we know that it would be UP 6936 pulling an engineering special on its way to the Los Angeles area. After a prolonged moment of silence and open mouths, we jumped into our truck and drove until we could find a sunny location, which happened to be on the east side of the pass at the now long-gone signal bridge at milepost 377 that had been a popular prop for so many photographs in the area.
So without luck, I never would have been able to get this photo of one of my favorite locomotives and Zachary likely would not have launched his YouTube channel until later.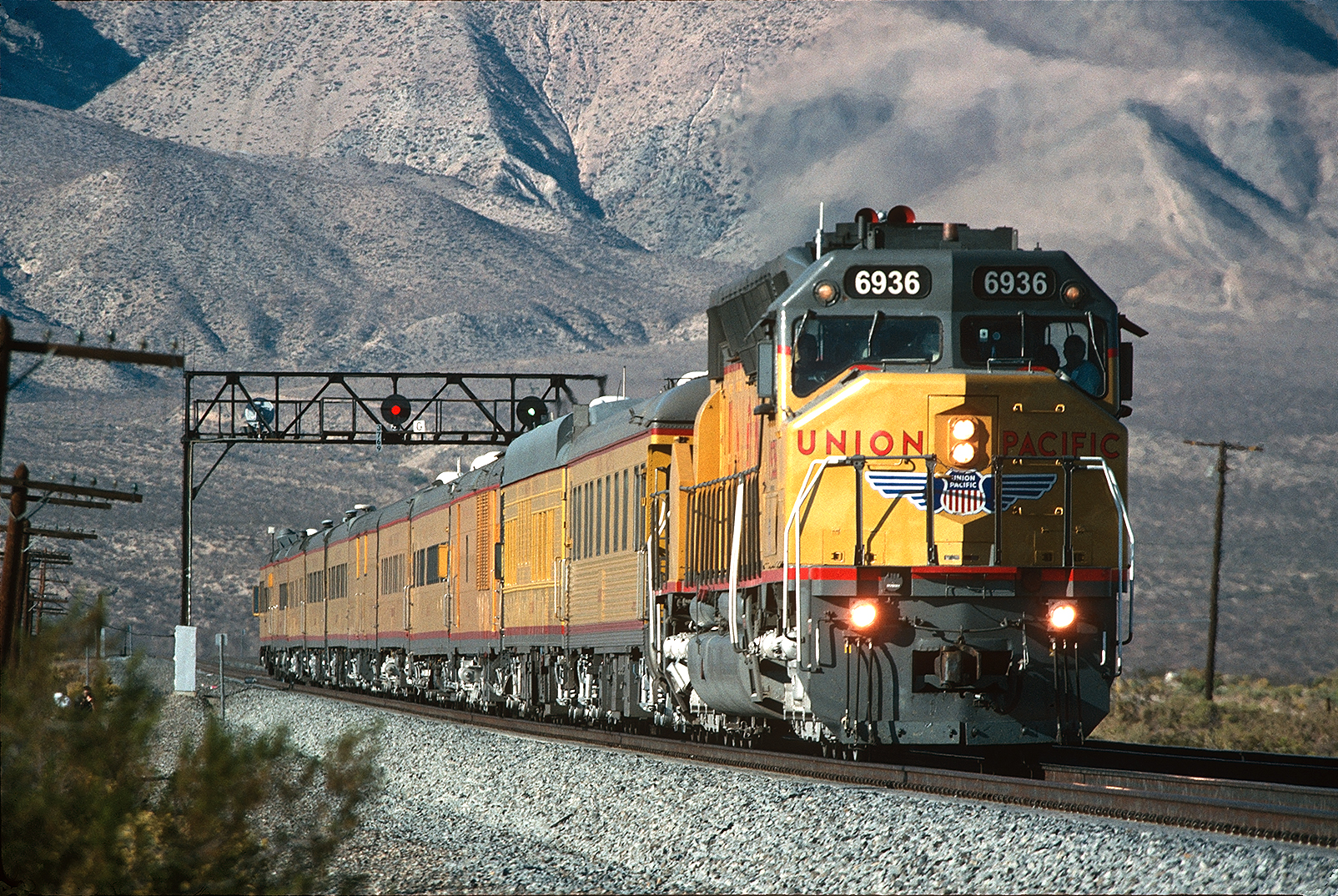 Paul's #2: Bena, California
This photo was taken in the Bena, California, area, which is an unincorporated community at the west entrance to Tehachapi Pass and at one time was home to the Bena Corral.
When Zachary and I arrived at Bena early in the morning, this train was sitting waiting for its turn through the single-track gauntlet at Ilmon, just a short distance railroad south of this location. A few northbound trains came roaring through this area and each time they passed, this conductor dutifully climbed out of the cab to make sure there were no issues with the passing train. Every time a train would pass, the conductor would watch the northbound train race up grade at Sandcut. At that point, I realized it would make an interesting photo and I had to hope that there would be one more northbound to give me the chance to get the image.
As luck would have it, the reverse train MWCRV was allowed to go through Ilmon, and I had an opportunity to get the shot I wanted. As the train approached, the conductor exited the cab one last time and stood on the ballast to check for defects. My camera was set up ready to catch the action and, as can be seen by the shadows on the locomotive consist, the northbound train barely cleared to reveal the conductor watching the passing train race up grade in the distance.
In my opinion, everything in this photograph is set up wrong when one considers the rule of thirds for photography. At the same time, the image shows the loneliness and starkness of a railroader doing a thankless responsibility that likely occurs hundreds if not thousands of times a day.
If one were to deconstruct this photo, arguably all of the elements of the image are counter to common practice- the foreground is out of focus, the waiting train is largely cropped out besides the locomotives, and positioning of the two trains is unusual if not odd. Yet to me, the lines and depth of field draw the eye to the smallest yet most significant part of the image, which is the conductor standing tall doing a job that at first glance is mundane but in reality, is essential to the operation and success of the railroad.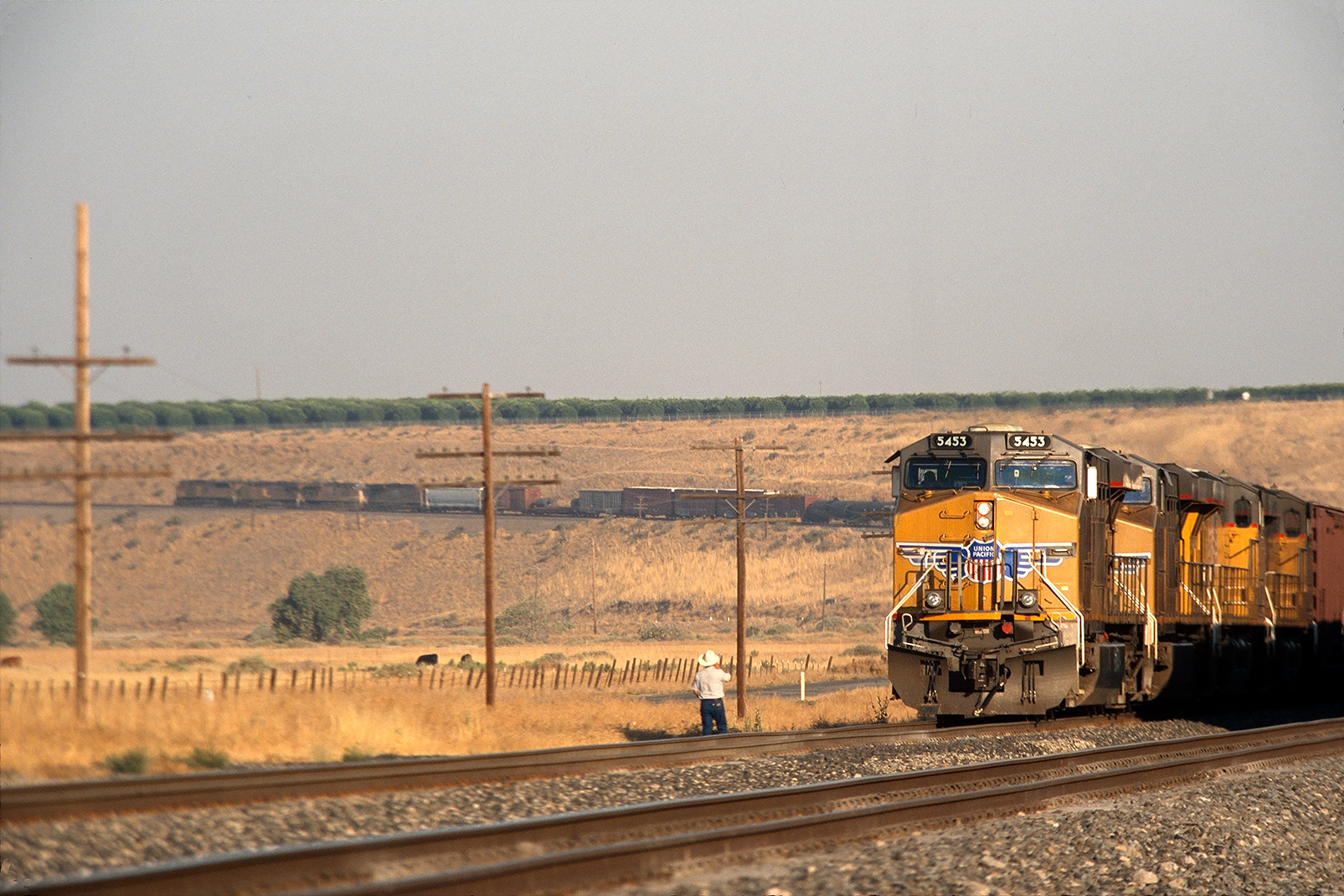 Paul's #3: West Palm Springs, California
This photo was taken near the one-time passenger stop known as West Palm Springs on September 27, 2020.
Southern California is littered with windmills in areas that happen to coincide often with mainline railroad action. In my opinion, the juxtaposition of the windmills and trains makes for a visually interesting photograph, and I make it a point to photograph interesting trains with the windmills as backdrops.
The Union Pacific heritage fleet has graced us in Southern California with many opportunities to photograph them in exceptional locations. This was one of those opportunities and was a situation where the right train, right time, and right location just happened to align perfectly. The Rio Grande heritage unit in my opinion makes for a striking subject on the point of this port train headed for Long Beach, California, and the towering windmills only help to make this an engaging photo.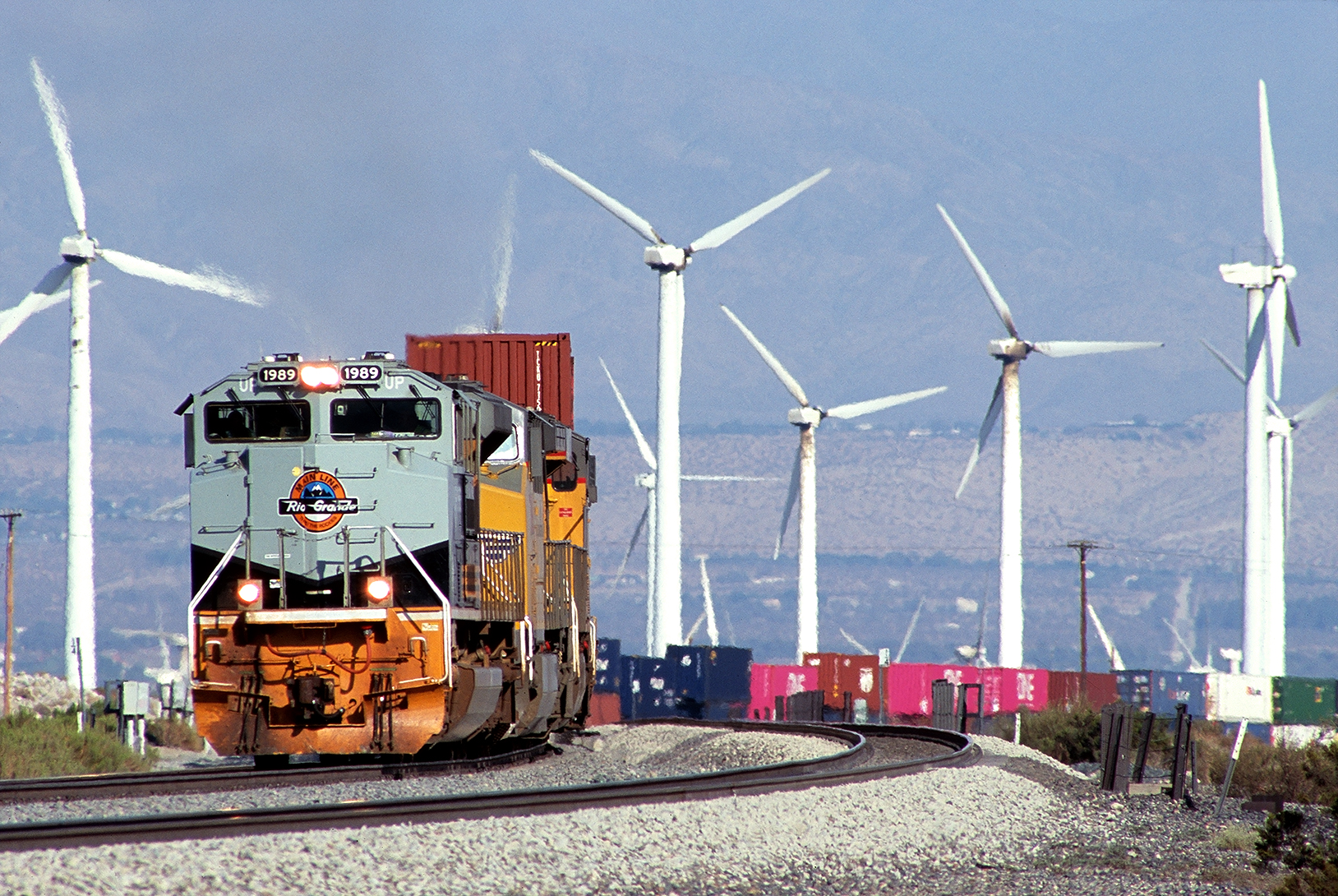 Zachary's #1: Page, Arizona
This location was off the beaten path a bit and took some prep to find the best angle but was well worth it. Page, located alongside the Colorado River, is an area that is rich with red soil and large mesas, like the rock formation in the background. Although the BM&LP didn't follow the Colorado on its trip to the loadout outside of Kayenta, beautiful rock formations like this one still helped set the scene and make the E60s look miniscule compared to the scenery they were travelling through.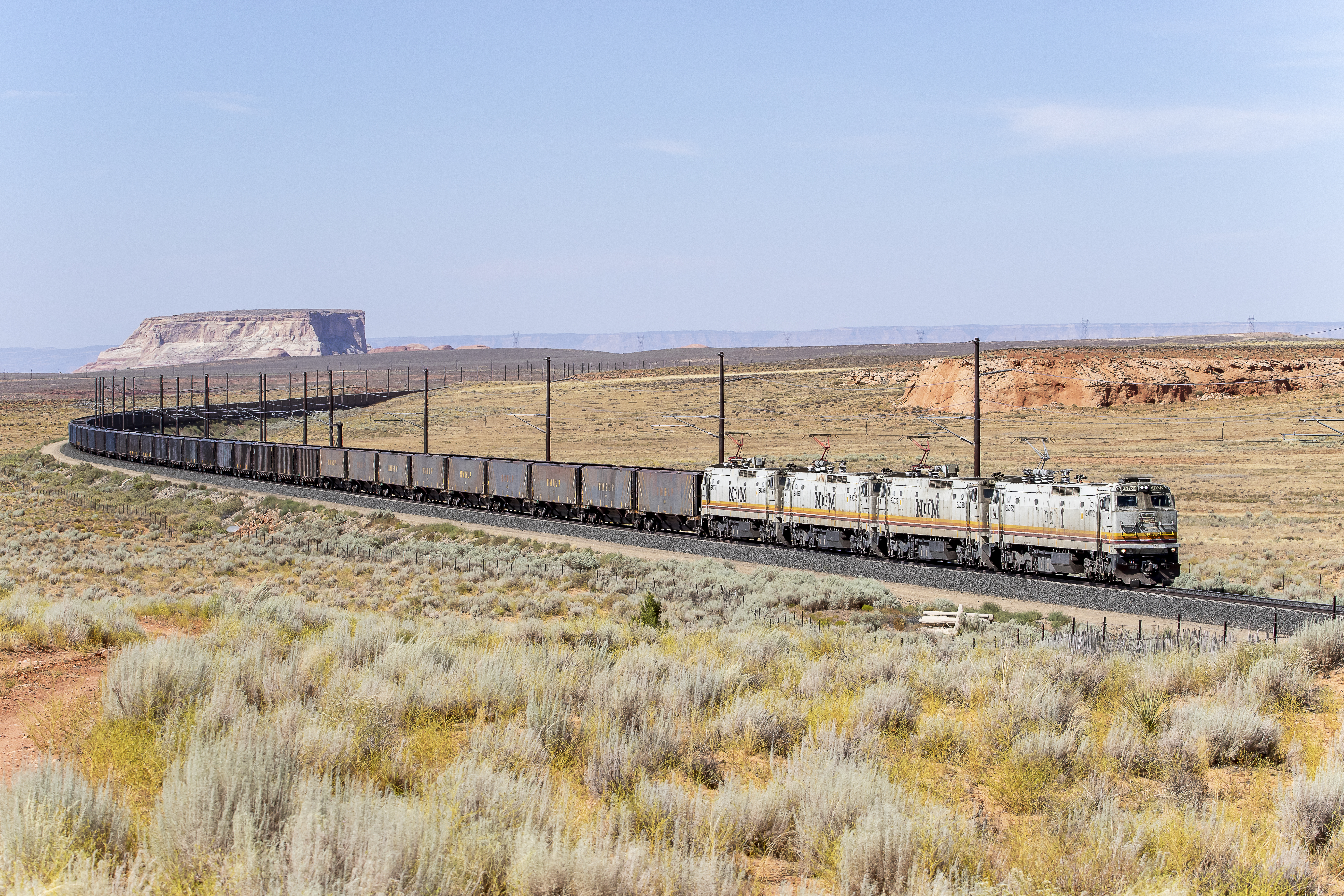 Zachary's #2: Clover Creek Canyon, Nevada
High altitude juniper forests across the West are my favorite environments to exist in, no question. There's something beautiful about the starkness of it all; there's plenty of growth but it's not overly cluttered, and the trees and shrubs make a fantastic backdrop. Clover Creek Canyon is one of the least accessible pieces of railroad I've railfanned, and the combination of the difficulty in getting back here, no cell service so train hunting needs to be done without any information, and the fantastic scenery make railfanning the Caliente Subdivision both a challenging and rewarding experience.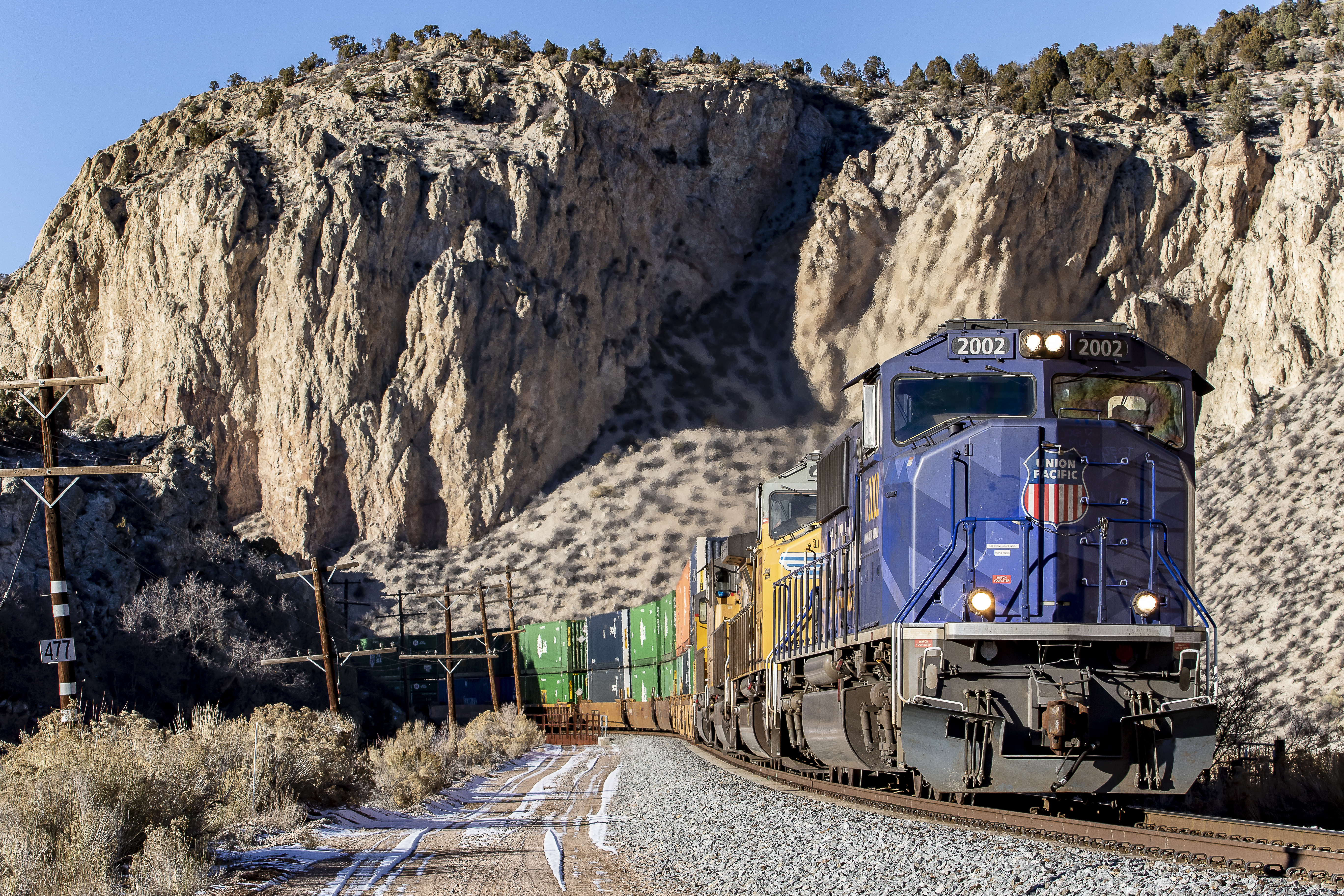 Zachary's #3: Loma Linda, California
San Timoteo Canyon has been a fixture in my dad and I's stay in California since we moved here in 2000. Some of my earliest memories involved sets of ex Southern Pacific SD40M-2 helpers running up and down the hill and watching the East slope of Beaumont be double tracked. My first-ever look at a flagged UP unit was at Banning shortly after they were introduced, so suffice to say I can say with confidence that I've 'done' San Timoteo and Beaumont, for the most part. This spot is special not just because it's new, this being my first photo from it, but for the view it provides looking into the basin behind it. I'm privileged to live in an area where wide views are possible that show urban sprawl and the sheer extent of the Inland Empire creeping just up to the mountains is fascinating aesthetically. The severe set of reverse curves here too are incredible and catching 1111 here, whose paint is (in my opinion) best from the front, was a real treat.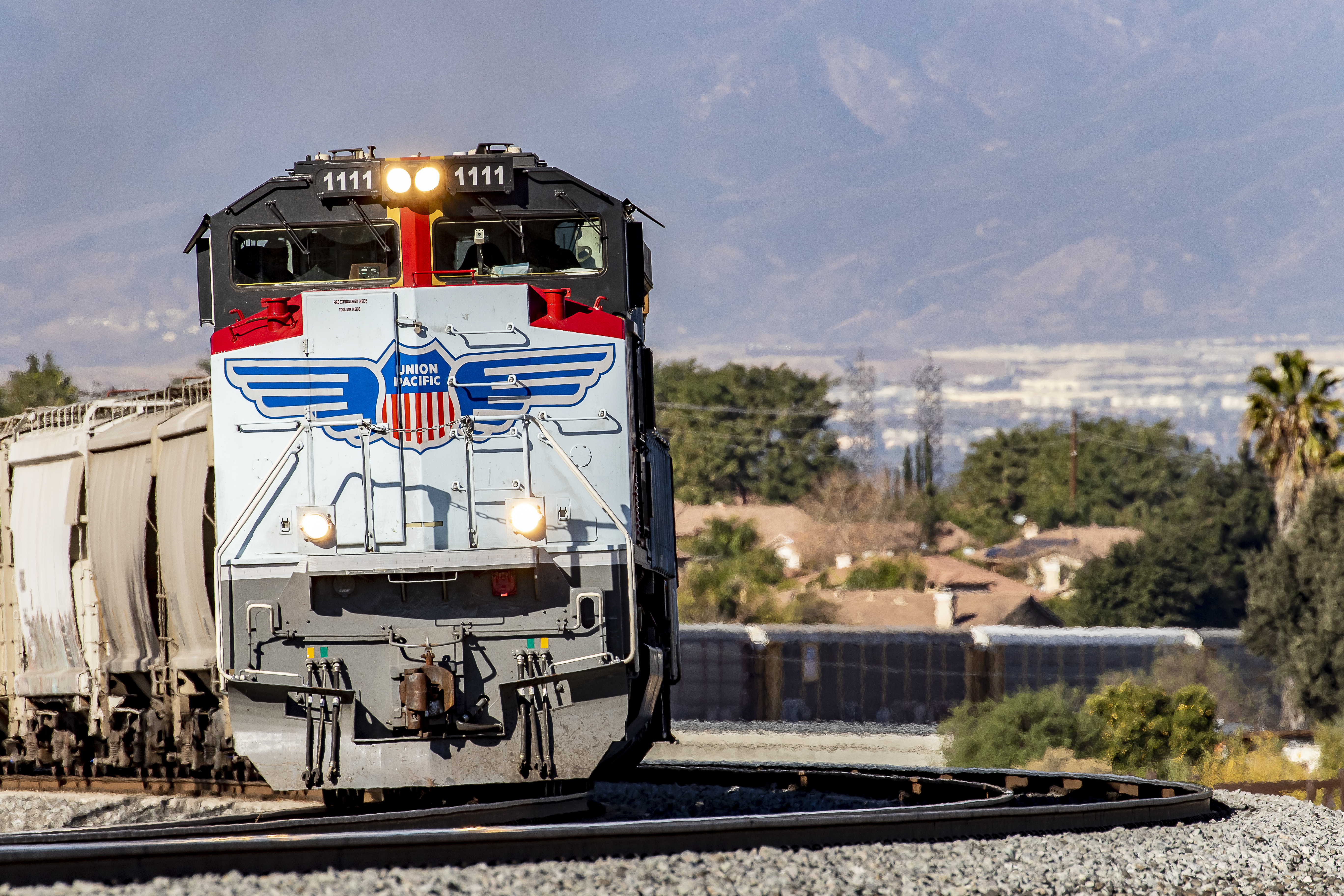 Learn More
If you know a rail photographer we should feature, send us an email. Or, if you're interested in learning more about shipping by train, answer a few questions and we'll connect you with an expert.
Related Articles