No. 2010 - Boy Scouts of America Commemorative Locomotive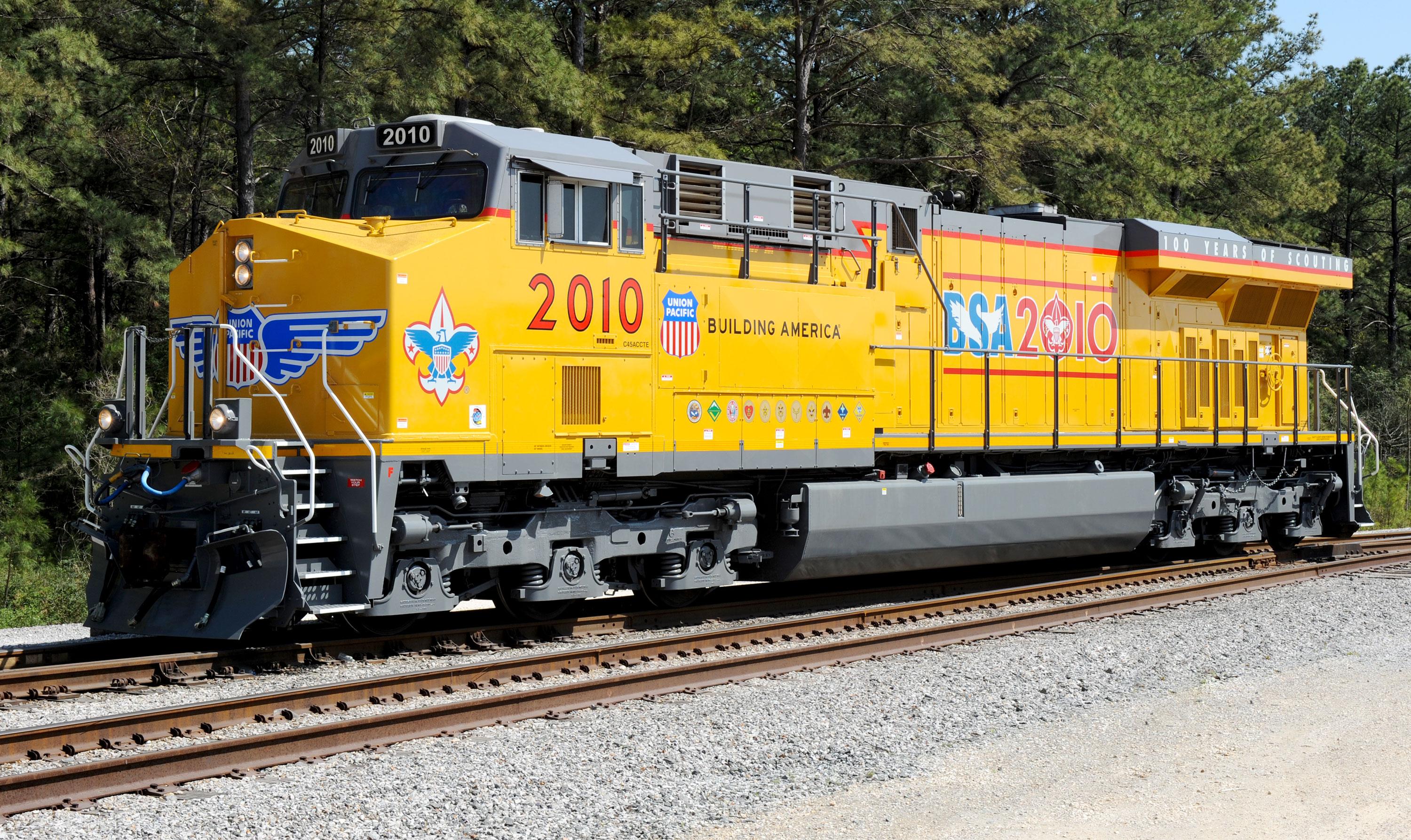 The Union Pacific No. 2010 Boy Scouts of America Locomotive was built at the General Electric plant in Erie, Pa., and delivered to North Little Rock, Ark., as UP No. 7469. In the process of having graphics applied in honor of the Boy Scouts of America's 100th Anniversary celebration, the locomotive was renumbered to UP No. 2010.
| | |
| --- | --- |
| Model | GE 4400-horsepower "C45AC" |
| Weight | 207 tons |
| Length | 73 feet, 2 inches |
| Width | 10 feet, 3 inches |
| Height | 15 feet, 6 inches |
| Maximum speed | 75 miles per hour |
| Engine Diesel | 12-cylinder |
| Emblems | 11, representing 10 "stages of Scouting" and National Scout Jamboree |
Boy Scouts of America
With more than 100 million alumni, the Boy Scouts of America (BSA) has become the nation's foremost youth program of character development and values-based leadership training. Currently the Scouting organization is composed of nearly four million youth members and adult volunteers who live by the Scout Oath and promise to demonstrate strong character, integrity, and leadership while serving their communities and neighbors.
The Boy Scouts of America is deeply honored to have Union Pacific celebrate the BSA's 100th Anniversary with a special commemorative locomotive. Railroading has been a vibrant part of the BSA's history, and to this day has an active role as one of Scouting's 122 merit badges.
The Railroading merit badge was introduced in 1952 and has been earned by more than 189,000 Scouts.
American passenger railroads helped boost participation at the first National Scout Jamboree in 1937 by offering fares at a special rate of 1 cent per mile.
During the Great Depression, the BSA employed special railroad executives who started and supported Scout troops in some 300 rural communities along railroad lines.
To earn the Railroading merit badge, Scouts must demonstrate a general knowledge of the railroad industry, train engineering and design, and an understanding of railway safety precautions. Some of the requirements include:
Explaining the purpose and formation of Amtrak;
Listing five safety precautions that help make trains safer for employees and passengers; and
Building a model railroad car kit or a locomotive kit.