Union Pacific Steam Locomotive No. 5511
Class TTT-6, 2-10-2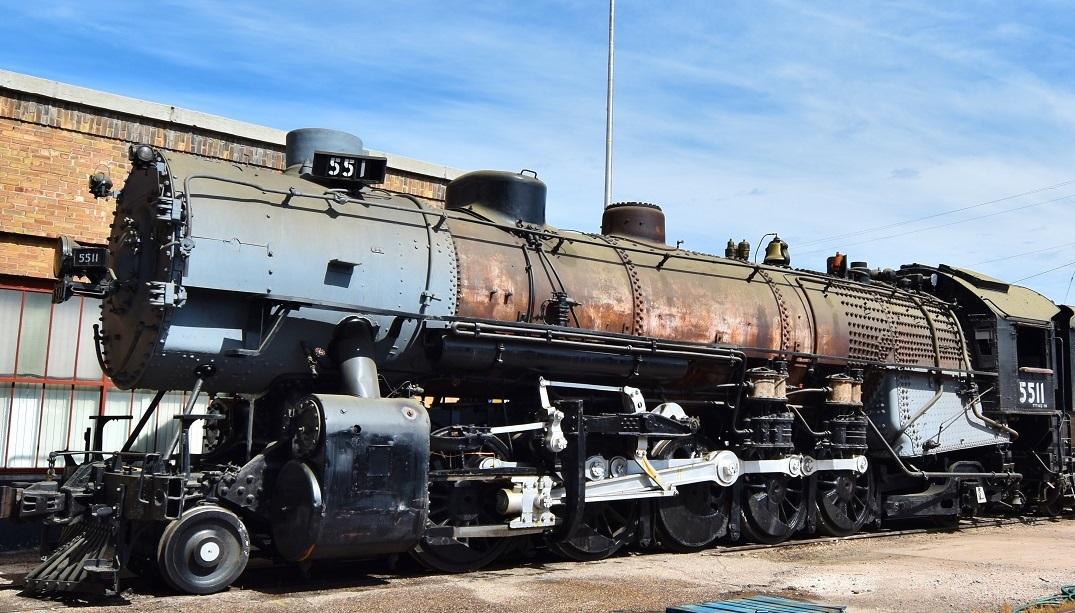 No. 5511 is a 2-10-2 type steam locomotive built by the Baldwin Locomotive Works in 1923 as part of a twenty-five locomotive order delivered that year. Union Pacific simply called them 2-10-2's and did not call them "Santa Fe" types as other railroads did; it is simply a class TTT-6, 2-10-2. No. 5511 the last remaining 2-10-2 from a roster of 144 that operated from 1917 until the end of steam operations in 1959. The locomotive ran in revenue service pulling heavy freight trains over the steep grades of the Wasatch Range between Ogden, Utah and Green River, Wyoming and was used as a helper westbound out of Cheyenne on Sherman Hill and eastbound out of Ogden during the latter part of its career.
In 1957-58, it was used as a temporary steam boiler in Ogden and again at the Westvaco Plant near Green River, Wyoming. This temporary service resulted in No. 5511 being the only 2-10-2 locomotive to avoid the heavy steam locomotive scrapping that was occurring at a very rapid pace during those years. No. 5511 was eventually moved to Cheyenne, Wyoming around 1970 where it has been stored at Union Pacific's roundhouse. Visitors to the Cheyenne Depot Museum could see the classic front of No. 5511 from the second floor window.
No. 5511 appeared in the Union Pacific sponsored film "Last of the Giants" that was produced to showcase the 4000 Class Big Boys. No. 5511 was used in this film to illustrate the evolutionary development and size comparisons of the modern steam locomotives in use during that era. During the filming, No. 5511 was coupled to a train of freight cars and pushed out of Green River with burning tires in the smokebox to provide the illusion that it was actually operating.
In 2022, Union Pacific donated No. 5511 to the non-profit Railroading Heritage of Midwest America (RRHMA) who plans to restore it back to operating condition.
Statistics
Boiler pressure - 200 PSI.
Cylinder Dimensions - 29 ½" X 30"
Driver Diameter - 63"
Weight on Drivers - 290,000 lbs.
Driver Wheelbase – 22' – 6".
Total weight Engine and Tender – 539,500 lbs.
Tractive Force – 70,500 Lbs.
Valve Gear – Young.
Maximum Speed – 45 MPH.
Grate area – 84 Square Feet.
Oil Fuel - 5200 Gallons.
Water - 12,000 Gallons.