Donyel DJ Paul, railcar mechanic, from Houston, Texas, was honored with EASE's first-ever Courageous Star Award in recognition of his engaged and positive outlook as he advocates for his wife and her chronic illness.
"DJ's wife has been living with a Multiple Sclerosis diagnosis since 2003," said Darin Musick, director-Mechanical Maintenance, and Paul's nominator. "The way he communicates about her shows his true commitment to her wellbeing, her treatment and their three children – his family is his world."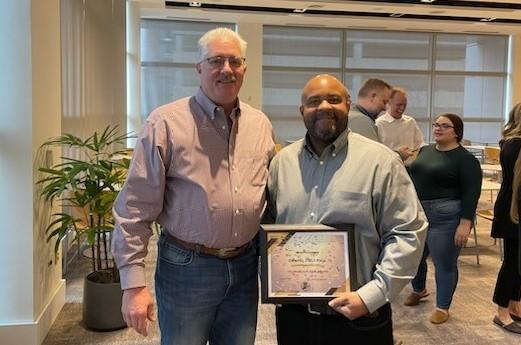 Paul has been based out of Houston's Englewood Yard since joining Union Pacific in 2005, helping the Mechanical team maintain the railroad's equipment.
"I am very humbled and appreciative of this recognition," Paul said. "Being a caregiver for a person who is disabled can be challenging, and even overwhelming at times – but I'm thankful every day and choose to have a positive outlook."
EASE leadership will annually present the Courageous Star Award to employees who shine bright while managing life's challenges. The award honors employee caregivers, advocates and their allies, as well as those managing their own disabilities, as they demonstrate strength, positivity and determination in the face of adversity.
"EASE is proud to recognize Donyel DJ Paul as our first Courageous Star," said Elise Gosch, EASE president, and assistant vice president-Corporate Strategy. "The role of ally and caregiver is a common experience among our workforce, as 1-in-4 adults in the U.S. are living with a disability. We're proud to support our employees as they bring their whole selves to work."
Recipients also are honored with the opportunity to direct a monetary donation from EASE to the nonprofit of their choosing. Paul chose the National Multiple Sclerosis Society as the first recipient of a Courageous Star-directed donation.
Subscribe to
Inside Track
"There are a lot of resources available, please take advantage of them – family, friends and medical staff have supported and comforted my wife and I," Paul said. "Hopefully, I can be an asset as a member of EASE."
EASE, the railroad's disability awareness and inclusion employee resource group, recently celebrated its third birthday.
Congrats, Donyel DJ Paul.