A historic level of federal dollars is available to help communities nationwide separate highway and train traffic and Union Pacific is doing its part to help cities like Houston and others compete for these competitive grants.
A 2021 federal bill set aside an historic $5 billion annually for cities, counties, states and others to apply for federal grants for railroad crossing safety projects and Union Pacific stands ready to help cities and others navigate the grant application process.
"If a city along our rail network is experiencing any frustration in the application process or have any questions, we encourage them to reach out to us. We can help work through their options and provide logistical support," said Paul Rathgeber, director of Industry and Public Projects – Engineering, for Union Pacific Railroad.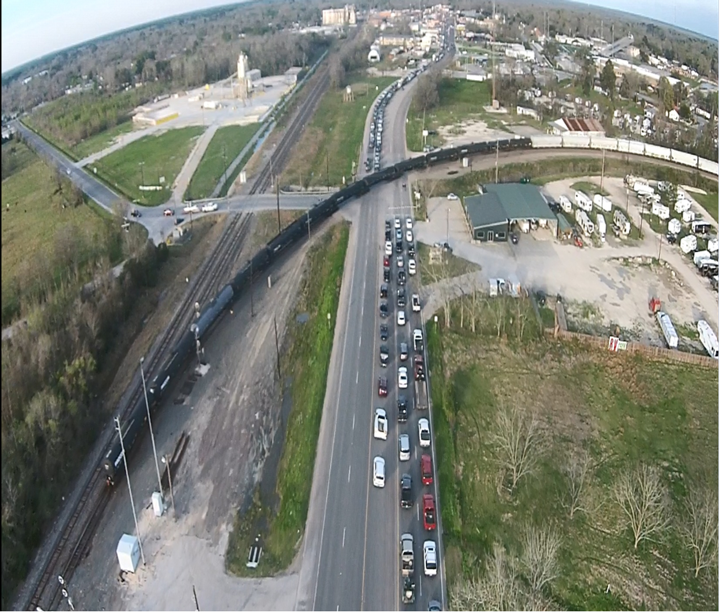 In 2021, the Bipartisan Infrastructure Bill approved by Congress created the first-ever, five-year grant program to improve railroad crossing safety and reduce blocked crossings by, among other things, closing at-grade crossings and building grade separations projects that separate highways from train tracks.
The first grants under the new law were awarded in June and included $37 million in funding to the City of Houston's West Belt Improvement project, which includes the construction of two underpasses and the closure of five crossings in Houston's East End. In addition, the Texas Department of Transportation was also awarded $19 million to build an overpass over U.S. Highway 90 in Dayton, Texas, which is one of Union Pacific's growth areas.
Union Pacific supported both projects and worked with key stakeholders to provide the information needed for the grant application.
"Projects like these that remove crossings are part of the long-term solution to improve mobility and crossing safety in cities across the United States," said Tyson Moeller, general director – Network Development for Union Pacific Railroad, based in Houston, Texas. "Union Pacific stands ready to support and help communities apply for these grants."
The grants will allow cities and counties across the nation to fund grade separation projects, which allow trains to either go over or under highways with the help of such things as overpasses, said Rathgeber.
"In my 26 years at the railroad, I have never seen railroad crossing funding at these levels. It will have a real impact on rail crossing safety and reduce train/motorist conflicts," said Rathgeber.
Subscribe to
Inside Track
Rathgeber noted that every year, more than 2,000 collisions occur at highway-rail grade crossings in the U.S.
In the inaugural grant funding in June, more than 400 at-grade crossings nationwide were targeted for enhancement in 32 states.
The Federal Railroad Administration is expected to begin accepting grant applications for the second round of funding later this fall, perhaps in September, with the next round of awards announced in 2024.
Union Pacific is working to make as many cities, counties and state departments of transportation aware of the grants, and to provide assistance in the grant application process, said Rathgeber.
City officials and others who have questions about the grant process and who would like to talk to a Union Pacific official, are encouraged to contact a Union Pacific Public Affairs representative in their region.
Learn more about the federal Railroad Crossing Elimination Grant Program on the Federal Railroad Administration website.