As demand for freight transportation soars, Union Pacific is making early connections with young people due to enter the workforce.
Subscribe to
Inside Track
Omaha's Union Pacific Center recently welcomed 19 juniors from Abraham Lincoln and Thomas Jefferson high schools in Council Bluffs, Iowa.
On a tour led by Marcela Morales, senior recruiter-Talent Acquisition, Workforce Resources, students learned about the railroad's wide assortment of job opportunities and modern-day railroading.
Students even got to try their hand at operating a locomotive with Union Pacific's simulator stations. As they worked their way down the simulated rails, Union Pacific trainers coached them through the process.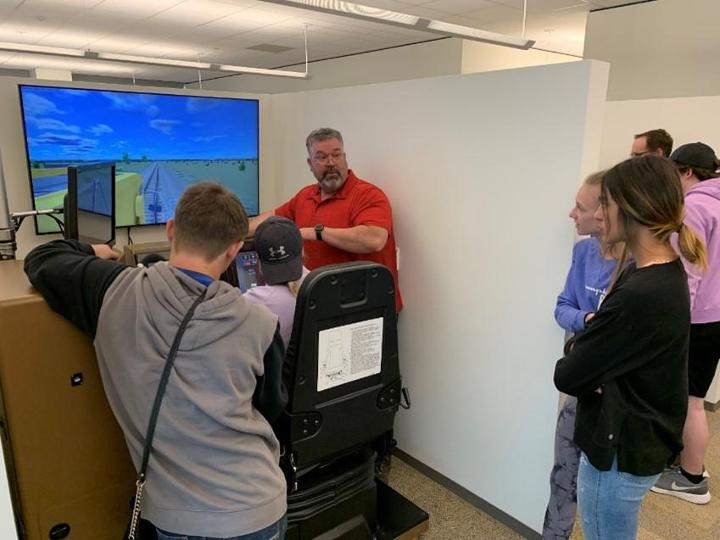 Jeremy Elmendorf, senior instructor-Transportation Training, Workforce Resources; Warren Higdon, senior instructor-Transportation Training, Workforce Resources; and Pat Morgan, senior instructor, Engineering Training, Workforce Resources, were there to share their expertise.
"Having high school students visit Union Pacific and learn about all the career opportunities we have to offer is so important," Morales said. "These students are starting to think about their futures and the career paths they want to take – we'd like Union Pacific to be an option they consider."
Union Pacific gave the tour as part of its partnership with the Iowa Jobs for America's Graduates (iJAG) program, a nonprofit organization providing career education for under-privileged youths.
"Many of these iJAG participants are interested in careers as welders, mechanics and lineworkers, which means they can find a great career as a craft professional with Union Pacific," Morales said.
Are you interested in a career with Union Pacific? Learn more about job opportunities near you.