Amidst the hustle and bustle of Chicago, a vibrant mural and portal into the past has emerged. Created by renowned local artist Joe Nelson, the mural honors the Pullman Porters and their remarkable journey from service to activism as they fought for equality and dignity on the rails.
Subscribe to
Inside Track
"They were strong, hard-working family men, so I look at them as role models in a lot of ways," said Nelson.
The Pullman Porters were Black men hired by the Pullman Company to work on luxury passenger trains known as Pullman Cars. In an era when train travel was the primary means of traversing the country, the Pullman Porters and their meticulously maintained sleeper cars became a lifeline for countless passengers embarking on cross-country journeys. They ensured passengers' comfort, assisted with luggage, made up beds, and provided various amenities on board.
They're also heralded as pioneers and agents of social change for their groundbreaking efforts in establishing a planned community and the first Black labor union. Led by the charismatic A. Philip Randolph, the Brotherhood of Sleeping Car Porters fought tirelessly for fair wages, improved working conditions, and an end to racial discrimination. They became trailblazers in promoting civil rights and a Black middle class during a time of segregation and Jim Crow.
"Pullman is more than just a place," said Liisa Stark, Union Pacific vice president-Public Affairs. "It's a symbol of unity and progress, and we're extremely proud to have our history tied to it."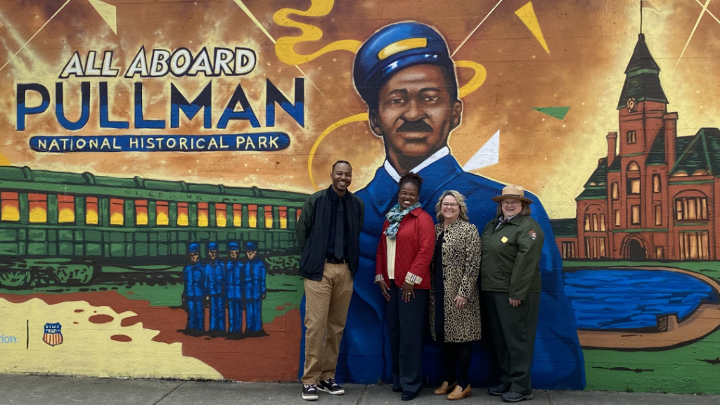 Funded by the National Park Foundation and Union Pacific, the mural on 109th and Cottage Grove opened to the public in May 2023 and is free to visit. It was inspired by a poster Nelson designed for the grand opening of the Visitor's Center at Pullman National Historic Park in 2021.
"At the National Park Foundation, we believe that national parks have many stories to tell and lessons to teach us. This artwork and national park do just that," said Adrena Ifill, Director of History and Culture with the National Park Foundation. "We hope this mural will educate and inspire the community and visitors for generations to come."
For more information and to plan your visit to Pullman National Historical Park, visit nps.gov/pull.