Union Pacific finalized its new locomotive paint scheme – moving the placement of but keeping its iconic flag design, which was rolled out over 20 years ago to honor the victims of 9/11. The first Union Pacific locomotive with the refreshed paint scheme is now in service.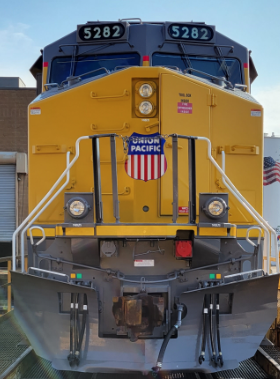 The final design comes after testing and receiving feedback over the summer on a design that changed the look of the flag and its position. Union Pacific adjusted the flag's placement after receiving employee feedback the image was sustaining wear due to engine heat. The new placement is meant to keep the flag in pristine condition, honoring it as a sacred symbol.
"Union Pacific has long been an integral piece of the U.S. economy moving America forward, and the flag on our locomotives is a great representation," said Lance Fritz, chairman, president and CEO. "We want to ensure that although the placement has changed in order to best represent the flag, we continue to honor our roots as we build America."
Employees at the Jenks Locomotive Shop in North Little Rock, Arkansas, will implement the new design as locomotives come in for modernizations or overhaul work. The first SD70ACe locomotive with the revised new paint scheme is the UP8608, which made its service debut Sept. 12.
Subscribe to
Inside Track