One out of every four carloads hauled by Union Pacific Railroad each year either starts or ends with a short line – short-distance railroads that connect shippers with long-distance freight railroads.
Union Pacific connects with approximately 180 short line railroads, extending the Class 1 railroad's 32,000-mile network by about 20,000 miles.
These smaller railroads are vital industry partners that broaden Union Pacific's customer reach and offer strong growth opportunities as underscored by U.S. Transportation Secretary Pete Buttigieg's recent visit to Nebraska in support of a short-line rail project.
"Union Pacific understands the important role short-line railroads play in our overall business development," said Brian Walden, senior manager for Short Line Development at Union Pacific. "We are re-emphasizing our commitment to collaborate and find opportunities for us to grow together."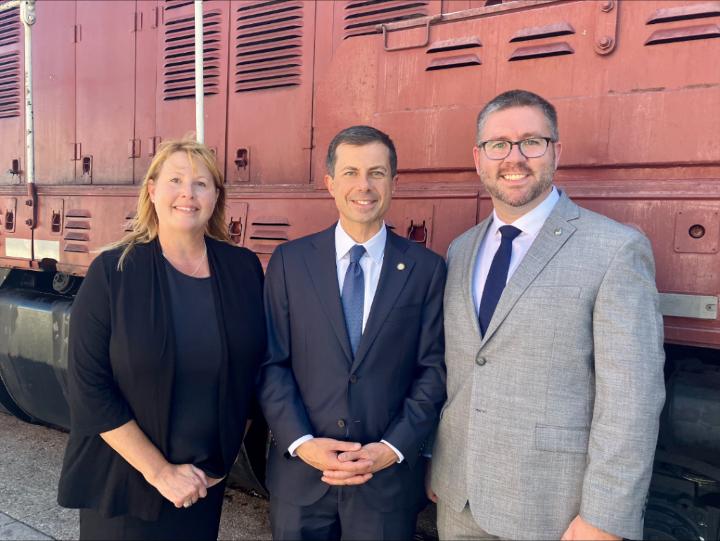 Walden attended Buttigieg's visit last month to Grand Island, Nebraska, where a $15.2 million federal grant was awarded to Cathcart Rail, the owner of Cornhusker Railroad, a 27-mile short-line railroad in Central Nebraska.
The grant will fund the Cornhusker Railroad Regional Connectivity Project, a rail improvement effort to provide businesses in regional Nebraska greater access to the nation's rail network.
Notably, the project allows GMCO Corporation, a fertilizer producer, to develop a state-of-the-art facility and access to Union Pacific's network by way of Cornhusker Railroad. The first GMCO shipment is expected later this year and will mark the first departure of loaded freight cars from the Grand Island industrial park onto Union Pacific's network in 50 years.
Prior to that, the short-line railroad was used primarily to transport empty rail cars for repair at one of two facilities operated by Cathcart Rail.
"It will be a historic moment when that first loaded freight car rolls down the rail on the Cornhusker Railroad bound for Union Pacific, a day that will hopefully open other business development doors," Walden said.
Subscribe to
Inside Track
It's also a great day for Cathcart Rail.
"This regional railroad project will provide new customers access to the railroad and will create more jobs, more growth and more economic development in the region," said Casey Cathcart, Chairman and CEO of Cathcart Rail.
There are approximately 600 short line railroads in the nation overall. Of those, Union Pacific connects directly with about 180 and indirectly with about 350.