Parents teach their children not to text and drive, and how to manage challenges at school or on the playground. They talk with kids about why they shouldn't smoke or drink and drive. But most parents aren't actively having conversations with their children about railroad safety.
Meanwhile, every five days a child is killed in a train collision, according to Safe Kids Worldwide, and nearly every one of these tragedies is preventable.
Union Pacific Railroad and Twin Cities Public Television (TPT) are partnering to make rail safety part of those regular conversations by launching a national multilingual rail safety campaign on multiple platforms reaching diverse audiences.
"With more than 140,000 miles of track and 212,000 rail crossings in the U.S., chances are you and your child will come across at least one on the way to and from school, whether it's on foot or by car," said Union Pacific Assistant Vice President and Chief Safety Officer Connie Roseberry. "Now is the perfect time to talk about staying safe around the tracks, just as you would remind a child to look both ways when crossing the street."
Safety messages communicated through the campaign include limiting technology use near the tracks, waiting for trains to pass and obeying signs near the tracks.
The campaign consists of 52 videos, including digital shorts and infographics for ad placements and to share on social media. Media content complements a 17-page learning curriculum with rail safety lessons teachers can use in schools. The campaign engages five specific audiences: parents, caregivers, children, teenagers and the general population. For example, a character named "Connie the Conductor" is featured in the videos for kids, and a break dancer is featured in TikTok videos targeting teenagers.
"What we've tried to do is take a routine message and elevate it," said Lillian McDonald, managing director of Emergency Response for TPT NOW, a dedicated health and safety broadcast channel reaching diverse communities. "We're trying to invite cultures to add context to our messages so more people talk seriously about rail safety."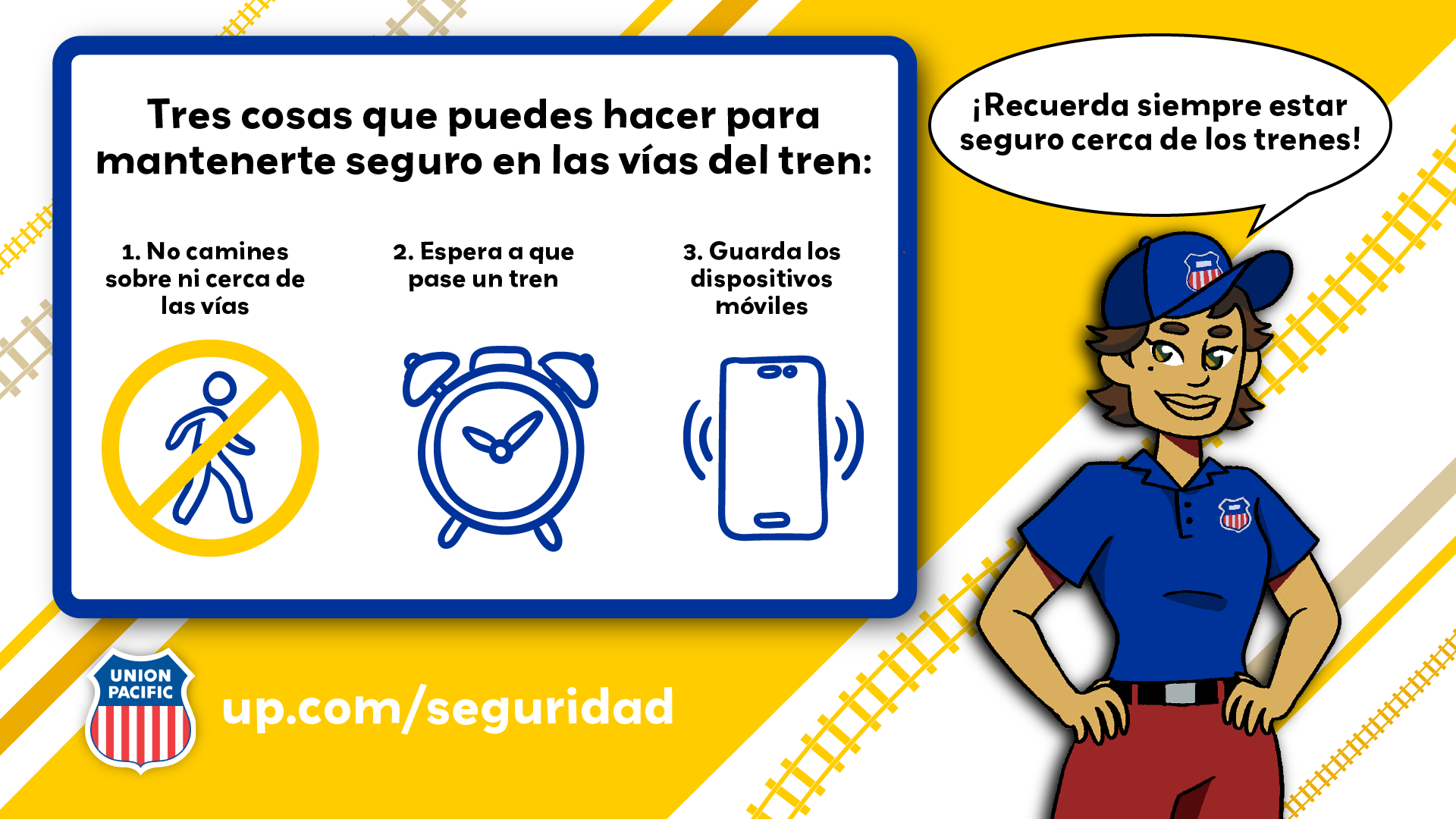 All of the content, produced by TPT with input and information from Union Pacific, was created in English, Spanish, Hmong and Somali to engage hard-to-reach audiences who may live near the tracks.
"There is not enough material for these fast-growing, diverse populations," McDonald said. "Engagement is the secret ingredient. When you engage different cultures in the process of creating content, you actually maximize the audience reach."
While this is the third year TPT has worked with Union Pacific to create content for rail safety campaigns, this is the first year – thanks to regional partnership funding through the railroad's Community Ties Giving Program – the campaign is able to reach a national audience, including media entities and broadcast markets in five different states.
Subscribe to
Inside Track
The campaign will run over the next two months on PBS and Univision/Televisa stations in Chicago, Illinois; San Antonio and Houston, Texas; Portland, Oregon; Los Angeles, California; and Minneapolis and St. Paul, Minnesota.
McDonald said if everything goes off without a hitch, the campaign could reach as many as 6 million people.
"If there is anything we can do to reduce fatalities and injuries on the tracks, we're all for it," she said.