You've heard of self-driving vehicles. How about self-operating cranes?
Subscribe to
Inside Track
Union Pacific acquired five new wide-span cranes that are integrated with Artificial Intelligence and can operate semi-autonomously in loading and unloading intermodal containers onto semitrailer trucks.
These high-precision cranes will operate much like a high-tech robot or a vending machine but, instead of sticking in quarters, truck drivers will use their UPGo mobile app to get assigned a transfer location. The crane will then do most of the work, telling the truck driver where to go to pick up the load, while locating and lifting the containers.
The new cranes will be tested next year at Global IV in Joliet, Illinois. They underscore Union Pacific's commitment to exploring new technology that can enhance our customers' experience and reduce GHG emissions.
In addition to enhancing efficiencies, these electric cranes produce zero emission and will eliminate the use of many diesel trucks used to park containers at intermodal terminals, a centralized railroad facility where freight is loaded and unloaded for transportation on rail or trucks.
"We are always looking for new and innovative ways to improve services. These electric cranes will help us meet our goals of building a more sustainable future in the transportation industry, while giving our customers' faster and more efficient service," said Jeff Chapman, General Director – Capacity & Technology, Network Planning and Operations.
The cranes were acquired earlier this year and are currently being assembled and "energized" in preparation for testing to start in 2022. Based upon the results, Union Pacific will evaluate them for use at other intermodal terminals.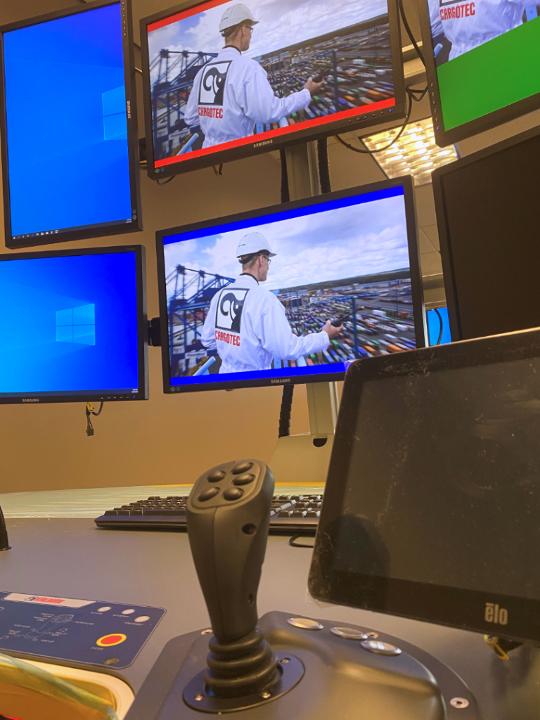 The cranes stand 75 feet tall and are 250 feet wide, operating over six tracks. They can identify a container on a crane within 1/16 of an inch of the location of the box. They also can move containers out of the way, if necessary, to load the correct container. Truck drivers will go through an Automated Gate System, where they will be required to confirm the details of their pick-up.
"The crane has the ability to manage multiple priorities, work orders and analyze future lifts, basically do it all," said Matthew Wafer, Senior Manager Capital Planning – Network Planning and Operations.
However, for safety reasons, the cranes won't be allowed to do it all.
The crane and its accompanying operating system will do almost all the work autonomously but will stop once the container is over the working track or truck transfer area. A person monitoring the system remotely via computer screens will supervise lowering the container onto the truck chassis to ensure it is smoothly and safety done.
Union Pacific is currently in the process of hiring personnel to man the cranes and will be developing a training program to be implemented later this year.