Union Pacific's vision of Building America means we connect the nation's businesses and communities to each other and the world by providing safe, reliable and efficient supply chain solutions that support sustainable economic growth.
The Carbon Emission Estimator helps customers estimate their greenhouse gas emissions for shipments on Union Pacific.
Our Sustainability Approach: Building a Sustainable Future 2030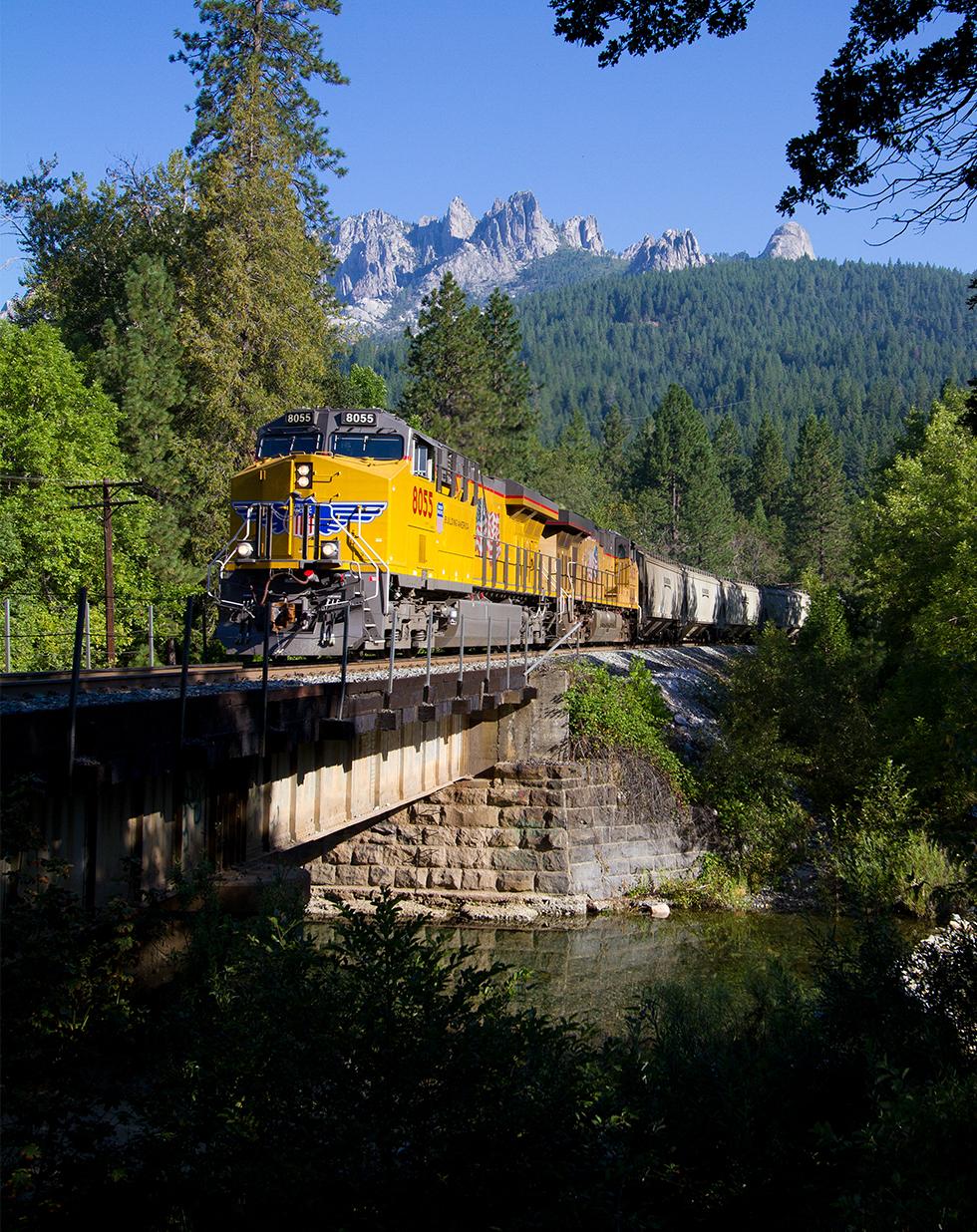 UP 8055 (EMD SD9043MAC) crosses a small bridge near Castle Crags State Park, California.
Union Pacific trains traverse through metropolitan cities, cozy communities and lands where only trains and wildlife can be heard. From the terrain our rails touch to communities worldwide, it's important we act as stewards to support the transition to a more sustainable future, one that fosters diverse and inclusive environments, provides innovative economic solutions, pursues clean air and plentiful water supplies, and improves the quality of life for everyone. At the beginning of this new decade, Union Pacific is reinforcing our commitment by introducing a more comprehensive approach to sustainability issues: Building a Sustainable Future 2030.
The COVID-19 pandemic taught the world about the importance of resiliency, and, in many cases, businesses like Union Pacific reacted faster than governments to support employees, supply chains and communities. As a critical part of America's infrastructure, we played a key role ensuring continuity of functions to support public health and safety, and deliver materials to power hospitals, stock grocery store shelves, purify water, make medicine and feed livestock. These responsibilities and our agility in respond to evolving customer and community needs will continue to be critical long into the future as we face the impacts of climate change, social injustice and other global crises.
Built on five areas of concentration – Building Responsible Foundations, Investing in our Workforce, Driving Sustainable Solutions, Championing Environmental Stewardship and Strengthening our Communities – our new approach addresses the evolving needs of our stakeholder groups over the next decade and is more inclusive of the overall impact we can have. It builds on our foundation of safety as our No. 1 priority. It also addresses our most material sustainability risks, while aligning our commitment with the United Nation's Sustainable Development Goals (SDGs). Within each area of concentration we are identifying measurable targets, and we will report our progress annually in the Building America Report, our Climate Action Plan, our "We Are One" Report and our Proxy Statement.
Today, Union Pacific moves a ton of freight 463 miles on a single gallon of fuel. Rail remains the most fuel-efficient way to move freight over land by cutting greenhouse gas (GHG) emissions by up to 75% compared to commercial trucks. This sustainability approach supports Union Pacific's corporate strategy to be the best freight railroad in North America and also leverages our expertise and enables sustainable growth across our supply chain.
Over the next 10 years, we envision:
New initiatives to recruit, develop and retain a diverse workforce that better reflects the world around us and prepares employees for the jobs of the future, allowing Union Pacific and the U.S. to better compete for global business.
A seamless customer experience, and opportunities for large and small companies to leverage rail, making Union Pacific the go-to source for movement of goods.
Actions to achieve GHG emissions consistent with science-based targets, waste initiatives supporting a circular economy, and addressing ongoing habitat loss and the need for clean water due to growing populations and urban sprawl.
Increased support of minority- and women-owned businesses that strengthens local economies, as well as philanthropic aid that leads to safe places to live, family-supporting jobs and vibrant spaces that inspire people to live their best lives.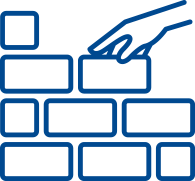 Building Foundations
The health and safety of employees is at the foundation of everything we do. We are committed to engaging with employees to discuss and understand the risks they may encounter in their daily work so that we can address them. We continuously monitor our dynamic risk management process to identify and address potential concerns, including those arising in the everchanging economic, political, legal and technological environments in which Union Pacific operates.
At the forefront of this effort is putting safety first across all elements of our activities to protect our workforce, our culture and our communities. We do this while upholding the highest standards of legal and ethical conduct through good governance, effective policies and processes, and strong values. As technology becomes more integrated with how we do business and live our lives, we will continue to protect and preserve information by embedding effective data privacy and information security practices and complying with relevant legislation and standards. This aligns with embedding a strong risk management and internal control process to protect from risks or ensure effective mitigation if they occur.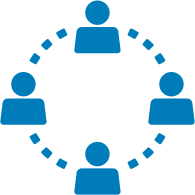 Investing in our Workforce
Our employees are passionate about their work Building America. We believe the work that every employee does matters, and how the work is accomplished is just as important as producing results and achieving goals. Every employee's career path is unique, from working on or with trains to working in an office setting. At Union Pacific, our goal is to help employees develop skill sets enabling them to grow, move into positions across the company and become experts in their role, leading to fulfilling careers.
Union Pacific is committed to fostering a diverse and inclusive environment that reflects the diverse markets and communities we serve, and one where people can be their best, personally and professionally. Recognizing we still have work to do, we continue to focus on building an inclusive culture, and a talented workforce, with a goal to reach 40% minority and 11% female representation by 2030.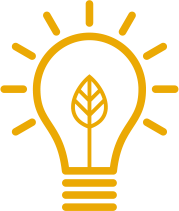 Driving Sustainable Solutions
By operating a safer, more efficient, highly reliable and environmentally responsible rail network, we aim to deliver the best customer experience, create economic strength and grow our business profitably and responsibly, allowing us to invest more in our future. We create economic opportunities for local communities through direct employment with us, as well as through spending by local employees.
We continue to develop seamless customer experiences through technology-enabled tools and customer collaboration, helping customers improve their own environmental footprint by converting from truck to rail. We're identifying and marketing shovel-ready sites that improve rail access, promote local growth and provide businesses the environmental benefits provided by moving goods by rail. Union Pacific also hauls many sustainable commodities, such as wind turbines, renewable energy and fuels, and recycled products.
Union Pacific's capital investments create economic opportunity through employment and supply chain activity and represent investments in building a rail network that supports sustainable economic growth for generations to come. The more we invest in building a safe and efficient railroad today, the better our infrastructure can support communities going forward.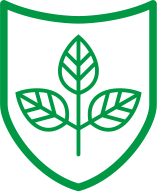 Championing Environmental Stewardship
More frequent and more severe weather events resulting from climate change present challenges to our operations. We believe a healthy environment is an essential foundation for a strong country and a vibrant economy, and our vision of Building America involves protecting and strengthening this foundation.
Railroads are one of the most fuel-efficient means of transporting freight by land. Our sustainability strategy supports Union Pacific's corporate strategy to be the best freight railroad in North America and leverages our expertise to enable further sustainable growth across our supply chain.
Union Pacific's services can enable our customers to reduce their own carbon footprint and create meaningful global change. In early 2021, the Science Based Targets Initiative approved our targets to reduce absolute scope 1 and 2 GHG emissions from our operations 26% by 2030 against a 2018 baseline on our path to net zero emissions by 2050. We believe this is an important step to understanding how much and how quickly we need to reduce our emissions, as well as anticipate future policies and regulations. This is not an easy task, as we must closely examine every aspect of our operations. We must strive for transformational change by supporting the development of promising technology and other solutions that will help us further reduce our carbon footprint, as well as maintaining equipment and training employees in environmentally responsible behaviors.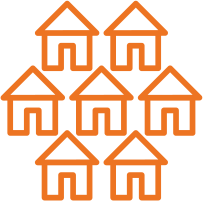 Strengthening our Communities
Union Pacific is dedicated to serving and investing in communities, improving the quality of life where our employees live and work. We take tremendous pride in our relationships and efforts to improve the futures of these communities through the Community Ties Giving Program. In the four years since we redefined our philanthropic pillars to focus on safety, workforce development and community spaces, we've served approximately 48 million people, 18 million of whom are in underserved populations. We believe our impact has a ripple effect and the potential to change future generations.
Union Pacific annually purchases hundreds of millions of dollars in goods and services from more than 285 diverse suppliers in 37 states. Our spending with diverse suppliers is growing, and we are committed to doing more in this area. Additionally, approximately 89% of our strategic suppliers reported purchasing goods and services from diverse suppliers, demonstrating their support for our diversity initiative.