Legendary Locomotives
No. 844 Steam Locomotive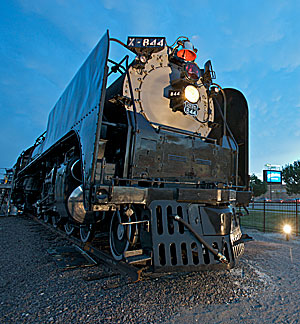 Delivered in 1944, steam locomotive No. 844 is the last steam locomotive built for Union Pacific. This high-speed locomotive pulled such widely known passenger trains as the Overland Limited, Los Angeles Limited, Portland Rose and Challenger. Hailed as Union Pacific's "Living Legend," the locomotive is regarded among railroad enthusiasts for its excursion runs, especially over Union Pacific's fabled crossing of Sherman Hill between Cheyenne and Laramie, Wyoming.
No. 6939 Centennial Diesel-Electric Locomotive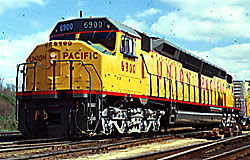 Centennial locomotives, named in honor of the railroad's centennial anniversary celebration in 1969, were the largest diesel-electric locomotives ever built. Actually comprising two engines on one frame, they delivered 6,600 horsepower and operated in fast freight service over most of the UP system until their retirement in 1984. Eleven Centennials were donated for public display in various parks and museums. No. 6936 is the only remaining Centennial in Union Pacific's fleet.