Omaha, NE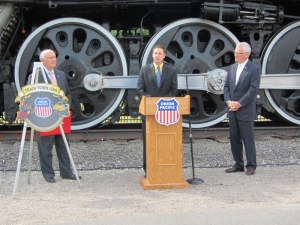 Omaha Mayor Jim Suttle (left) and Union Pacific's senior vice president - Corporate Relations Bob Turner (right) listen as Joe Gudenrath, Omaha Downtown Improvement District, executive director explains what Union Pacific Railroad means to downtown Omaha, during the Train Town USA ceremony.
Omaha and Union Pacific Railroad share a rich and lengthy history together. Abraham Lincoln created Union Pacific by signing into law the Pacific Railway Act of July 1, 1862. Ground was broken in Omaha in 1863 but actual construction was delayed until July 1865, when the first rail was laid just three months after Lincoln was assassinated. The golden spike marking the completion of the first transcontinental railroad was driven May 10, 1869, at Promontory Summit, Utah, by officials of Union Pacific and Central Pacific. Union Pacific opened the first bridge across the Missouri River between Omaha and Council Bluffs in 1872.
Today, as in years past, all Union Pacific employees, including nearly 8,000 in Nebraska and 4,400 in Omaha, are committed to meeting the challenge given to them 150 years ago by Lincoln himself, to connect and support the United States of America while continuing to meet the needs of the customers, shareholders and communities in which they live and work.