Dimensional Shipping Made Easy
Eight Steps for Shipping a Hi-Wide Load with Union Pacific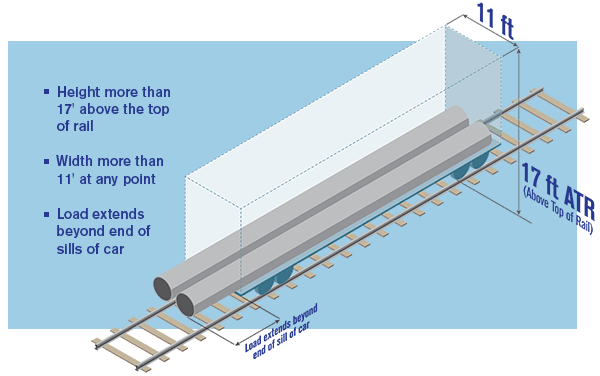 Learn More
If you have any questions about shipping dimensional loads, please contact the Union Pacific Clearance Team at clearances@up.com.
Shipping Dimensional Loads with Union Pacific - A Step-by-Step Guide
Step 1: Define shipment
A dimensional load is different from a typical rail shipment due to its greater size or weight. Union Pacific defines a dimensional load as a load with one or more of the following characteristics:
Width greater than 11'- 0"
Height greater than 17'- 0" above the top of the rail
Loads that overhang the end of the rail car
Loads weighing more than 220,000 lbs net or requiring more than four axles
Step 2: Submit pre-clearance proposal
If load originates on Union Pacific, begin the shipping process by submitting a dimensional clearance proposal. Log on to MyUPRR.com, (user ID and password required) then choose "Dimensional Clearance" under the "Ship" tab. Select "Create Proposal" under the "Proposal" tab to open the request form. A fee of $500 is accessed for each proposal request, refundable if load ships on Union Pacific. After the appropriate review, a pre-clearance letter will be sent to the requester indicating what Union Pacific main line structures can handle.
Step 3: Get a freight rate
UPRR 3435 and UP 4467 public tariffs are available for standard machinery pricing requests.
Please contact your Union Pacific representative to obtain rates for any shipments that apply to the following items:
Shipment width exceeding 13'- 0"
Shipment weight exceeds 550,000 lbs
Required speed is less than 45 mph
Special train service is required
Schnabel or bolster cars are required
Loads requiring movement through corridors against the flow of traffic in directional-running territory
Step 4: Locate a track for your operation
The Union Pacific Clearance Team will help you locate a viable loading/unloading location. We will work with you to identify the best available sites to support the specific needs of your shipment.
Step 5: Onboarding your project
Once a specific track has been located and you are ready to advance your project, contact the Union Pacific Clearance Team to initiate the POWER process with our Industrial Development team. Through this process, the Clearance Team will ensure your shipment is validated, classified and handled adequately, considering factors such as volume of train traffic, site infrastructure requirements and rail service offerings.
An Industry Track Agreement (a contract between Union Pacific and the customer for rights to utilize Union Pacific track, private track or to lease track from Union Pacific) will be signed and a Clearance Release notification will be sent to you. If you are shipping to a track that requires operational sign off and a new Industry Track Agreement, please allow 5-7 weeks of project lead time.
Step 6: Order a rail car
Standard flatcars or gondolas can be ordered with your Union Pacific representative. To request heavy-duty flatcars, contact Union Pacific's Clearance Team at 800-544-0541 or clearances@up.com. Buffers and idlers can also be ordered with the Clearance Team.
Step 7: Load and secure shipment
The shipper is responsible for loading, tying down and securing the load to the rail car. Any questions regarding AAR Open-Top Loading Rules should be sent to the Union Pacific Shipment Quality Team at shipmentquality@up.com. The Union Pacific Mechanical Department must conduct an open-top load inspection prior to the rail car being released. All loads must be approved in order to receive authorization for movement. To arrange an inspection, contact the Union Pacific Clearance team at 800-544-0541.
Step 8: Submit waybill
A valid Union Pacific waybill must be submitted online before a shipment can be picked-up. To submit your waybill:
Visit MyUPRR.com
Choose "Bill of Lading" under the "Ship" tab
Complete required fields and submit
Once your Bill of Lading has been submitted you can use Union Pacific's online tools to track your shipment. Simply visit MyUPRR.com and select "Equipment Trace" under the "Trace" tab. To request updates from our dedicated team, open a service log at MyUPRR.com, then choose "Service Issues" under the "Trace" tab. Select reason "Protect High/Wide" to monitor a dimensional shipment.