Union Pacific de Mexico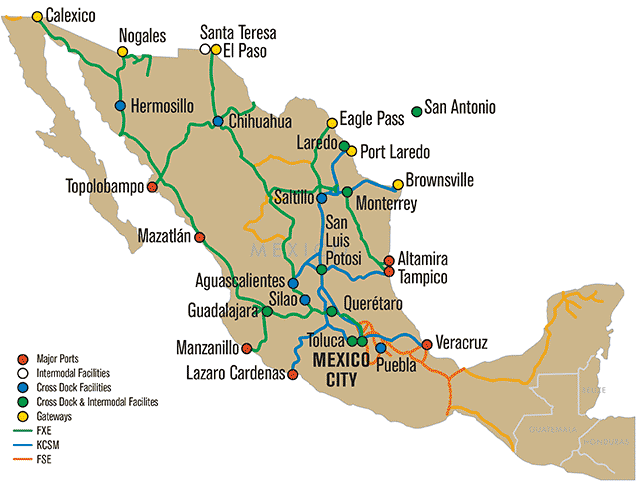 Union Pacific is the leading provider of rail transportation services between the U.S. and Mexico.
Unbeatable Gateway Access
As the only railroad to serve all six U.S./Mexico gateways, Union Pacific offers the most competitive international routes and gateway flexibility. Not only do we serve the western U.S. and Mexico, we have connecting carrier access to the eastern United States and all Class I Canadian railroads, offering Mexico customers market reach throughout North America.
Expertise in Mexico
Union Pacific has a growing business team devoted to serving customers in Mexico. Our staff members are fluent in both English and Spanish and have extensive experience working with Mexican railroads, as well as market knowledge that is critical to supporting customers in their specific industries. With four offices located in the interior of Mexico (Guadalajara, Irapuato, Mexico City and Monterrey), two at the U.S./Mexico border (Laredo and El Paso) and locations throughout the U.S., Union Pacific's Mexico team can help customers take full advantage of our far-reaching geographical coverage and innovative transportation solutions.
International Customer Service Center (ICSC)
The ICSC, located in San Antonio, is staffed with customer service professionals fluent in both Spanish and English, with expertise in international freight handling, border processes and Mexico's rail systems. This talented team assists international customers by proactively monitoring shipments, assisting with border process clearance, and acting as a liaison with Mexican railroads.
Phone from Mexico: 001 800 520 1771
Phone from U.S.: 800-877-0531