MatchUP - Domestic ISO Reload Program

Union Pacific's MatchUP is a Domestic ISO Reload Program, matching an import load with a westbound domestic shipment. MatchUP is a Union Pacific managed program that simplifies the domestic reload for ocean carriers while at the same time, provides capacity in markets where 53' domestic capacity runs tight.
Union Pacific strategically designed the MatchUP program to serve markets where ocean carriers and intermodal marketing companies (IMCs) would be mutually benefitted. Ocean carriers benefit from balancing westbound shipments, growing IPI business and reducing round trip costs. Additionally, ocean carriers enjoy a simplified process for managing excess empties; through MatchUP ocean carriers ingate empties at select Union Pacific terminals and Union Pacific manages everything else up through the empty return on the West Coast.
IMCs that participate in the EMP and UMAX programs have access to additional capacity which allows them to secure incremental business. IMCs will have peace of mind knowing additional capacity is available and they are not solely reliant on empty repositions. MatchUP compliments the existing EMP and UMAX programs well because it is only offered in markets where domestic capacity is tight. You will not find MatchUP offered in a market that will compete with our existing domestic rail container programs.
How MatchUP Works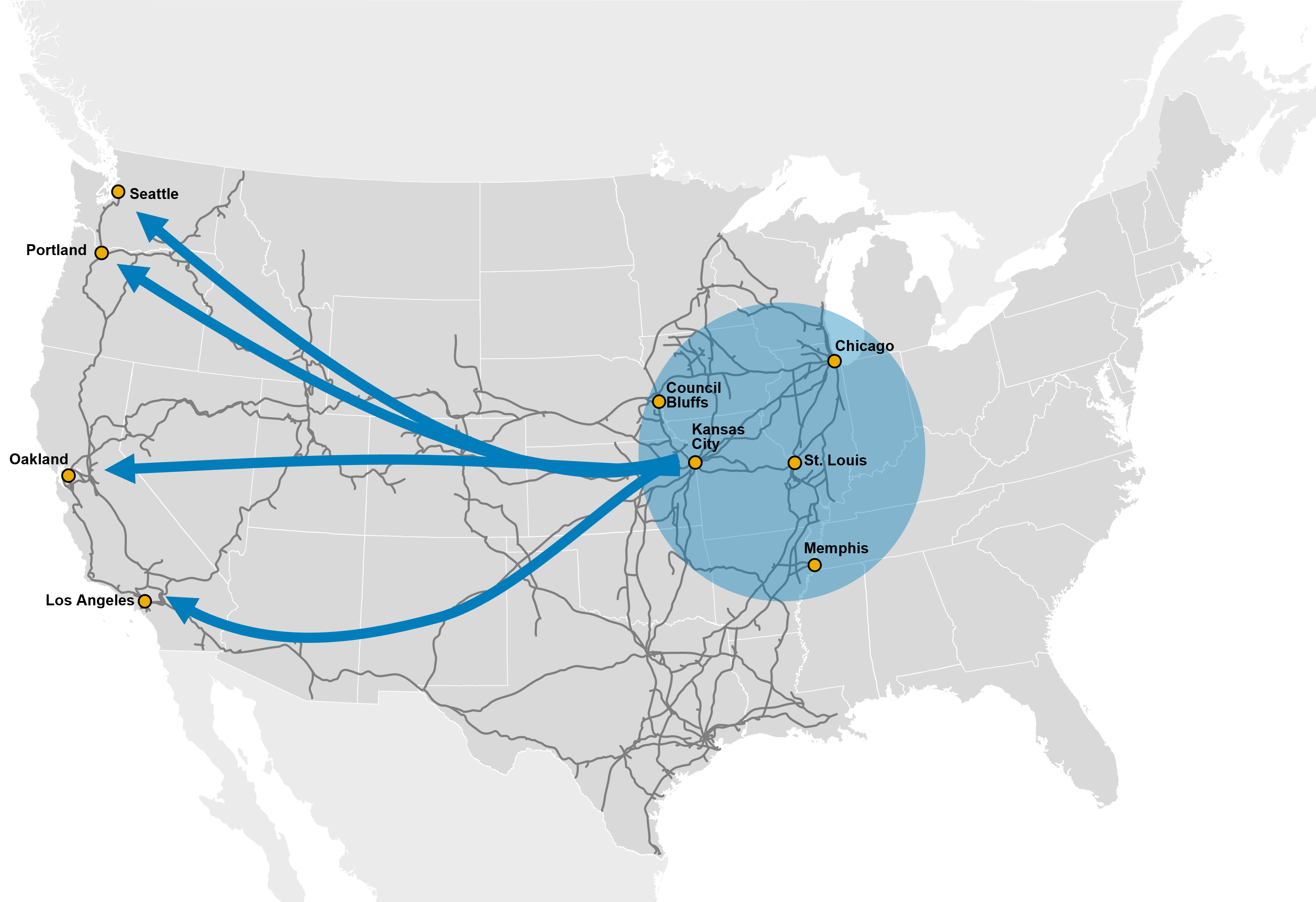 An ocean carrier ships an import container to an inland location (like Chicago or St. Louis).
The box is taken to the Beneficial Cargo Owner (BCO) and emptied by the customer.
Empty box is ingated at a Union Pacific terminal and becomes available capacity for MatchUP.
Capacity is displayed via Blume Global, customers request equipment following the same process for UP 53 ft. rail container programs.
The 40 ft. international box is used to transport domestic freight back to the West Coast for unloading.
Empty boxes are returned to the ports or customer identified locations on the US West Coast.
Chicago Box Pick-Up
Origin

Destination

Ocean Carrier

Consignee Billing Name

Global 4

Seattle
Portland
Oakland
ICTF

CMA CGM America
CMA CGM AMERICA
NORFOLK, VA US
Global 4
Westwood Shipping Lines
WESTWOOD SHIPPING LINES
PUYALLUP, WA
Global 4
SM Line

SM LINE
CHANDLER, AZ

Global 4
HMM
HMM CO LTD
IRVING, TX
Global 4
*Street Turn Only
Hapag Lloyd
HAPAG LLOYD AMERICA LLC
PISCATAWAY, NJ, US
Memphis Box Pick-Up
Origin

Destination

Ocean Carrier

Consignee Billing Name

Marion
SM Line
SM LINE
CHANDLER, AZ
Marion
Yang Ming
YANG MING MARINE LINE
NEWARK, NJ
Marion

Seattle
Portland
Oakland
ICTF

CMA CGM America
CMA CGM AMERICA
NORFOLK, VA US
Marion
Westwood Shipping Lines
WESTWOOD SHIPPING LINES
PUYALLUP, WA
Marion
Swire Shipping
SWIRE SHIPPING PTE LTD
PUYALLUP, WA
Marion
Hapag Llyod
HAPAG LLOYD AMERICA LLC
PISCATAWAY, NJ, US
Marion
HMM
HMM CO LTD
IRVING, TX
St. Louis Box Pick-Up
Origin

Destination

Ocean Carrier

Consignee Billing Name

Dupo
CMA CGM America
CMA CGM AMERICA
NORFOLK, VA US
Dupo
HMM
HMM CO LTD
IRVING, TX
Dupo
Hapag Lloyd
HAPAG LLOYD AMERICA LLC
PISCATAWAY, NJ, US
Dupo
MSC
MEDITERRANEAN SHIPPING COMPANY
MOUNT PLEASANT, SC
Kansas City Box Pick-Up
Origin

Destination

Ocean Carrier

Consignee Billing Name

Kansas City
CMA CGM America
CMA CGM AMERICA
NORFOLK, VA US
Kansas City
Hapag Lloyd
HAPAG LLOYD AMERICA LLC
PISCATAWAY, NJ, US
Kansas City
HMM
HMM CO LTD
IRVING, TX
Dallas Box Pick-Up
Origin

Destination

Ocean Carrier

Consignee Billing Name

Dallas
CMA CGM America
CMA CGM AMERICA
NORFOLK, VA US
Denver Street Turn Only
Origin

Destination

Ocean Carrier

Consignee Billing Name

Denver
CMA CGM America
CMA CGM AMERICA
NORFOLK, VA US
Council Bluffs Street Turn Only
Origin

Destination

Ocean Carrier

Consignee Billing Name

Council Bluffs
Hapag Lloyd
HAPAG LLOYD AMERICA LLC
PISCATAWAY, NJ, US