If you've ever shipped a package in the mail, you know there are steps you can take to ensure that package arrives intact. Shipping freight is no different: You want to be sure your products arrive in the same condition in which they left, and you have the power to help ensure that happens. How? Start by following these rail car loading basics.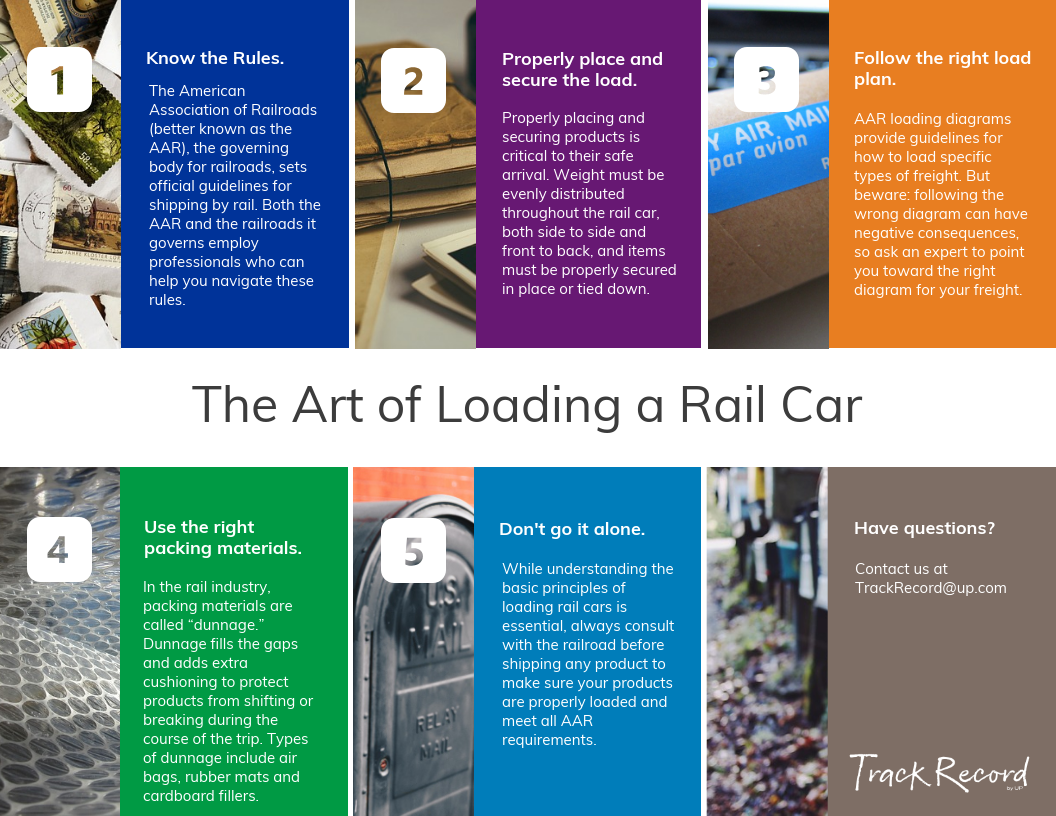 1. Know the Rules
For starters, it's important to know there are official guidelines in place for shipping by rail. These are set by the American Association of Railroads (better known as the AAR), the governing body for railroads.
If learning the rules isn't your strong suit, don't worry — there are people who can help. Both the AAR and the railroads it governs employ professionals who are committed to preventing damage and can provide resources and guidelines for safely packaging and shipping all manner of freight.
But if you want to start by doing a little looking around, here are some helpful resources:
2. Properly Place and Secure the Load
You won't be surprised to learn that how you place and secure products is critical to their safe arrival. This comes down to two key principles:
Weight distribution. Weight must be evenly distributed throughout the rail car, both side to side and front to back.
Securement. Items must be properly secured in place or tied down so that the load doesn't spill, topple over or shift during transit.
Why are these steps important? Obviously, not taking them can result in broken or damaged products. But beyond that, failure to load a rail car incorrectly can cause unsafe conditions for the workers who unload the cars. Uneven weight distribution can also damage the rail car and even cause unsafe conditions that could derail a train. Doing it right means you avoid costly delays, repairs and load adjustments — and your product arrives in mint condition.
3. Follow the Right Load Plan
Now that you know why placing and securing items strategically in your rail car is important, let's talk about the how. Once again, the AAR is here for the assist. Their loading diagrams provide excellent guidelines for how to load specific types of freight into rail cars. But beware: following the wrong diagram can have negative consequences, so it's best to ask an expert to point you toward the right diagram for your freight. To determine the optimal loading and securement for your shipment, we recommend starting with a load consultation.
4. Packing Materials Matter
So, you've placed your items properly in the rail car. Now what?
If you were shipping a delicate glass vase to your dear Aunt Agnes, you wouldn't just throw it in a box and hope for the best. You'd want that family heirloom to arrive in perfect condition, so odds are you'd cloak it carefully in bubble wrap, secure it with packing tape, place it carefully in the box, then surround it with packing peanuts. The same goes for rail cars.
In the rail industry, these packing materials are called "dunnage." Dunnage fills the gaps and adds extra cushioning to protect the product from shifting or breaking during the course of the trip. Types of dunnage include air bags, rubber mats and cardboard fillers.
In many cases, vendors are willing to design just the right dunnage and securement for your specific freight. If you need to connect with a supplier, the AAR provides a list of approved vendors for dunnage and other supplies. Union Pacific Railroad offers this list, too.
5. Don't Go it Alone
Have you noticed a theme? It's "don't go it alone." While understanding these basic principles of loading rail cars is essential, to truly do it right it's important to have an expert on your side. Before shipping any product, always consult with the railroad to make sure your products are properly loaded and meet all AAR requirements. These experts do this day in and day out and know the rules like the back of their hands. Just as a packaging service or the U.S. postal service approves a package before it ships, a railroad should provide final approval of a load before it moves by rail.
Want to Learn More?
Loading a rail car is truly an art. If you're ready to see how these principles work together, check out these videos:
Or, if you have questions or want to chat with a shipping expert, give us a shout and we'll get you connected.
Related Article: Rail Car Types Defined