The U.S. has the largest and most envied freight rail network in the world. With approximately seven major Class I railroads and 140,000 route miles of track stretching from coast to coast, U.S. freight railroads ship just about everything consumers and businesses depend on. From the food we eat to the cars we drive, there is a good chance the things we use on a daily basis have shipped by train.

In the U.S., railroads play a major role in a vast, integrated freight transportation network made up of several shipping modes, including train, truck, air and barge – a transportation system that delivers approximately 61 tons of goods per American every year, helping to make modern life possible.

But just how much stuff is shipped by American railroads? A lot more than you might think.

Last year, rail accounted for approximately 28% of the total U.S. freight movement by ton-miles. In 2018, 1.7 trillion ton-miles of freight (calculated by multiplying shipment weight in tons by the number of miles that it is transported) was shipped by rail, according to the U.S. Department of Transportation.

So, what types of freight travel by rail? With the ability to move large amounts of heavy freight over long distances, it is no surprise that a lot of rail movements involve bulk commodities. According to 2019 data from DOT, 52% of rail traffic consists of bulk commodities, including agriculture and energy products, automobiles and components, construction materials, chemicals, equipment, food, metals, minerals, paper and pulp. The remaining 48% of rail traffic is generally intermodal shipments (moving by both rail and truck) generally consisting of consumer goods and other products.
How Much Freight Ships by Rail?
Let's break it down even further. According to the AAR, in 2019, U.S. Class I railroads shipped:
4 million carloads of coal (with each rail car carrying enough coal to power 21 homes for an entire year).
2.2 million carloads of chemicals (including plastics, synthetic fibers, drugs and soaps and much more).
Approximately 2 million carloads of construction-related materials (including lumber, steel, stone, sand and gravel).
1.8 million carloads of motor vehicles and parts.
1.6 million carloads of food products.
1.6 million carloads of grain and other farm products.
13.7 million units of intermodal shipments (including goods like electronics, home goods and clothing).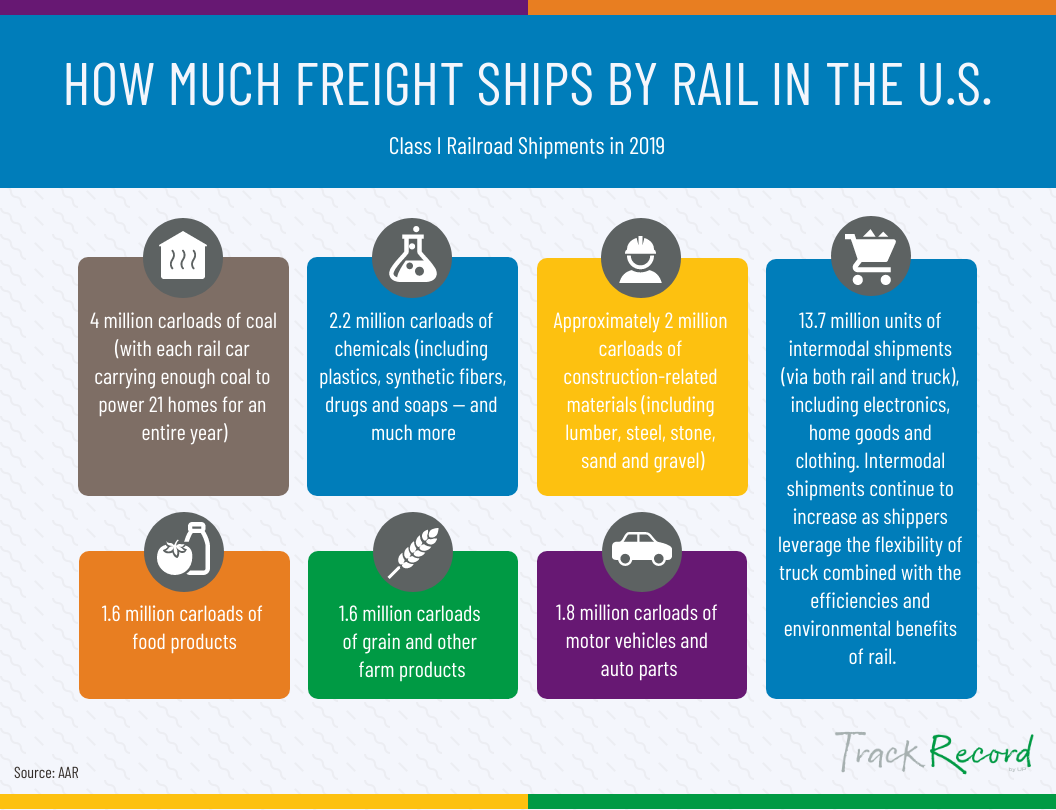 U.S. Freight Rail Plays a Major Role in Delivering Critical Goods
With stats like these, it is clear to see why our freight rail network plays a big part in delivering critical goods to American families and businesses. What's more, the U.S. Department of Transportation estimates the total number of U.S. freight shipments will increase by 30% from 18.6 billion tons in 2018 to 24.2 billion tons in 2040 – which means there is a very good chance even more freight will travel by rail in the future.
Learn More
Interested in learning more about shipping products by rail and how it works? Reach out to us, and we'll put you in touch with a shipping expert.
Related Articles