Rail Within Reach: Sedalia, Missouri Case Study
Population — about 21,500 residents and located 90 minutes east of Kansas City, Sedalia, Missouri is a small but mighty city. Home to more than 70 manufacturers and industrial-related companies, Sedalia and Pettis County, Missouri have added to that after recently landing the most significant business recruitment project Missouri has seen in the past 10 years.
Long-Term Vision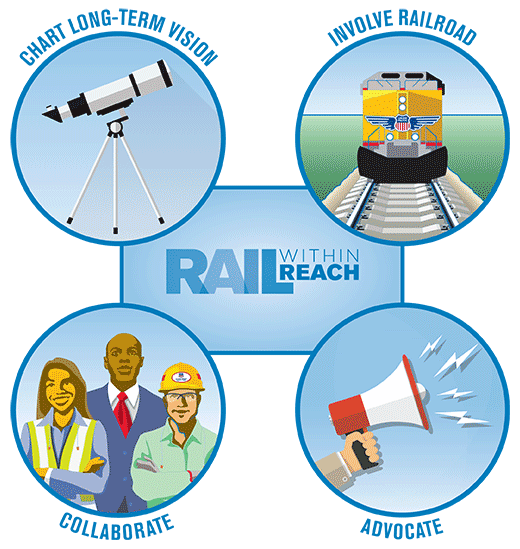 The story begins a few years ago when the Economic Development Sedalia-Pettis County's (EDSPC) Board of Directors charted a long-term vision and strategic plan for the city and county. Recognizing the critical role multi-modal transportation has on economic development opportunities, EDSPC created a Rail-Served Industrial Sites Task Force. But with no large, developable areas immediately adjacent to the main rail line running through Sedalia, the team was faced with a challenge.
To overcome this problem, the team identified a potential site that, while not directly connected to rail, provided excellent highway/interstate access and acreage scalability for a potential mega-site industrial park. Sedalia was focused on developing this location if they could devise a rail access solution.
Early Engagement with Union Pacific
Understanding the value and importance of rail from the onset, Sedalia immediately engaged Union Pacific to evaluate the potential site. Various rail connectivity options, solutions, and engineering concepts were designed and vetted by Union Pacific, which confirmed the potential for rail service and enabled Sedalia to confidently proceed in attaining the land options necessary for the industrial park.
As Sedalia advertised their "open for business" site, RFPs came in from interested parties. Jessica Craig, Executive Director of Economic Development Sedalia-Pettis County worked directly with Todd Hackel, Manager of Industrial Development for Union Pacific, to confirm the rail design plans met the various RFP requirements. Through this ongoing engagement, Union Pacific was able to more thoroughly understand the potential customers' needs, validate feasibility of the rail plan and better support Sedalia's economic development objectives. In turn, Sedalia-Pettis County EDC ensured that the solutions they were offering to their potential customers could be achieved, allowing them to confidently represent and "sell" the site.
Broad Collaboration
While a feasible rail solution was being determined for the desired site, collaboration and support from a broad range of other constituents was simultaneously taking place. Because the site was set back from rail lines, funding would be required to support the rail development. Sufficient electric power and other utilities would need to be supplied, requiring coordination with Kansas City Power & Light and Liberty Utilities. Additional coordination with other entities included the Missouri Partnership, Missouri Department of Economic Development and Missouri Department of Transportation, among others.
Effective Advocacy
After developing a vision, cultivating a team and completing other preparatory activities — focus was shifted to selling. Craig was effective in conveying the vision to potential customers on behalf of Sedalia since she had been involved in the assessment and planning for the site.
It didn't hurt that Craig was a native of Sedalia and could articulate the benefits the city had to offer, including workforce statistics and community features. Her insider knowledge helped her be an effective advocate for Sedalia both in the written response to the various RFP submissions and in her ongoing discussions with the potential clients.
If We Build It, Will They Come?
Through synchronized efforts with Union Pacific, local utilities and other entities, Sedalia was successful in securing a new Nucor steel rebar micro-mill in late 2017. Once complete, this new steel mill will create 255 full-time jobs in Sedalia with an average salary of $65,000. Capital investment for the new facility is expected to be $250M when it is operational at the end of 2019.
As your community begins to promote assets in the community, you can learn from the success of Sedalia:
Develop a long-term vision of what you can offer potential clients.
Involve the railroad early in these discussions to support rail-centric development.
Focus on building a large and broad coalition of stakeholders with whom you can collaborate.
Be an effective advocate for your site and community by understanding your strengths and what the potential client is seeking.

Our team of regional experts can help you identify sites that have the potential to support the infrastructure to accommodate your long-term vision. Contact us today to learn more about how rail can benefit your community.