E-9 Streamliners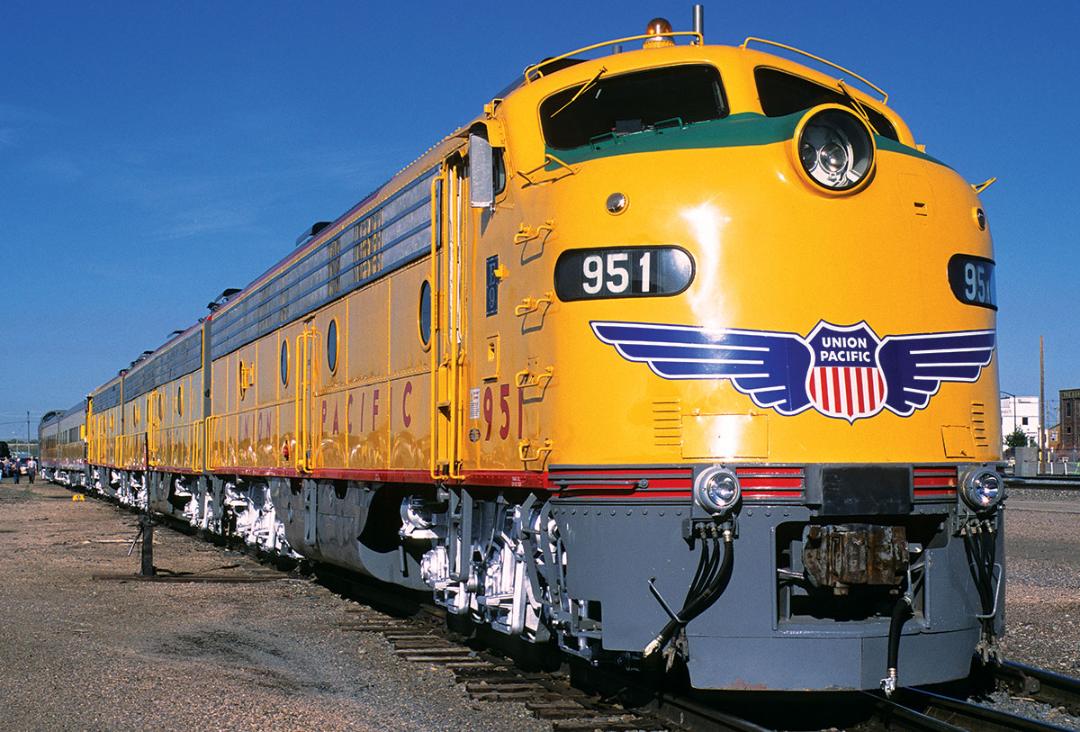 Union Pacific has restored three E-9 passenger locomotives: No. 951, 949 and 963B. They are used in special train service. The first of the set, 951, was returned to the roster in 1984 after having been retired in 1980 to substitute for steam engine No. 844 on the annual "River City Roundup" train because the steam engine was on display that year at the New Orleans World's Fair.
Considered to be among the most graceful looking locomotives in American railroading, the sleek units evolved from the first Union Pacific streamlined locomotives back in 1934. The "E" series was started by EMD in the late 1930s. Delivery of the E-8s (virtually identical in appearance to the E-9s) in the 1950s completed dieselization of the Union Pacific's passenger service. E-9 production began in 1954 and the last E-9 unit ever built by EMD was delivered to Union Pacific in 1964.
No. 951 was one of 69 E-9 locomotives once owned by Union Pacific. Built in 1955, it pulled such famous trains as the City of Los Angeles, City of Portland, City of San Francisco, City of St. Louis and the Challenger. When Amtrak took over most of the nation's rail passenger service in 1971, No. 951 was one of eight units retained by UP for special service. The rest of the E units were sold or transferred to Amtrak.
In 1974 No. 951 was loaned to the sponsors of the American Freedom Train to promote the AFT's bicentennial tour. The locomotive was repainted with a red, white and blue bicentennial paint scheme and toured much of the nation pulling the "Preamble Express" in advance of the widely publicized steam-powered Freedom Train tours in 1975 and 1976. The locomotive was returned to UP after the tour and repainted to its traditional yellow in 1978.
No. 951, along with 949 and 963B, which were reacquired by UP in order to handle bigger trains, was rebuilt with modern components in 1993, although its outward appearance continued to retain the look of the 1955 era.
Vital Statistics for Nos. 949, 951 and 963B
Builder:
Electro-Motive Division
General Motors (EMD)
Year Built:
1955
Model:
E-9
Horsepower:
2,000
Engines:
1 EMD 16-645E
Traction Motors:
4 EMD D78
Tractive Start Effort:
56,480 lbs.
Tractive Effort, 98 mph:
8,000 lbs.
Gear Ratio:
55/22
Top Speed:
98 mph
Headlights:
Mars Twin-sealed beam,
600,000 candlepower
Bearings:
Hyatt Roller
Fuel:
2,400 gallons
Lube Oil:
330 gallons
Engine Cooling Water:
436 gallons
Sand:
18 cubic ft.
Weight:
335,770 lbs. or 167.8 tons
Length:
70 ft. 3 in. over pulling faces
Width:
10 ft. 7-1/2 in.
Height:
16 ft.
Max. Track Curvature:
21 degrees
Click on an image to view a larger version