World's Largest Steam Locomotive 'Big Boy No. 4014' Preparing for 'Four Corners' 2024 Tour
Omaha, Neb., November 2, 2023
Union Pacific's famed Big Boy No. 4014, the world's largest steam locomotive, will return to the rails in 2024 for a tour celebrating the railroad's deep history and connection to communities, and its employees. The tour is expected to reach all four corners of Union Pacific's 23-state system with anticipated stops in:
Chicago, Illinois
Dallas/Ft. Worth, Texas
Houston, Texas
Nampa, Idaho
Portland, Oregon
Roseville, California
Salt Lake City, Utah
"As we move forward at Union Pacific, we remember where we came from; the Big Boy represents the history of Union Pacific and the United States," said Union Pacific CEO Jim Vena. "When No. 4014 comes to town, we will celebrate with the communities where we operate, our employees and their families. Together, we will marvel at how far technology has brought us."
No. 4014 is the only Big Boy in operation today. Weighing in at 1.1 million pounds, it was restored in 2019 to celebrate the 150th anniversary of the transcontinental railroad's completion. Twenty-five Big Boy locomotives were built for Union Pacific to haul heavy freight during World War II, but only eight still exist. The other seven are on display around the United States.
Tour dates and route information will be released in 2024. In addition to public stops, Union Pacific employees and their families will be invited along the route.
When the Big Boy goes on tour, many people race to find a prime spot to take photos or put coins on the track. Union Pacific reminds everyone to keep safety top of mind, always stay 25-feet back, and refrain from putting anything on the rails.
About Union Pacific
Union Pacific (NYSE: UNP) delivers the goods families and businesses use every day with safe, reliable and efficient service. Operating in 23 western states, the company connects its customers and communities to the global economy. Trains are the most environmentally responsible way to move freight, helping Union Pacific protect future generations. More information about Union Pacific is available at www.up.com.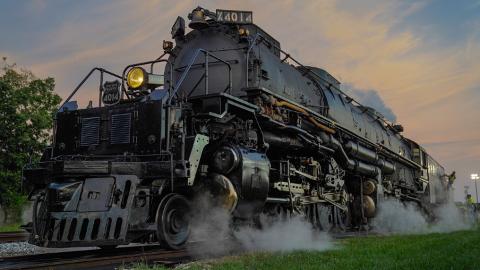 Union Pacific's Big Boy No. 4014 Steam Locomotive
Big Boy No. 4014
More information about No. 4014
Official Union Pacific Steam Club
Join our Steam Club to be notified when more schedule information is released