Union Pacific To Expedite Delivery of Consumer Goods from Port Houston to Five Inland Markets in U.S.
New service will allow intermodal containers to be loaded onto railcars from cargo ships and shipped directly to inland terminals, without being trucked
Omaha, Neb., May 30, 2023
Starting June 1, 2023, international shippers will be able to deliver TVs, cell phones and other consumer goods quicker and more efficiently to consumers, as Union Pacific Railroad expands its services at Port Houston to allow intermodal containers to be loaded directly onto railcars and transported by rail to five key metropolitan markets in the United States.

Union Pacific's new service at Barbours Cut Container Terminal at Port Houston will provide customers direct rail access to five of the nation's fastest growing metropolitan intermodal markets in Denver, Salt Lake City, Oakland, Los Angeles, and El Paso, reducing truck traffic on our nation's highways and greenhouse gas emissions.

It also will eliminate the need for containers to be trucked approximately 30 miles from the port to the nearest rail facility in Houston for loading onto rail cars, reducing highway congestion in the Houston area.

"Union Pacific is always looking for ways to save our customers time, while providing them more options and greater ease to our rail network," said Kari Kirchhoefer, senior vice president – Premium, Marketing and Sales. "The new on-dock terminal service provides additional routing options to key metropolitan markets, while helping customers enhance their efficiency."
A single freight train can take several hundred trucks off the nation's highways – a win for communities and customers working to reduce their environmental footprint.
Port Houston is the largest Gulf Coast intermodal container port, handling 73% of U.S. Gulf Coast container traffic and is an essential economic engine for the Houston region, the state of Texas and the U.S.
"These added rail services from Union Pacific are an exciting step forward in the movement of cargo at Port Houston. Port Houston is a top five container port and growing fast, and intermodal solutions like this help ensure continued efficient movement of goods to locations throughout the U.S.," said Roger Guenther, executive director at Port Houston.
About Union Pacific
Union Pacific (NYSE: UNP) delivers the goods families and businesses use every day with safe, reliable and efficient service. Operating in 23 western states, the company connects its customers and communities to the global economy. Trains are the most environmentally responsible way to move freight, helping Union Pacific protect future generations. More information about Union Pacific is available at www.up.com.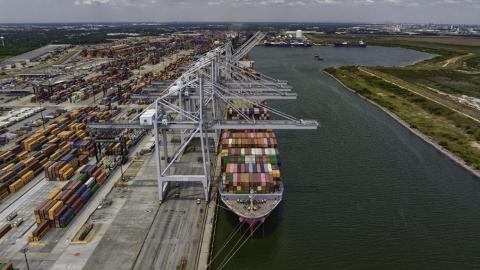 Image courtesy of Port Houston