Mexico Intermodal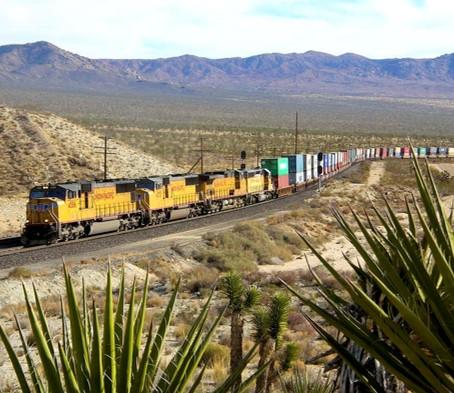 Union Pacific's powerful Intermodal franchise offers unmatched service to and from Mexico. Utilizing a fleet of nearly 60,000 rail containers, Union Pacific serves several major gateways through three shipping options--Mexico Direct, Border Direct and Streamline Passport. Our dedicated team has the expertise to help you make doing business in Mexico efficient and easy.
Three Ways In and Out of Mexico:
1. Mexico Direct
Mexico Direct is an all-rail, seamless service that bypasses congested border crossings. Southbound shipments do not stop at the border for customs clearance. Instead, they travel in-bond, clearing customs at interior Mexico origins and destinations.
2. Border Direct
Border Direct combines rail service north of the border with IMC or motor carrier-managed transportation south of the border, allowing you the flexibility for transloading, consolidating and warehousing.
3. Loup Passport
Let us handle it all with Loup Passport, seamless, door-to-door and door-to-ramp service to and from Mexico. Your shipment is managed entirely by Loup, a wholly-owned subsidiary of Union Pacific. We coordinate and track your shipment every step of the way, from pick-up to final delivery.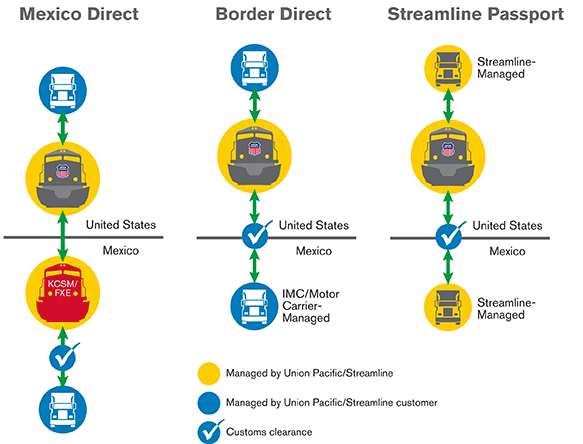 Pricing and Billing
To find prices for shipping to and from Mexico, use the Domestic Z-Rates Tool. For Canadian and East Coast origins, call your originating carrier.
Can't find a price? Submit an Express Quote rate request to the Union Pacific Intermodal Team.

Mexico General Information

Contact Us
Contact a member of the team to get started.
For assistance in Spanish, please contact our Mexico City Office at 011-52 (55) 5279-8600.