Long before the days of Rolex, Citizen and Apple, telling time was a little more complicated than simply glancing down at your watch. Back in the early 1800s, the sun served as the official "clock" in the U.S., and time was based on each city's own solar noon, or the point when the sun is highest in the sky.
While this may have seemed like a good idea, this timekeeping method resulted in the creation of more than 300 local time zones across the country — not to mention disparity in local time depending on your location. So, for example, while it could be 12:09 p.m. in New York, it could also be 12:17 p.m. in Chicago.
Think about all of the confusion that would cause in today's busy world!
A Railroad Revolution
When we fast forward a few decades to the mid-late 1800s, railroads were building track across the nation at lightning speed, drastically changing the way people traveled and transported goods. Rather than getting around by foot or on horseback, trains were emerging as a powerful force to propel industrialization and commerce across the country at a very fast pace. Trains were crossing time zones much quicker, making it difficult to keep a standard schedule. When it came to telling time, it was clear the railroads, and those that utilized the railroads, were in desperate need of some order.
In addition to the railroads, around this same time frame, government officials and scientists were also pushing for time standardization in an effort to develop accurate reports across various locations throughout the country.
On November 18, 1883, the railroads moved forward with the adoption of four U.S. time zones, an idea that had been proposed 11 years earlier by Charles Dowd, a Yale-educated school principal. The time zones, Eastern, Central, Mountain and Pacific, are still in place today. Each time zone is set one hour apart, which allowed the railroads to coordinate train schedules across the entire country.
Living on Railroad Time
As years went by and train travel continued to become an integral part of doing business from city to city, "railroad time" was gradually adopted as the official time in the U.S. Eventually this system was signed into U.S. law with the finalization of the Standard Time Act on March 19, 1918.
Today, the U.S. Department of Transportation oversees the nation's time zones and the uniform observance of Daylight Saving Time, including exercising the authority that allows a state to change its official time zone.
So, the next time you glance at your watch or cell phone to check the time, you can thank the railroad for keeping us all in sync — no matter where you or your shipments are located.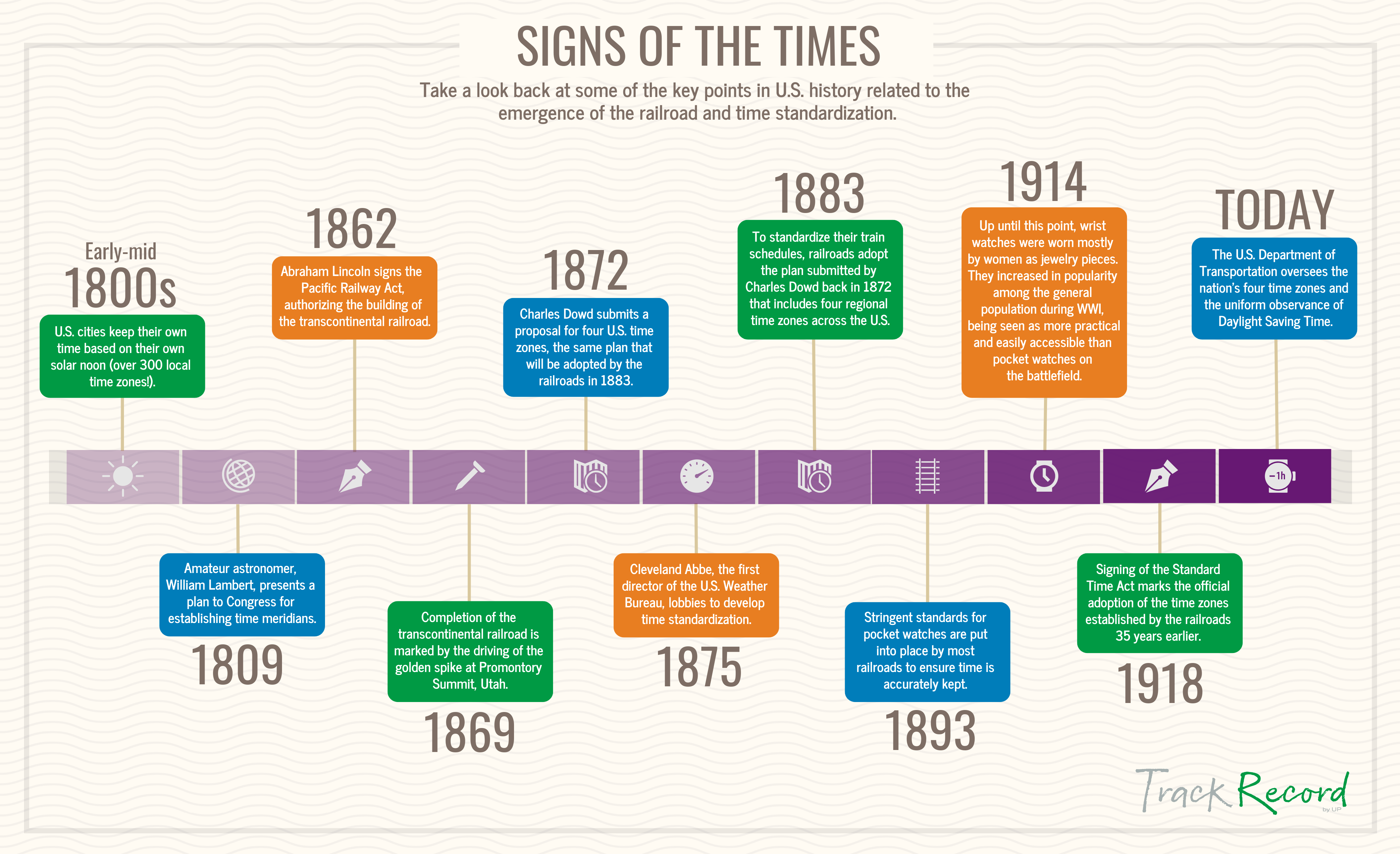 Learn More
Interested in learning more about the history of the railroad? Find historical photos and more here.

Need more information on how rail delivers shipments on schedule? Get in touch with us.
Related Articles:
Surprising Railroad Inventions: The Ski Lift