S&P Dow Jones Indices have been helping to define the way investors measure and trade the markets since the first index was published in 1884. Today, a multitude of indices exist, the most recognizable of which are the S&P 500® and the Dow Jones Industrial Average®.
In 1999 Dow Jones and RobecoSAM, a specialist in Sustainable Investing, jointly launched the Sustainability World Index, the first global index to track the leading sustainability-driven companies.
S&P Dow Jones now publishes a family of Sustainability Indices, which identify the most sustainable companies from across 61 industries.
As more investors factor sustainability practices into their purchasing decisions, the Dow Jones Sustainability Indices shed light on the companies leading the way in sustainability, including transportation companies.
What Are the Dow Jones Sustainability Indices (DJSI)?
The Dow Jones Sustainability Indices (DJSI) determine best-in-class sustainability benchmarks and track the stock performance of the world's leading companies based on sustainability criteria.

The indices promote transparency and sustainability as important factors for shareholders to consider as they evaluate corporate performance. Companies who are selected for DJSI North America are publicly disclosing strong sustainability commitments, followed by bold initiatives to meet those same goals.
The family of sustainability indices is broken down into global, regional, and country indices.
Global indices include the top 10% of sustainability leaders from around the world
Regional indices include the top 20% of sustainability leaders in Asia/Pacific, Europe, and North America
Country indices include the top 30% of sustainability leaders in Australia, Korea and Chile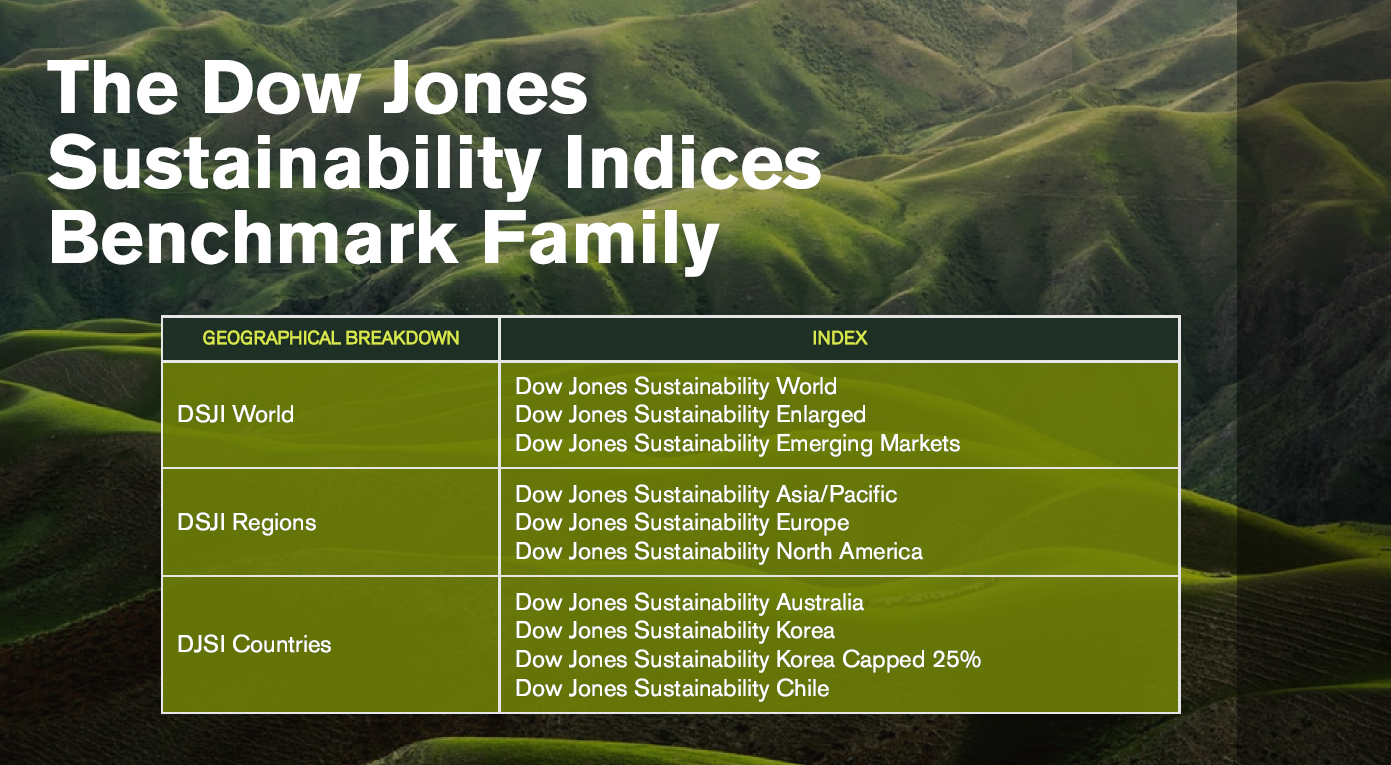 What Is the Dow Jones Sustainability North America Diversified Index?
The Dow Jones Sustainability™ North America Diversified Index (DJSI North America) is one of the regional sustainability indices. It lists North American sustainability leaders that represent the top 20% of the largest 600 North American companies in the S&P Global Broad Market Index (BMI). These rankings are established based on CSA scores.
Like all of the DJSI Indices, the DJSI North America is based on the Total Sustainability scores established by the annual S&P Global Corporate Sustainability Assessment (CSA), which uses an in-depth questionnaire to evaluate companies' sustainability practices. Companies with the highest CSA scores within each industry are selected for inclusion in the Dow Jones Sustainability Indices benchmark family.
By reporting key sustainability metrics, participating companies can benchmark their performance on industry-specific economic, environmental and social criteria and see how they perform against their peers.
How Many Transportation Companies Appear on the DJSI?
Just 22 companies in the transportation industry appear on the DJSI. Looking specifically at the DJSI North America, four transportation companies made the list: two Canadian Railroads, and two U.S.-based railroads.
Union Pacific was selected as a member of the Dow Jones Sustainability Index (DJSI) North America in December 2022, underscoring the company's sustainable leadership and continued steps to achieve its ambitious environmental commitments.
What Makes Railroads Sustainability Leaders?
Part of what makes freight railroads leaders in sustainability is the fact that railroads are the most environmentally responsible way to ship freight by land. Even though railroads move 40% of U.S. freight, rail shipments account for only 1.9% of U.S. transportation-related greenhouse gas emissions.
On average, U.S. freight railroads can move one ton of freight nearly 500 miles per gallon of fuel, making them 3-4 times more fuel efficient than trucks. That fuel efficiency translates to a 75% GHG emissions reduction when freight ships by train instead of trucks.
If more freight moved by trains instead of trucks, it would significantly lower transportation-related emissions. In fact, according to the Association of American Railroads (AAR), if 25% of the truck traffic moving at least 750 miles shipped by rail instead, annual greenhouse gas emissions would fall by approximately 13.1 million tons; If 50% of the truck traffic moving at least 750 miles went by rail instead, greenhouse gas emissions would fall by approximately 26.2 million tons. That would be equivalent to taking 5.1 million cars off the highway or planting nearly 400 million trees.
Railroads are also proactive about finding other ways to reduce GHG emissions and operate more sustainably. For instance, Union Pacific uses an Energy Management System to reduce fuel consumption and is reducing emissions with modernized locomotives, battery-electric locomotives, and use of low-carbon fuels like biodiesel and renewable diesel.
Sustainability Is a Part of Company Value
When the DJSI was introduced, sustainability was far from being an indicator of a company's value. But now, a growing number of consumers and investors alike consider a company's sustainability performance as a key part of how they evaluate the companies with which they choose to do business.
Learn More
If you'd like to learn more about shipping freight by rail and reducing your company's carbon footprint, answer a few questions and an expert will be in touch.
Related Articles