If you operate a Southern Yellow Pine mill, you know how important it is to get your product to customers safely, efficiently, and cost effectively. When Southern Yellow Pine needs to travel from the Southeast to destination markets, rail shipping ticks those boxes – and comes with its own environmental benefits, too. Trains are more fuel efficient than trucks, so shipping Southern Yellow Pine by rail instead reduces GHG emissions by up to 75%.
The following Southern Yellow Pine shipping tips can help you ship your product safely, efficiently, and sustainably.
TIP #1: Learn the AAR Rules
Before you begin, it's important to become familiar with the official guidelines in place for shipping by rail. These are set by the American Association of Railroads (better known as the AAR), the governing body for railroads. (Note: AAR guidelines are an important part of learning how to ship all freight, whether it's southern yellow pine, plywood, lumber or any other goods.)
If learning the rules isn't your strong suit, don't worry — there are people who can help. Both the AAR and the railroads it governs employ professionals who are committed to preventing damage and can provide resources and guidelines for safely packaging and shipping all manner of freight.
But if you want to start by doing a little looking around, here are some helpful resources:
TIP #2: Use the Right Rail Car
When shipping southern yellow pine by rail, the product should be loaded onto rail cars called centerbeams. A centerbeam is a flatcar that has a "center beam," or longitudinal I-beam, that allows products to be secured in place on both sides. Centerbeams are designed to ship products like wood, mass timber, building and construction materials, and other quality lumber. Railroads can provide this equipment for you.
Some products made from Southern Yellow Pine like OSB and plywood, can also be hauled by boxcars.
TIP #3: Create a Load Plan
If you're new to shipping Southern Yellow Pine by rail, you'll want to schedule a load consultation, which provides shippers with the right loading and securement procedures to use. You'll want to work with a railroad that offers a Shipment Quality team that can guide you through the process and help you develop a load plan. Southern Yellow Pine is often chosen for its golden color and the beauty of its natural wood grain, so this process also makes sure it maintains its appearance during transit.
TIP #4: Load Rail Cars Properly
With a load plan in place, you can begin to load your rail cars.
Centerbeams are loaded and unloaded by a forklift. Centerbeams need to be loaded and unloaded evenly to distribute the weight of the shipment across the car. To prevent the car from leaning or tipping over, it's important to load and unload from both sides simultaneously.
Bonus tip #1: Loading and unloading from both sides at the same time also makes the process go faster.
If you're shipping Southern Yellow Pine products in boxcars, those can also be loaded and unloaded by forklifts.
With traditional boxcars, products are loaded and unloaded through the sliding or plug doors on the side of the rail car. These doors are located in the center or middle of the box cars.
Bonus tip #2: Some shippers opt to use other mechanical devices that make loading and unloading boxcars faster and safer.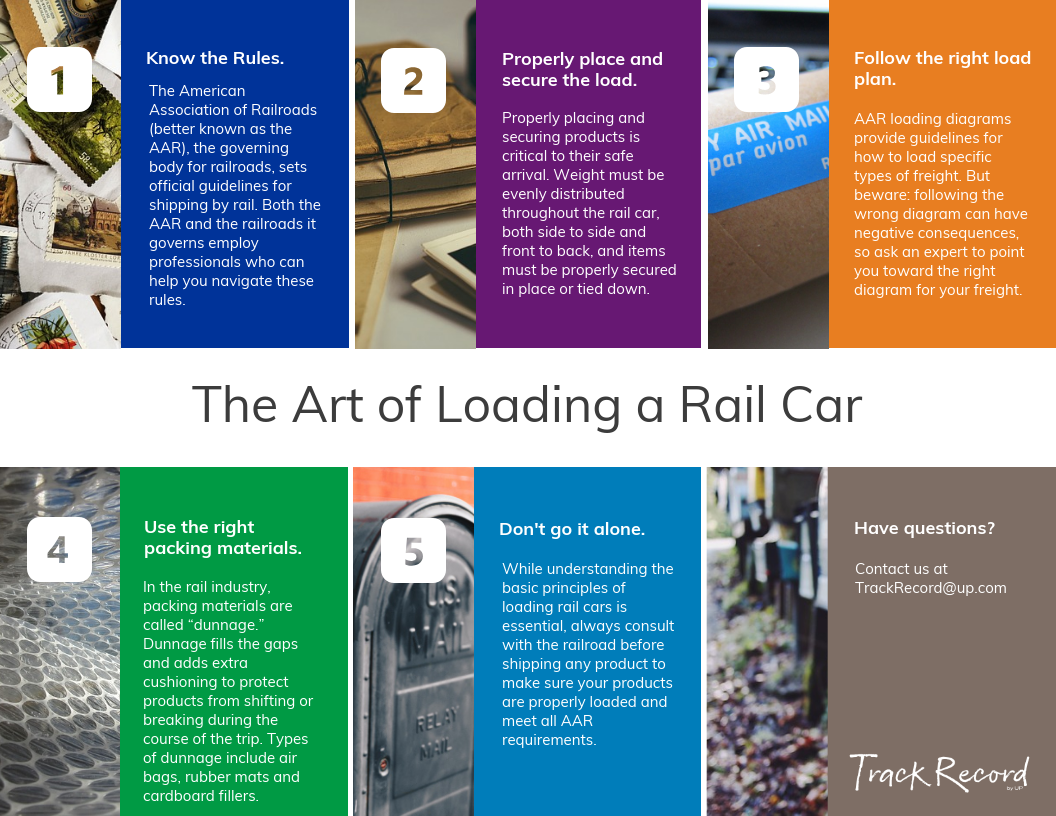 Tip #5: Ask the Experts
If at any point you need assistance with loading or unloading, equipment, or other shipping questions, consult with railroad experts. For instance, Union Pacific offers the following customer resources:
A dedicated sales representative
The Customer Care & Support team, which has representatives available 24/7 to answer shipment questions
The Shipment Quality team, which takes a proactive approach to prevent freight damage during rail transport and offers load planning, securement, blocking and bracing guidance
The International Customer Care & Support team, which manages all cross-border shipments and is comprised of bilingual representatives
Tip #6: Calculate Your Carbon Emission Reduction
Trains are the most environmentally responsible way to ship freight by land, including Southern Yellow Pine. On average, railroads move one ton of freight nearly 500 miles per gallon of fuel, making them four times more fuel efficient than trucks. Because trains are more fuel efficient, shipping lumber by train instead of truck reduces GHG emissions by up to 75%.
Considering you're lowering your emissions by shipping Southern Yellow Pine by rail instead of truck, use a carbon emission estimator to see how much you have reduced your carbon footprint. If you're a Union Pacific customer, you'll have access to an even more precise calculator you can further customize for your shipments. Union Pacific customers also get an annual carbon emissions reduction letter, which shows how much they reduced greenhouse gasses each year because they shipped by trains instead of trucks.
Learn More
To learn more about how railroads ship lumber, the support they provide for your changing supply chain needs, and how choosing rail for your shipments reduces your company's carbon footprint, answer a few questions and an expert will be in touch.
Related Articles