Sr. Vice President-Corporate Relations and Chief Administrative Officer Scott Moore to Retire from Union Pacific Oct. 1
Moore Became a Railroader 23 years ago after Leaving A Distinguished Nebraska Political Career
Omaha, Neb., September 1, 2023
Union Pacific Railroad today announced Scott Moore, senior vice president-Corporate Relations and chief administrative officer, will retire Oct. 1 following a long career in railroading and politics.
In his role at Union Pacific, Moore has companywide responsibility for public affairs, corporate communications and all executive services, including Union Pacific's iconic heritage fleet. He also serves as president of the Union Pacific Foundation.
"In his time at Union Pacific, Scott has shown strategic vision and unwavering leadership as he guided his teams and the company through monumental change," said Jim Vena, CEO of Union Pacific. "His passion and commitment have played an important role in galvanizing the railroad's reputation for Building America. I couldn't be more grateful for Scott and his contributions over his longtime career. We'll miss his leadership, and I'll miss him personally."
Moore began his railroad career 23 years ago after a successful career in politics that began by representing Nebraska's 24th legislative district in the Nebraska Legislature from 1987 to 1994. He went on to serve two terms as Nebraska's Secretary of State from 1994 to 2000.
In 2000, Moore exited state government and joined Union Pacific as Director of Government Affairs. He went on to become the railroad's Assistant Vice President-Public Partnerships, followed by vice president-Public Affairs for Union Pacific's nine-state Western Region based in Roseville, California. In 2015, Moore returned to Omaha as senior vice president-Corporate Relations and chief administrative officer, where he oversaw all state and local government affairs activities for the railroad's 23-state system, the Corporate Communications function and served as Chief of Staff to the Chief Executive Officer.
"I couldn't be more proud of my teammates and the work they've accomplished during my years at Union Pacific," Moore said. "It's been an honor of a lifetime to serve alongside some of the most talented, creative people in the railroad industry."
In addition to his railroad career, Moore served on many community boards over the decades, including as Chair of the Nebraska State Chamber of Commerce & Industry and as President of the Nebraskaland Foundation. He continues to serve on the boards of the National Park Foundation's National Council, and the Abraham Lincoln Presidential Foundation.
Moore and his wife, Danene J. Tushar, will divide their time between outdoor activities in Colorado and enjoying friends and family in Nebraska, where both are avid Cornhusker fans.
About Union Pacific
Union Pacific (NYSE: UNP) delivers the goods families and businesses use every day with safe, reliable and efficient service. Operating in 23 western states, the company connects its customers and communities to the global economy. Trains are the most environmentally responsible way to move freight, helping Union Pacific protect future generations. More information about Union Pacific is available at www.up.com.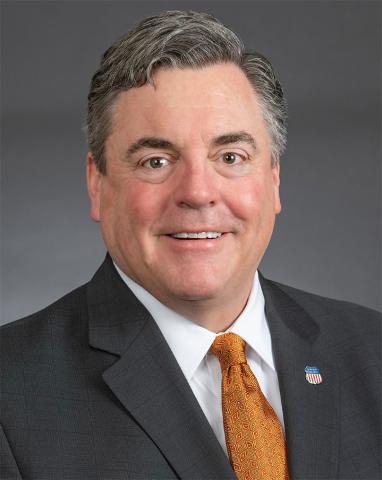 Scott Moore