South of the Mason Dixon line and east of the Great Plains, yellow pine trees thrive on the acidic red clay soil that is characteristic of the region. Although yellow pines grow in the Western United States and New Zealand, too, there is something special about the Southern Yellow Pine.
Southern Yellow Pine is one of the chief sources of softwood products in the United States because it's malleable but also strong and dense. Its golden color and unique grain pattern give it a natural beauty, and it is ideal for pressure treatment. In fact, Southern Yellow Pine comprises nearly 85% of pressure-treated wood produced in the United States.
Southern Yellow Pine products are used to build homes and businesses, for utility poles, and even wooden roller coasters, to name just a few uses — and that means it's critical for it to be distributed beyond the region where it grows. Understanding different shipping modes for building materials and treated wood can help Southern Yellow Pine shipments arrive to their destinations safely and efficiently.
Can you ship Southern Yellow Pine by rail? The short answer is yes. Not only can you ship this type of lumber by rail, but doing so comes with shipping cost and sustainability benefits. Keep reading to learn how to ship Southern Yellow Pine by rail and why lumber mills choose shipping by trains over trucks for their lumber and treated wood.
How Does Southern Yellow Pine Ship by Rail?
To ship Southern Yellow Pine by rail, the product is loaded onto rail cars called centerbeams, which are also designed to ship wood products like Oriented Strand Board (OSB), mass timber, other types of treated lumber, plywood, wallboard, fence posts and other building materials. Some products made from Southern Yellow Pine like OSB and plywood, can also be hauled by boxcars.
The typical centerbeam is 73 feet long and can haul about 205,000 pounds. Centerbeams allow shippers to move a larger amount of Southern Yellow Pine at one time, typically four times as much as one truck shipment. In fact, just one freight rail car carries enough framing lumber to build as many as seven homes.
Did you know? Union Pacific Railroad operates the largest centerbeam fleet in the United States.
What Are the Benefits of Shipping Southern Yellow Pine by Rail?
Railroads offer a safe, economical and environmentally responsible way to ship a large amount of goods.
The advantages of shipping Southern Yellow Pine by rail include:
Market Reach: With a rail network spanning North America, you can ship to distant markets more affordably.
Scalability: Rail can accommodate small shipments (called "less-than-carload" shipments), very large shipments, and everything in between. This means you can start with a small Southern Yellow Pine shipment, then increase the size of your shipments as your business grows.
Reliability: Rail is a 24/7 operation and isn't encumbered by the challenges that can make truck shipments unreliable, like traffic congestion, breakdowns or Hours of Service regulations.
Sustainability: Shipping by train is the most fuel efficient and environmentally responsible mode of ground freight transportation. It is an ideal choice for companies seeking to reduce greenhouse gas emissions, lower their carbon footprint, and meet their sustainability goals.
Cost Savings: Rail is almost always a more affordable transportation solution than truck, especially for long-haul shipments.
How Can I Ship by Rail If I Don't Have Access to Tracks?
If rail is a good fit for your Southern Yellow Pine shipments but trains don't service the mill or end user, transloading can help. Transloading moves products seamlessly between trucks and trains or vice versa. By combining shipping methods and modes, you get the flexibility of over-the-road trucking for the first and/or last mile, plus the cost and environmental benefits of long-haul rail shipping, all without needing tracks at the origin or destination.
Where Can Railroads Ship Southern Yellow Pine?
Trains can ship Southern Yellow Pine pretty much anywhere in North America. Between the major railroads that operate in Canada, the United States, and Mexico and smaller railroads in between, railroad tracks span the continent. Factor in ocean carriers and you can use rail to ship Southern Yellow Pine to ports and reach markets overseas markets, too.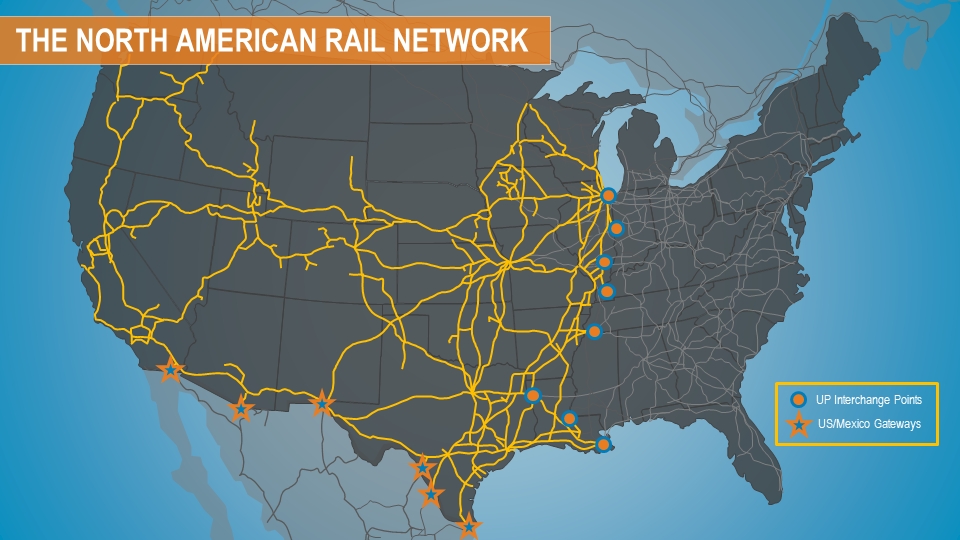 Do I Have to Operate a Large Mill to Ship Southern Yellow Pine by Rail?
No. The size of your lumber mill doesn't matter — large mills, small mills, and every size in between can take advantage of the benefits of rail shipping. What matters more is the size and frequency of your shipment.
When you get a rail shipping quote, your sales representative will want to know how much you're shipping and how often, whether that's two rail cars' worth of product twice per month, or 100 rail cars twice per year. Railroads can handle large and small shipments, frequent and infrequent shipments, and everything in between. They will create a service plan designed for your needs.
How Much Does It Cost to Ship Southern Yellow Pine by Rail?
The cost of a Southern Yellow Pine rail shipment will depend on the size of the shipment and how far it must travel. In general, rail shipping has a lower cost-per-ton mile (the cost per mile of freight shipping for one ton of goods) than shipping by truck.
To learn how much it costs to ship Southern Yellow Pine as well as other wood, lumber, construction and building materials, and wood products like plywood, OSB (Oriented Strand Board), wallboard, fence posts and mass timber by rail, answer a few questions to get a quote.
Do Railroads Provide Support for Southern Yellow Pine Shippers?
Yes, some railroads provide specialized resources to support Southern Yellow Pine Shippers. For example, if you choose Union Pacific Railroad for your shipments, you'll have three primary sources of assistance:
Your dedicated sales representative
Customer Care & Support, which has representatives available 24/7 to answer questions about your shipments
Shipment Quality, which takes a proactive approach to prevent damage to freight shipments during rail transport and offers load planning, securement, blocking and bracing guidance
For cross border shipments, Union Pacific also offers an International Customer Care & Support team that manages all cross-border activities for Mexican/U.S. and Canadian/U.S. gateways. All representatives are bilingual and can communicate in English or Spanish.
How Do I Get a Freight Rate for Shipping Southern Yellow Pine?
Getting a rate on freight shipping for Southern Yellow Pine starts by simply answering a few questions about your shipment. Complete this brief form and a lumber shipping expert will be in touch to provide you a shipping quote.
Learn More
To learn more about how railroads ship lumber, the support they provide for your changing supply chain needs, and how choosing rail for your shipments reduces your company's carbon footprint, answer a few questions and an expert will be in touch.
Related Articles