On February 21, 1804, British mining engineer, inventor and explorer Richard Trevithick debuted the first full-scale working railway steam locomotive in the Welsh mining town of Merthyr Tydfil. Following that debut, locomotives have been powered by a myriad of fuels, including wood, coal and oil. Then, in 1913, diesel powered locomotives hit the scene in Sweden, followed by the U.S. in 1939 and continue to dominate the landscape today.
Locomotives have evolved a great deal since their inception, becoming much more efficient and environmentally friendly over time. Let's take a look back at Union Pacific's history of locomotive use to see how they have developed into today's green powerhouses that can move one ton of freight nearly 500 miles on a single gallon of fuel.
1868 - CP No. 60 and UP No. 119 - American Type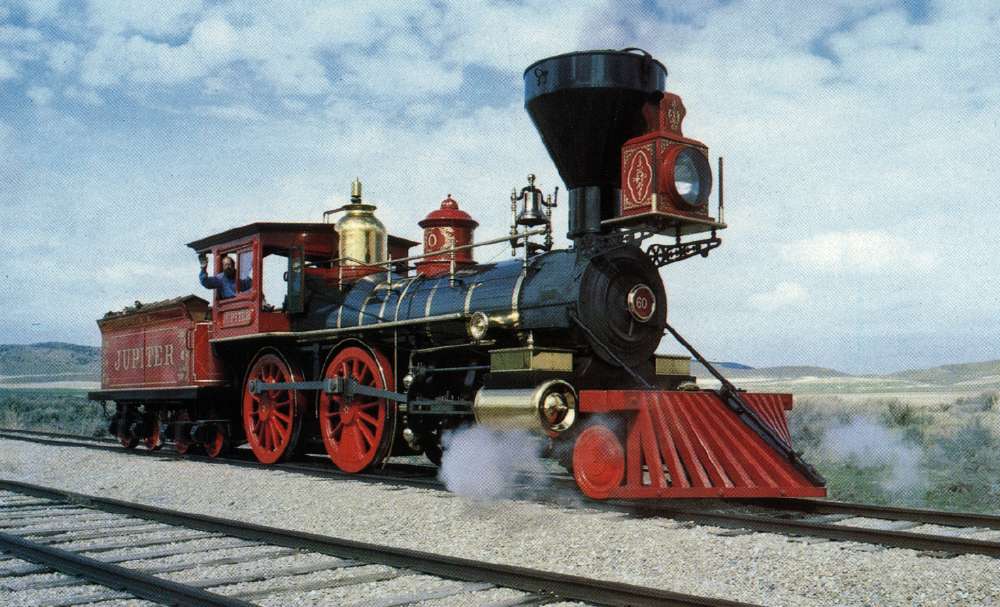 The most popular wheel arrangement in 19th century America, the American Type locomotives were suited to all types of railroad service, including both passenger and freight. These two locomotives — Central Pacific's "Jupiter" (pictured above) and Union Pacific's No. 119 (pictured at the top of the page) — are critical to railroad history. When they met at Promontory Summit, Utah, on May 10, 1869, the dream of a transcontinental railroad became a reality.
UP No. 119 - American Type
Length: 41' 10"
Weight: 68,400 lbs
Fuel: Coal
CP No. 60 - American Type
Length: 41' 02"
Weight: 65,400 lbs
Fuel: Wood
1905 - SP No. 4151 - Cab Forward – AC-7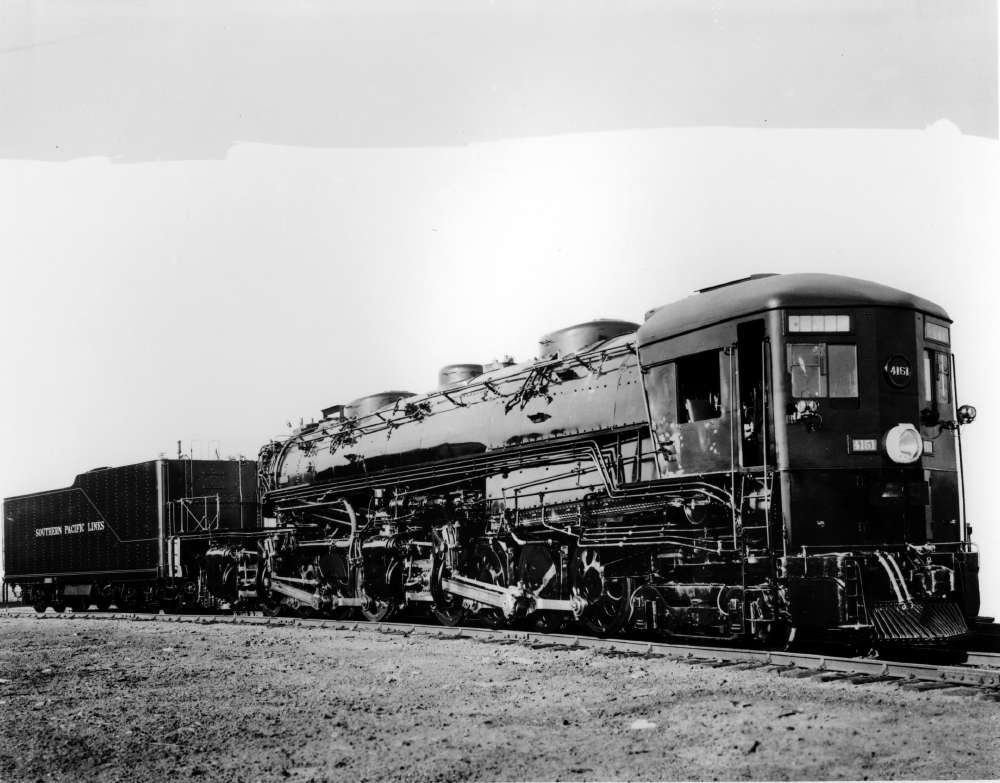 With a unique wheel arrangement specific to Southern Pacific, these massive, articulated locomotives were designed for greater power and efficiency over the steep mountain passes in the Sierra Nevada. Also unique to Southern Pacific design, these locomotives continued the innovative "cab forward" configuration, putting the engine crew ahead of steam exhaust through miles of tunnels and snow sheds.
Length: 106'
Weight: 639,800 lbs
Fuel: Bunker C Fuel Oil
1941 - UP No. 4014 - Big Boy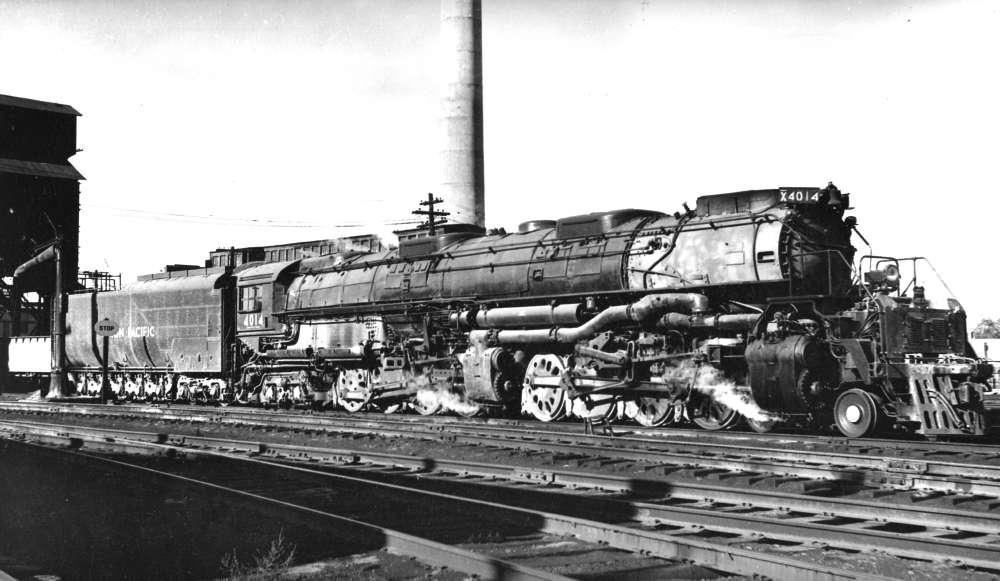 The largest and heaviest steam power ever developed, these locomotives were intended to be named the "Wasatch" class of locomotives for their intended area of operation on Union Pacific lines through Wyoming. Instead, the iconic "Big Boys" were named by an employee at the American Locomotive Company (ALCO) who wrote "Big Boy" in chalk on the front of the boiler, and the name stuck. After a lengthy restoration process, Union Pacific Big Boy No. 4014 returned to service in May 2019 to celebrate the 150th Anniversary of the Transcontinental Railroad's Completion.
Length: 132' 9 7/8"
Weight: 1,189,500 lbs
Fuel: Coal and later, Oil
1944 - UP 844 - Northern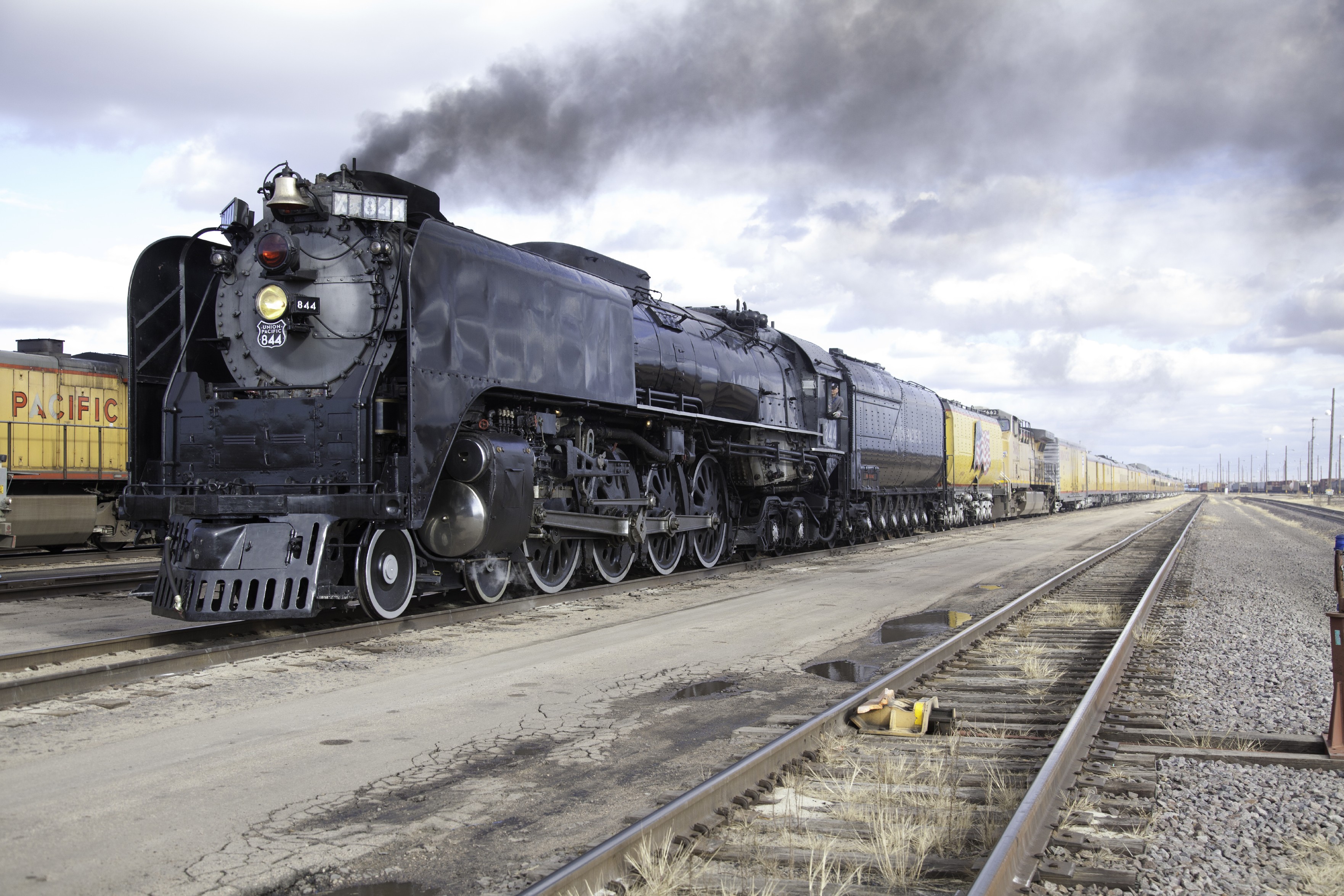 Hailed as Union Pacific's "Living Legend," steam locomotive No. 844 was the last steam locomotive built for Union Pacific. A high-speed passenger engine, it pulled such widely known trains as the Overland Limited, Los Angeles Limited, Portland Rose and the Challenger.
Length: 114'
Weight: 907,980 lbs
Fuel: Coal and later, Oil
1955 - UP No. 951 - E-9 Streamliner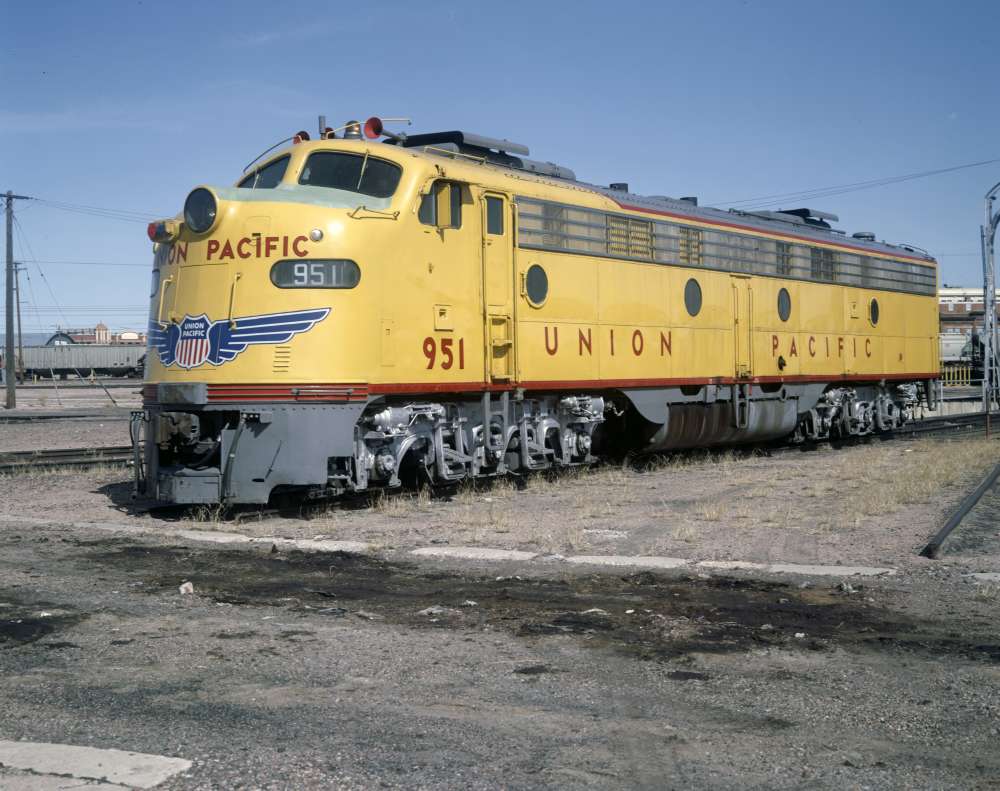 Representative of Union Pacific's iconic luxury streamliner train service, locomotives like UP No. 951 pulled the beautiful "City" trains offered by Union Pacific during the heyday of passenger service. Maximum speed for these fast trains was 117 mph.
Length: 70' 03"
Weight: 315,000 lbs
Fuel: Diesel
1958 -UP X-1 - Super Turbine/"Big Blow"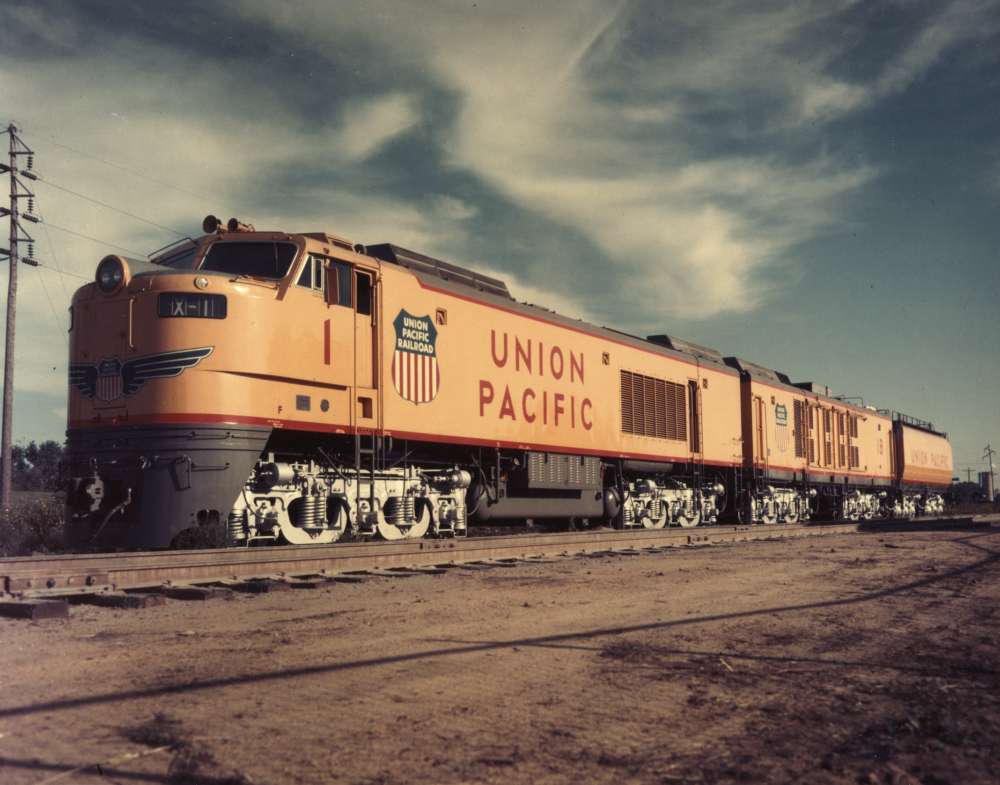 Considered the "World's Most Powerful Locomotive," the Super Turbines had a combined horsepower of 8500 and a maximum speed of 65 mph.
Length: 178' 11"
Weight: 849,248
Fuel: Gas/Electric
2016 - UP 3012 - SD70-AH-16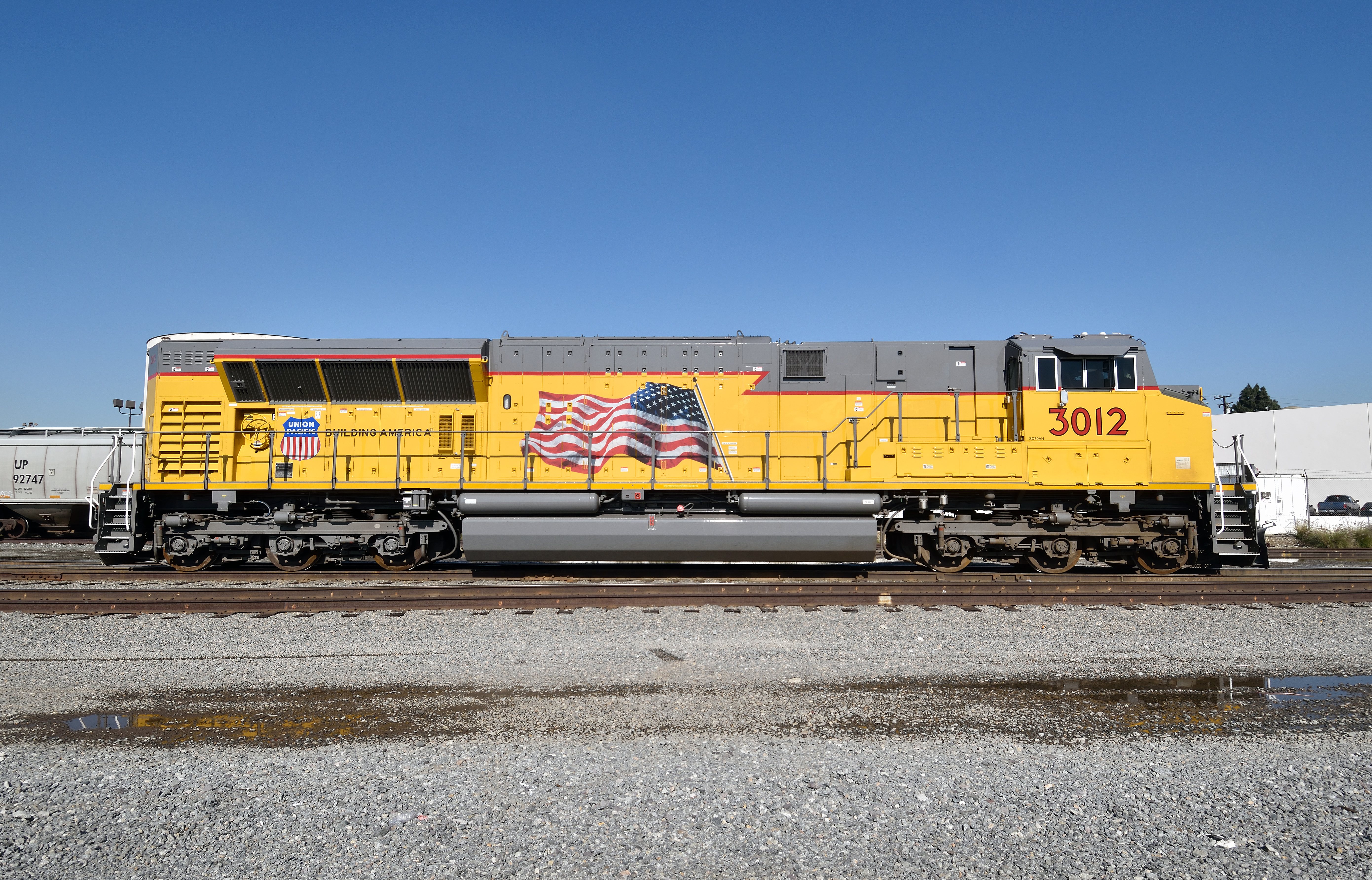 Tier 4s are 200+ ton road locomotives equipped with Positive Train Control and capable of processing a billion data points per second, maximizing operational and fuel efficiency. Units boast 15 million lines of computer code, five times what a comparable locomotive would have installed five years earlier. These locomotives comply with the very latest emissions standards and reduce emissions by 90 percent compared to locomotives manufactured before the year 2000.
Length: 76' 8"
Weight: 428,000 lbs
Fuel: Diesel
2021 - Modernized Locomotives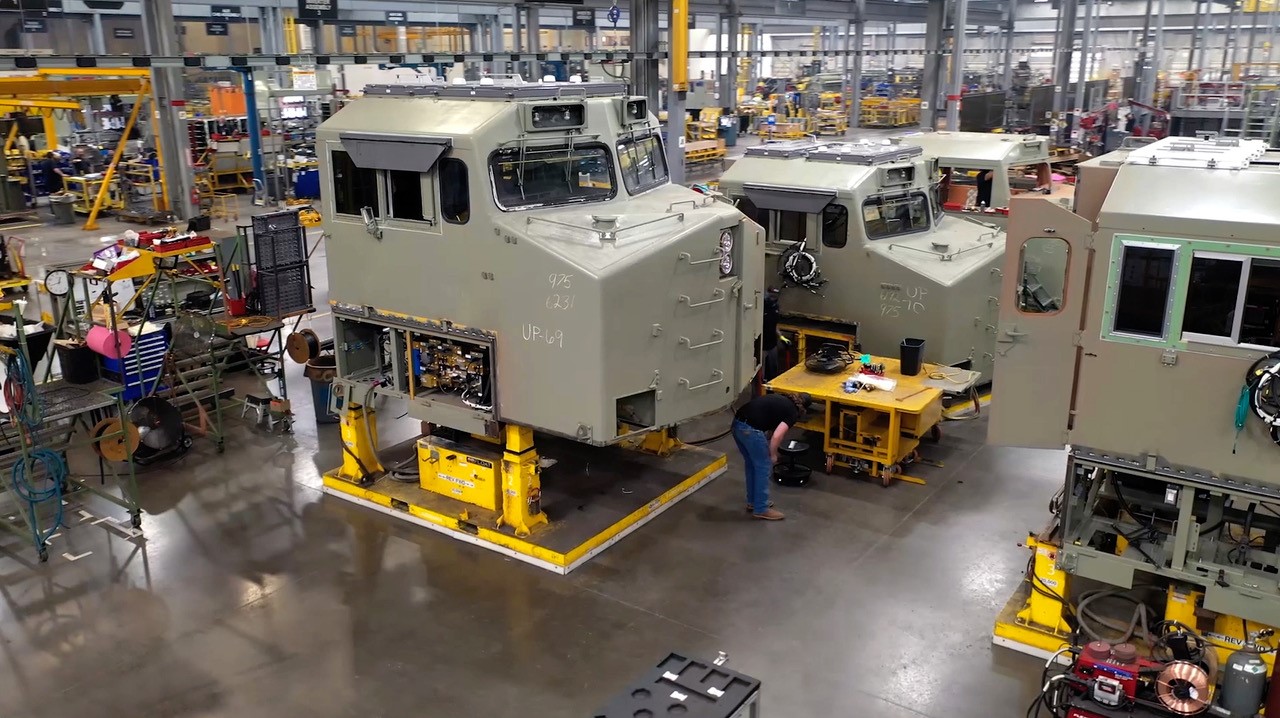 In 2021, Union Pacific brought on Wabtec, a leading global provider of equipment, systems, digital solutions and value-added services for the freight and transit rail industries, to upgrade 120 older locomotives. These modernizations can make each unit up to 5% more fuel efficient and may reduce emissions by approximately 53%.
The work to modernize locomotives continued in 2022, with completed modernization of 135 locomotives.
That same year, Union Pacific placed an order to upgrade another 525 AC4400 and AC6000 locomotives, as well as 75 Dash-9 locomotives between 2023 and 2025. These improvements are expected to extend locomotive life, improve fuel efficiency by 18%, increase reliability by 80% and increase haulage ability by 55%.
Together, modernization of the 600 locomotives should reduce approximately 350 tons of carbon emitted per locomotive per year, and the total 600-locomotive order will realize approximately 210,000 tons in annual emission reductions.
2022 - Battery Electric Locomotives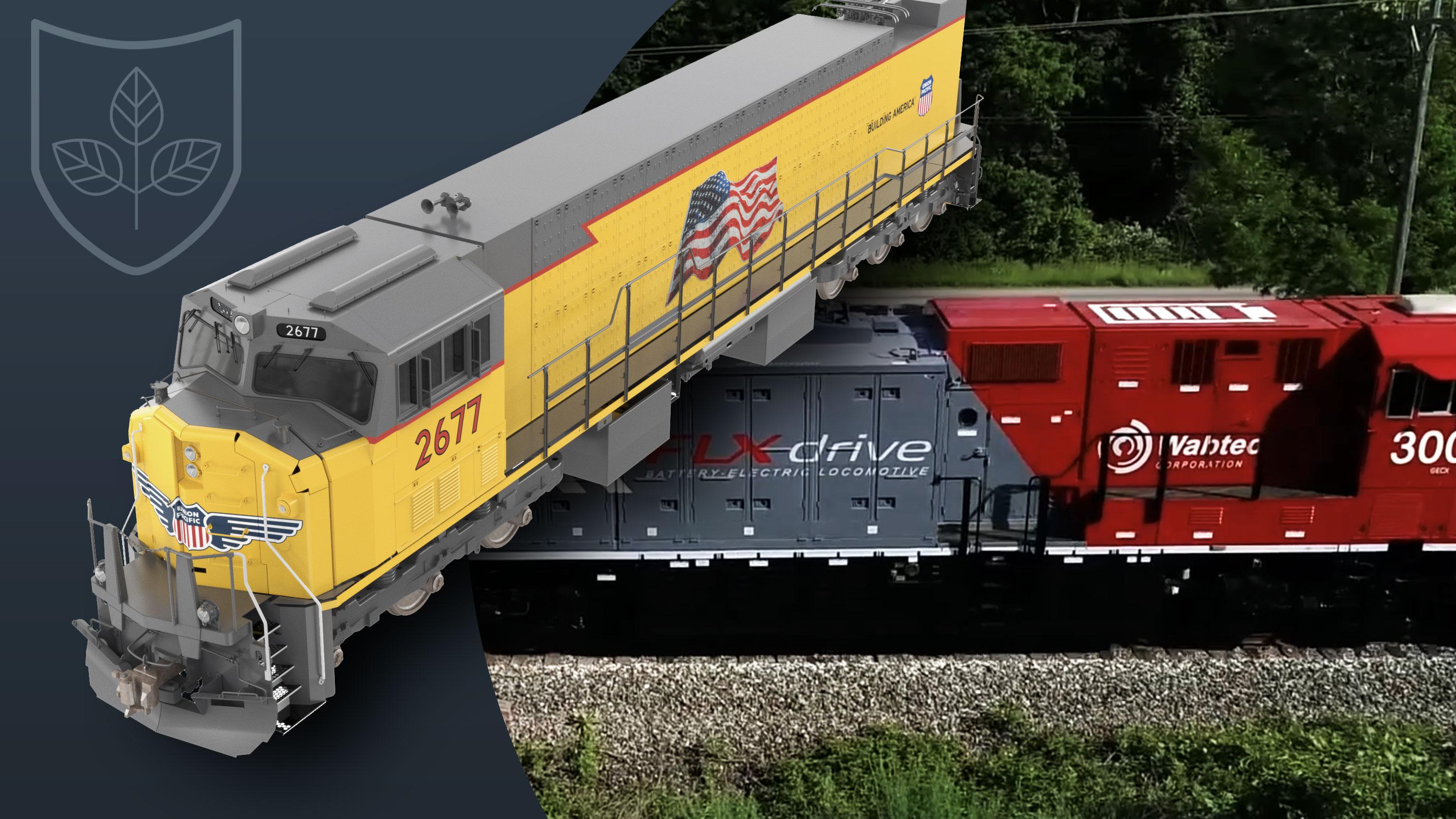 In early 2022, Union Pacific announced plans to purchase battery-electric locomotives for testing in yard operations. By working with locomotive manufacturers in this test phase, Union Pacific hopes to advance battery-electric technology development and evaluate its potential deployment in long-haul service.
Use of battery-electric locomotives will reduce carbon emissions and noise, since battery-powered locomotives are quieter than their diesel counterparts.
A Greener Way to Ship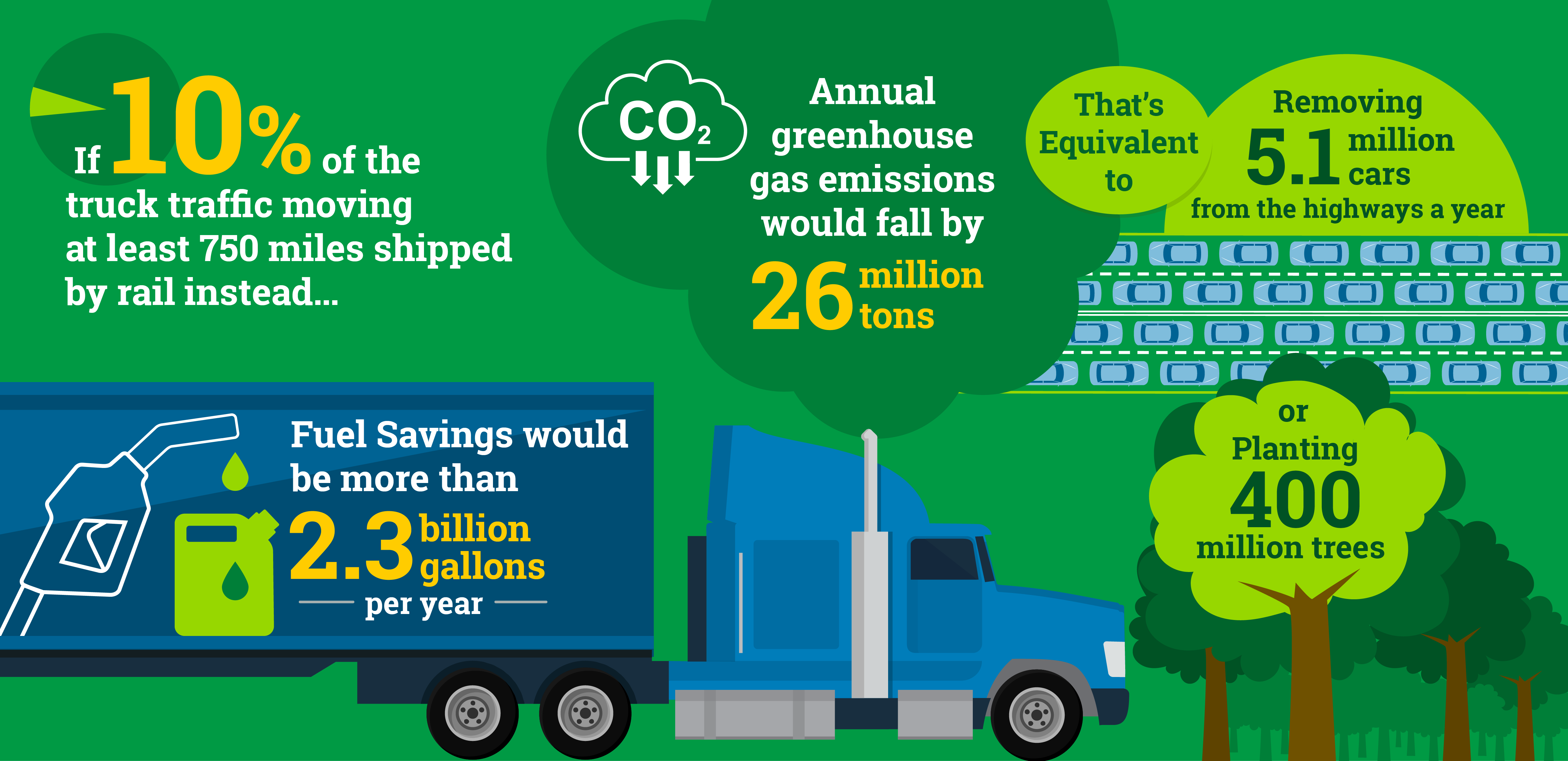 Locomotives have come a long way since they first hit the rails. Thanks in part to their efficient, environmentally friendly operation, today railroads provide the safest, most fuel efficient and environmentally responsible mode of ground freight transportation.
Compare trains to trucks, for instance. On average, trains are three to four times more fuel efficient. What does that mean? On average, U.S. freight railroads can move one ton of freight more than nearly 500 miles on a single gallon of fuel, generating a carbon footprint that is 75 percent less than trucks.
And here's a fun fact: According to the Association of American Railroads, if just 10 percent of freight now moving by truck moved by rail instead, our country would save about 1.5 billion gallons of fuel annually and annual greenhouse gas emissions would fall by 17 million tons. That's equivalent to planting about 400 million trees or removing 3.2 million cars from highways for a year.
Learn More
In 2021, it's estimated Union Pacific customers eliminated approximately 22.9 million metric tons of GHG emissions by choosing rail over truck transportation for their freight shipping needs. That's the equivalent of removing about 4.5 million cars from U.S. highways or planting 350 million trees. If you want to learn the impact of converting your truck shipments to rail, check out this Carbon Emission Calculator.
If you'd like to get a quote or learn more about shipping by rail, answer a few questions and an expert will be in touch.
Related Articles